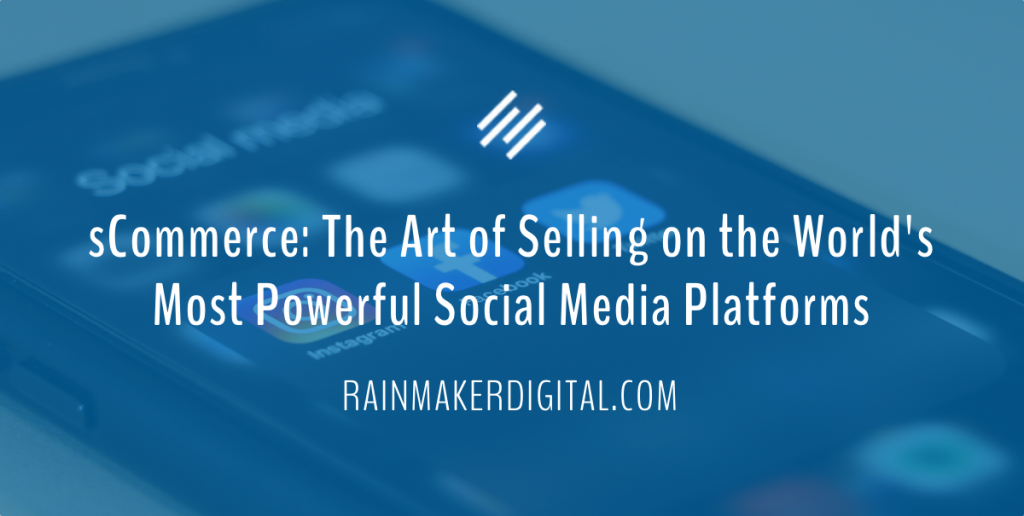 We've done a lot of writing around the critical practice of online commerce.
But, there is a $90 billion global market that is forecast to grow to over $600 billion by 2027 that few digital marketers and fewer businesses focus on – sCommerce (social commerce).
Understanding the opportunities and challenges of social commerce doesn't require brands to learn the latest TikTok dance or how to communicate with memes but it is critical that all businesses understand the process of selling products and services directly through social media channels.
Unlike other forms of digital commerce, social commerce provides buyers the entire shopping experience – from product introduction and discovery to purchase and fulfillment on a social media platform that isn't owned or controlled by the seller. Forbes has stated that "the rise of social commerce is inevitable."
This article shares the opportunities and risks of social commerce and outlines the best practices to participate in this flourishing form of eCommerce.
The Business Benefits of Social Commerce
The strongest reasons to include Social Commerce in your business and marketing strategy aren't related to getting your piece of this huge and rapidly growing market. While most ROI models show that quantitative ROI is 1.15 to 1.20 (in other words between $1.15 – $1.20 returned for every $1.00 invested), the biggest benefits are qualitative. Social commerce allows brands to:
Generate More Authentic Engagement: Nothing illustrates an audience's commitment to a brand than their willingness to engage through their wallet. Social commerce encourages people to take advantage of the two-way communication of social channels to interact with brands. This interaction allows customers to engage with your business, and also gives them the opportunity to use social media as an efficient customer service channel where it's possible for them to get help with their problems. Nothing drives a brand to respond quickly like a problem published to a social media channel. The social media word-of-mouth (sharing/reposting) gives the audience confidence to interact, aids with audience building, and drives overall engagement and website traffic.
Enhance Search Engine Results: Even though social media platforms provide all of the functionality to complete a transaction, social commerce has been shown to drive traffic to the website. The increased traffic to your website comes from users wanting to learn more about your products and services. This increase in traffic will influence your rankings (though the amount of weight that Google gives to social traffic is debated) as traffic is a consideration of a site's authority. Simple product and promotion links that lead to your website content better serve the audience's content needs and demonstrate what content is driving traffic while generating selling opportunities. Further, social commerce allows your audience to engage with your social content through comments, likes, and share behavior which expands the reach of your social content to their networks. All of this is done while giving users a chance to buy.
Expand Your Audience: Social media platforms make their money through advertising. They want users to spend more time on their platforms and the easiest way to encourage time-on-platform is by sharing great content that has strong audience engagement. A key to engagement is varying the content (see our article on PII) and encouraging your best customers to like and share your content. As content is shared, it will be seen by new users and provide access to a stream of consistently new prospects.
The Risks of Social Commerce
The potential value of social commerce to both generate revenue and enhance the relationship between the brand and the audience is significant. However, before jumping in with both feet, there are risks that need to be considered.
The primary risks for social commerce stem from an idea that Copyblogger has shared for years – you don't own the assets. Any business that relies on someone else's technology runs a risk. Specifically, social commerce strategies run the risks of:
Capriciousness: No social platform is obligated to support, maintain, or enhance any of their technology. In fact, they are able to change their technology at-will which can create significant challenges and disruptions to your business. At a minimum, it is vital that the strategy be nimble, flexible, and be prepared to make changes very quickly should the platform make a change that impacts the business.
Data Control and Ownership: Part of the relationship between users, brands, and social platforms is that the platform maintains visibility and access to user / brand data. This can lead to competitors being allowed to advertise to a brand's customers. Potentially more challenging is exporting customer / user data for interaction outside of the social platform.
Reputation Management: From HR missteps to failing to respond in a timely manner to a comment or post, one of the biggest risks to successful social commerce campaigns is to the brand's reputation. Social media has trained generations of users to assume that the brand is available 24 hours a day and made it easy for complaints to be public and noisy. It is critical that the brand manage user expectations through active and aggressive channel management, and a willingness to share honest and transparent communication. Tools like auto-responders, published hours of operations (this can be a game changer for B2B brands), and chatbots that triage customers will help manage your reputation.
Your social commerce strategy needs to embrace the reality that the brand shares control of its success with its audience … and the social platform.
Social Commerce Best Practices for 2021
Best practices in Social Commerce embrace the rapidly evolving feature set of the social platforms.
We'll (Consumers and Customers) Tell You How Good You Are …
There is one best practice for social commerce that transcends both platform and the latest features – User Generated Content (UGC). For 2021, we encourage social commerce clients and social media marketers in general, to actively solicit and publish UGC.
UGC has become the gold standard of social "word-of-mouth" advocacy. It has the power to break down resistance to a solicitation and empowers prospects to confirm their role within your social community with the swipe of a credit card.
Some of the best forms of UGC for social commerce are product/service reviews and unboxing content. In both cases, UGC creates the perception that the content contributor has the product / service and has found it to meet their expectations.
A way to motivate UGC is through Influencer marketing. There are a lot of misnomers about this type of advocacy but when a brand properly engages with an influencer who resembles the brand's target market, the resulting content will provide many of the same benefits as UGC.
Since social commerce lives within the ecosystem of the social platform, brands are wise to have a clear understanding of their audience and their audience's content needs before soliciting UGC or hiring an Influencer.
Keeping it Reel(s)
One of the biggest challenges and best practices for all social commerce is to create operating models that leverage the latest technologies of the social platforms. The most compelling social content for 2021 will be the short format video (think TikTok or Instagram Reels). Successful social commerce campaigns will need to embrace the appropriate content for the platform and deliver the buying experience through that platform's tools.
The biggest player in social commerce for 2021 will be Instagram. Instagram has long provided Shop Now and shoppable tags; its latest enhancement is Instagram Shops. This technology adds a "View Shop" option to an account's Instagram page that allows a brand to sell directly on Instagram. Set up requires that the account be a business or creator account, be connected to a Facebook page, and utilize Business Manager. From there, shop set up is easy:
Choose to set up your shop in Commerce Manager. You will find this on Facebook.
Select a checkout method.
Choose your sales channels by selecting to have a shop on Instagram, Facebook, or both.
Add products to your shop.
Review your shop and then submit for review.
This is the same process that is used to create a Facebook page. The technology works the same on both social platforms so selecting which shop (or both) to use comes down to the target audience, the product/services, and the content. Success on Instagram requires a much stronger visual strategy and highly distilled / minimal text.
Pinterest is a Player
Even though Pinterest has about 1/10 the monthly activity (measured in MAUs) of platforms like Instagram and Facebook, brands are finding motivated audiences. Pins is the term Pinterest uses for its content and there are multiple options including Rich Pins, Promoted Pins (advertising) and Buyable Pins. Recent research shows that 75% of saved pins come from businesses and that nearly 50% of social media users see Pinterest as the best platform to discover new products.
The challenge with Pinterest, especially with Rich Pins, is that the content must fit these specific categories – articles, recipes, and products. This content filtering requires that a brand's content team must be familiar with the content constraints of the platform and be vigilant about creating content that matches Pinterest's concept of "selling a lifestyle, not just products." Fortunately, Pinterest's recommended best practices on content creation follow the guidelines of content marketing authority, authenticity and trust that we've written about for over a decade. Audiences are attracted to brands that want to be a part of a customer's life.
Selling is Hard, Buying is Easy
Digital marketing has shifted control of the buying process from the seller to the buyer and social commerce is the pinnacle of that shift. If brands listen to consumers, meet their needs, and respect their opinion, buyers will recognize that effort and support the business. In many ways, social commerce is simply good business.
If the idea of creating and/or executing on a sCommerce strategy seems overwhelming, know that you don't need to go it alone. We're in this with you. If you need a little help, just drop us a line, anytime.
Best Regards,
Ed Bardwell
President
Rainmaker Digital Services