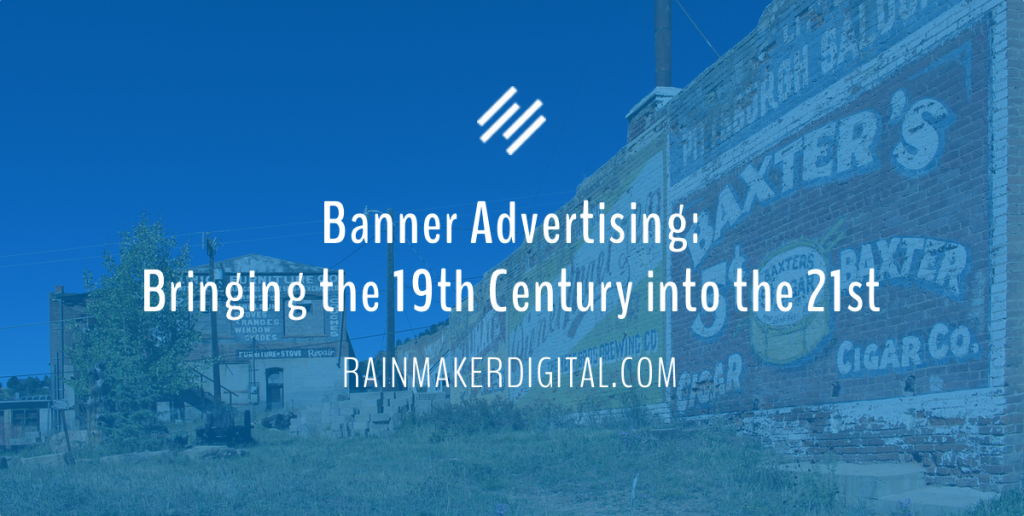 As we've discussed previously, there are essentially four different types of digital ads. One of — if not the — oldest forms of advertising on the Internet is Banner Advertising (aka Programmatic, aka Display advertising).
With its roots firmly planted in the 19th and 20th century disciplines of print and even roadside billboard ads, banner advertising holds an important place in the 21st century, in digital form.
Banner advertising is one of the primary ways in which advertisers can gain access to a publisher's audience. In this article, we'll discuss the basics of banner advertising and how you can use this channel to achieve your business goals.
A Short History of Banner Advertising
Many attribute the placement of the first banner ad to Joe McCambley who put an AT&T ad in the October 27, 1994 edition of "HotWired." The ad generated a 44% clickthrough rate and the modern Internet was born.
Publishers were looking for ways to monetize their traditional content assets (and still are) and advertisers were looking for inexpensive (and fast) access to the "new" Internet audience. They found mutual benefit in banner ads.

The first commercial banner ad — October 1994
By 1996, the Internet community recognized that banners had the potential to fuel the explosion of the dotcom economy and simultaneously be the bane of the user experience. The Internet Advertising Bureau was formed and the modern era of Internet advertising was born.
Fast forward to 2020, advertising has become the mutually beneficial fuel that powers free content. From simple image "banners" traded (the advertising term for buying/selling ad inventory) on a cost-per-thousand impressions basis to complex business investments involving data-driven targeting and personalized communication banners are everywhere.
A Rose by Any Other Name
As time goes by, the digital advertising industry develops and improves banner technology to improve performance. One of the biggest sources of confusion with banner advertising is the various "types" available. The two main ways that advertisers buy banner inventory are display and programmatic advertising:
Display Advertising: This form of media buy is the oldest form of banner advertising. Buyers pay for access to the users of an ad network (like Google Display Network) through a variety of ad formats. Buyers ads are limited to being served only on sites within the specific ad network that has the media buy.
Programmatic Advertising This type of media buy is a more complex contract that uses an automated auction to serve ads to targeted prospects, defined by the ad buyers, when those prospects come to content being served by any site within the ad exchange.
There are advantages and disadvantages to both types of banner advertising though both are essentially the purchase of the web serving of an advertiser's message to a site's audience. Media buys on both networks can be negotiated on impressions, clicks, or user actions.
Show Me What You Got
One of the greatest areas of development in the last ten years of banner advertising is the development of standard formats and technologies (thanks to the IAB.) Advertisers can develop assets and use them in multiple display and programmatic campaigns without having to reproduce files.
You can still find static images, animated GIFs and even a few Flash ads. The most common IAB-compliant formats in the market today include:
Pixel Size: Common Name
250 x 250: Square
200 x 200: Small Square
320 x 50: Mobile Leaderboard
320 x 100: Mobile Banner
468 x 60: Banner
728 x 90: Leaderboard
300 x 250: Medium Rectangle
336 x 280: Large Rectangle
120 x 600: Skyscraper
160 x 600: Wide Skyscraper
Many clients don't have the budget to build out creative assets for every format that an ad network might display. More importantly, the data shows that many of the most common units aren't even the top producers.
If you're pursuing banner advertising, focus on producing ads that fit these units (in this order):
300 X 250: Medium Rectangle
320 X 100: Mobile Banner
728 X 90: Leaderboard
160 X 600: Wide Skyscraper
300 X 600: Half Page
One important caveat … the format of the ad needs to be available in the plan you're buying AND it needs to fit the creative messaging.
So, What's the Story?
Banner blindness, the tendency for users to consciously or unconsciously ignore banner ads, is often cited as a reason that users have very low retention of an ad. Combine banner blindness with the fact that most ads are on screen for about ten seconds and the average user will see a digital ad for less than three seconds.
Even before you complicate the banner conversation with privacy and Adblocker technology, Neil Patel provides insight into why banner ads often fail to perform. "A major reason for lower CTR and ad blocking by users is because most banner ads are boring, irrelevant and intrusive …"
As with all other facets of digital advertising, content is king for banner ads. Even though you're paying for the exposure, go through the same content process you would for any other type of digital content.
Focus on the audience, the message, and creating a call-to-action (CTA) that connects the pieces. From there, create amazing content that fits the formats of the ads you're using.
B2C ads typically focus on visuals before copy; B2B ads focus on the copy first. Regardless of the priority, keys to a successful ad include:
KISS: Simple sells. Include your brand, a single message, an appropriate visual and one CTA. Try to keep the ad under 10 words even for a large formatted, animated ad.
Remember the Format: Content needs to fit the ad. Nothing will drive designers crazier or result in weak results more than trying to shove a tall/skinny product into a 728 X 90 leaderboard. One of the reasons that 300 X 250 medium rectangles are the highest performing units is that the format allows a broader range of content.
Brand Matters: digital ads, like billboards, require a fast read. It is critical that you create immediate authority. You've invested in building your brand and your advertising should leverage that effort to help validate it. Brand consistency is also a great way to reduce bounce (immediately leaving a visited link) if the ad and the landing page look the same.
Be What You See: Phony stock images, weak color contrasts and unbalanced design will reduce conversion. Even though you must grab attention, users will judge the brand on the quality of the layout. A recent study showed that 67% of online shoppers rate high-quality images and design as "very important."
Bottom line, better content outperforms weaker content, even in advertising.
One More Thing …
As Content Marketing continues to expand beyond the podcast and the blog, digital marketers have embraced the opportunities that the $47 billion banner advertising industry represents.
Putting the content that users want where users are is vital to success with any digital marketing strategy. If that means advertising, plan for it. If not, don't. There is no one size, one plan, that fits all. Still, be sure to consider all possibilities to maximize your potential return.
If the idea of executing on a banner advertising strategy seems overwhelming, know that you don't need to go it alone. We're in this with you. If you need a little help, just drop us a line, anytime.
Best Regards,
Ed Bardwell
President
Rainmaker Digital Services