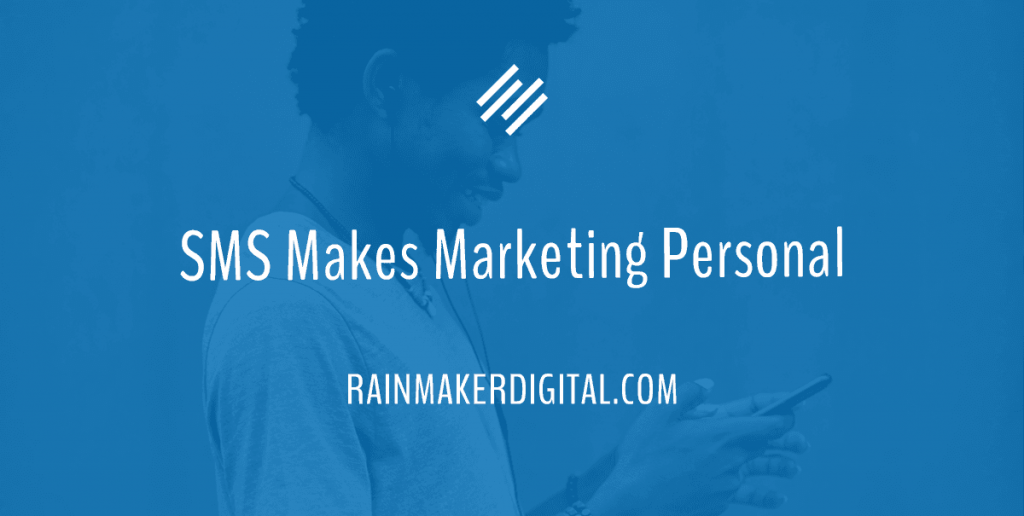 Text (SMS) marketing only had a brief moment in the marketing spotlight.
As cell phones became more common, people realized they could get updates from their favorite stores, sports teams and more — and they took advantage of the new technology to stay connected.
Then the smartphone came into prominence over older "dumb" phones. Companies shifted their focus to building their own mobile apps instead of using SMS to connect with their audiences. Texts were replaced by push notifications. SMS marketing fell by the wayside.
But here's the thing: SMS is everywhere.
Its ubiquity means it has a bigger reach than other mobile technologies. It's easy for people who are terminally online to forget, but "old" tech like TV, radio, and text messaging still work. New tech is exciting, but "old" tech is everywhere.
A recent study from SimpleTexting points out that far from being dead, SMS is alive and well, and the COVID-19 pandemic has given it a new lease on life. 78% of consumers say texting is the most common activity they do on their phone. More important, 62% say they subscribed to at least one business text service in the last year.
Why SMS?
SMS marketing has a couple of distinct advantages over other digital channels.
SMS open rates are incredibly high. The average open rate has hovered around 95% for years. Text messaging is one of the primary channels people use to stay in touch with friends and family. Unlike email, which is understood to be saturated with spam and marketing messages, SMS is largely still considered personal and legitimate— whether or not people are getting marketing messages.
Click-through rates (CTR) are also surprisingly high. The same SimpleTexting survey points out that 87% of businesses report better than 10% CTR, and most are over 20%.
SMS has a level of immediacy that other marketing channels don't have. Most people respond to a text within 1-2 minutes, and 95% respond within an hour. This statistic points up the difference between SMS and email — email is seen as a more permanent message. People don't necessarily respond every time they get an email. Text marketing works differently.
Where SMS Shines
Text messaging's unique perception as a personal, immediate communication form makes it ideal for specific marketing applications.
Anything that requires immediate action is a perfect fit for SMS. Since it hits people right in the palm of their hand where they expect to find friends and family, they're more likely to respond. Flash sales are a great application. Let people know you're running a super short-duration sale and pass the word on a channel where they'll see it … and share it.
SMS is a perfect fit for local businesses. Consumers have learned to use their phones to find businesses and get directions. SMS expands on that perception. It allows businesses to build connections and provide customer service with appointment confirmation messages, follow-up texts and everything that goes along with a visit to the location.
ProTip: Be sure to use number capture so you can send texts to everyone who comes to visit and follow up with them after they leave.
Personal messages are also a great way to use SMS marketing. Mental health, fitness and other professional services that often rely on one-on-one relationships are tailor-made for text updates. There are privacy restrictions … but that's a subject for another article.
Outreach is also a natural fit for SMS, particularly when it's from a personal brand. I subscribe to Gary Vaynerchuk's text list just to check out what he does for strategy. He reaches out semi-regularly with texts checking in on how people are doing and inviting them to webinars.
SMS is great for any messaging that needs to be perceived as personal and/or is time-sensitive, but there are problems you have to be aware of.
SMS Missteps
Just like email, SMS success requires the messaging to be permission-based. There's a reason the open rate is so high. People only invite others into their text inbox when they really want to hear what they have to say.
That means you have a responsibility.
SMS marketing is personal. Want people to hate you? Overuse SMS. If you aren't offering a direct benefit, you run the risk of turning them off entirely.
Long-form content is a horrible fit for SMS. So is data-driven messaging and media-rich content. Your SMS marketing strategy must lean into the immediacy and personal nature of the platform; don't try to establish long-term, deep content connections. SMS is great for the top of the funnel, not so much the bottom.
Make your messages useful. Make them something your customers want to open. Frequency matters, but there are times when you can get away with very frequent updates (think sports or gambling updates, etc.) if it is content that the customer wants.
You're competing against everyone else who makes their way into the inbox, and in a space where people expect to see family and friends. That SimplyTexting study noted that 62% of customers have signed up to receive texts from a company in the last year. If you're not extremely circumspect about what you send, you'll wind up getting booted out.
Make sure you get it right.
SMS Makes Sense
SMS matters. It's a powerful tool, especially when used to create a personal connection with the brand. Make sure you use it correctly. Treat it with respect and it can be a great addition to your marketing mix. And, if you need a hand with SMS marketing, feel free to reach out. We're here to help.
Best Regards,
David Brandon
Copywriter
Rainmaker Digital Services