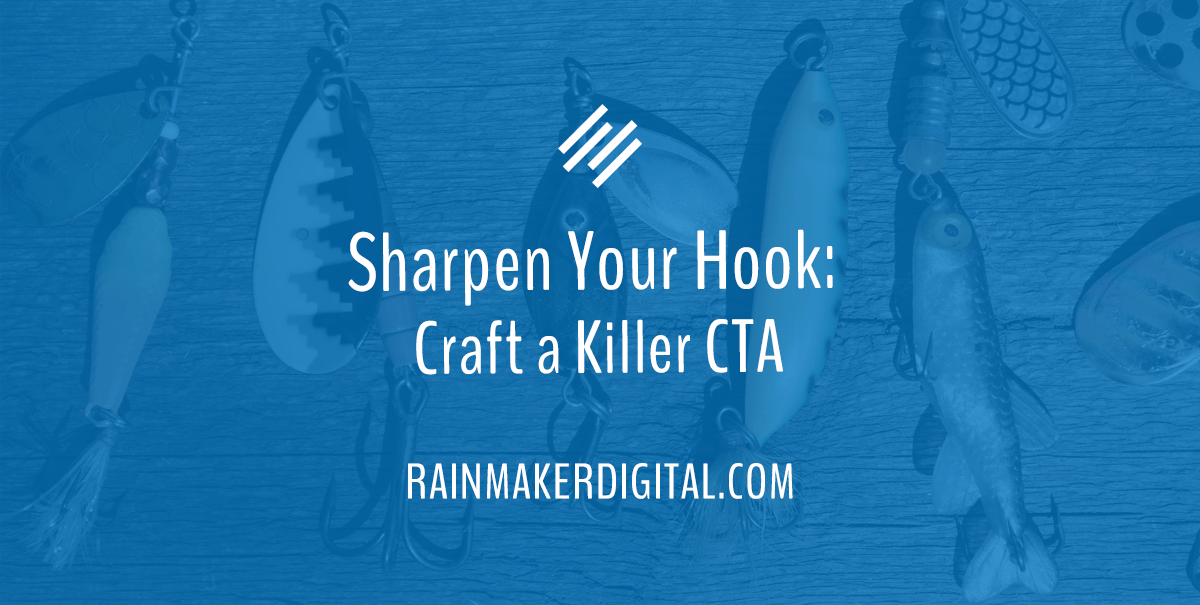 Marketers are paid for words that work, not pretty or fun words. Words that get people to take action.
No matter how pretty your website is or how well your copy reads, you need a good CTA to actually convert. A call to action is to the rest of your copy what a spark plug is to gasoline. It's the hook for your fishing rod. It's the catalyst for everything.
Want to make prospects into customers?
Write good CTAs.
Rainmaker is here to help. We're going to take a look at a simple example: "Start Your Free Trial Today." It exhibits all three rules of effective CTAs: make it simple, make it clear and make it immediate.
Make it Simple
Designers of digital shopping carts learned a while ago that barriers reduce conversion. As a result, checkouts have become simpler over the years. It makes sense — 24% of all shopping carts are abandoned because the site asked the buyer to create an account. 18% of cart abandonments come from a process that's too long or complicated.
This simplicity principle applies across the digital ecosystem.
Successful marketers make it easy to take action. Every step you ask a customer to take is another barrier between them and a conversion.
Your CTAs must follow the same rule. Make your steps simple. Get rid of barriers. Have one simple action for them to take — don't ask them to do multiple things.
Make it Clear
The offer has to be completely and utterly clear.
In our example "Start Your Free Trial Today," the word "free" is a key. "Free" has power — but you have to mean it. "Free trial" is your offer. Your CTA is not the place to have the specifics, but it should reference back to them. Your copy is the place to bait the hook.
Use the copy leading up to the CTA to emphasize the benefits and lay them out in detail. Benefits like "free" lower barriers. When you're writing a CTA, your job is to make taking action easy. Barriers make it hard.
Be careful not to introduce new ideas in the CTA itself. Don't say something like "risk-free trial" unless you've already said something like "get your money back anytime in the first 30 days."
Make the offer clear. "Free trial" is easy to understand and gets the point across. Don't bait and switch. If you want them to schedule an appointment, say "schedule your appointment." If you want them to buy an item, say "Buy x." The clearer your offer, the more likely you are to get a conversion.
The language has to be utterly clear too. Using the right words is key.
"The unreflecting often imagine that the effects of oratory are produced by the use of long words," well-known orator Winston Churchill noted. "The error of this idea will appear from what has been written…All the speeches of great English rhetoricians — except when addressing highly cultured audiences — display an uniform preference for short, homely words of common usage — so long as such words can fully express their thoughts and feelings."
In other words: use short words everyone understands.
Short words and punchy phrases are the name of the game. If at all possible, keep your CTA under five words. (This doesn't count introductory copy.)
Your CTA doesn't have to take the space to convince someone. You should have done that already. Your CTA stirs people to action. Do your selling beforehand — this is the hook, not the bait.
There are certain "power words" that everyone tends to lean on for their CTAs. The Father of Copywriting David Ogilvy's list includes:
Now
Amazing
Quick
Magic
Announcing
Sensational
Improvement
Easy
Introducing
Remarkable
Challenge
Wanted
Hurry
Revolutionary
Startling
Compare
Suddenly
Offer
Miracle
Bargain
Take this with a grain of salt, though. Ogilvy's list came out in a time when people were less skeptical of advertising and less saturated in it. We're a bit jaded by some of these like "magic" or "miracle" now.
Some of our favorites include "easy," "you/your," "free," "now" and "hurry." Our example "Start Your Free Trial Today" uses the power of "free" as well as the energy of "start" to give the reader a sense of urgency.
All these power words share a few characteristics:
They're short
They're clear
They're understandable
They create urgency or excitement.
Make your offer clear. Make your language clear. Make your words clear. Only then can you progress to the next step.
Make it Immediate
Look at our example CTA again. "Start your free trial today."
TODAY.
Make users want to act right now, not sometime in the future.
The key to this is something called "FOMO," or "Fear of Missing Out." Your offer should have an element of scarcity. That can be time, availability or price. Whatever it is, you need to give your prospects a sense of urgency.
Make your scarcity factors clear in the copy, not in the CTA. For example, if you're creating a limited-time-offer (LTO), build that language into the offer copy, not the CTA. Reinforce the LTO in the CTA by including urgency-creating words like "now" or "today." You can also use a deadline. A countdown clock is another great way to create digital scarcity.
Not all marketers like to use "today" or "now." They lean on the concept of "perceptual set" in the design to instill that sense of urgency. Perceptual set is a frame that influences the way we perceive things — so a big colored button with a CTA fits within a specific frame of reference that we're used to from our time on the Internet. Our expectation is that action will be instantaneous and we'll receive instant notification.
Make it Work
Want more conversions? Follow the three rules of effective CTAs: make it simple, make it clear, make it immediate.
Don't overlook the power that CTAs can have in your overall content efforts. Marketers work very hard on campaigns, articles and ads but don't always take the time to create CTAs that generate results.
Good copy with a bad CTA is worse than bad copy with a good CTA. Going back to our earlier analogy: you can't catch a fish with bait and no hook. Copy that's designed to convert should always have a CTA, and you should budget time for it the same way you would for a headline.
Need a hand? Know that you don't need to go it alone. We're in this with you. If you need a little help, just drop us a line, anytime.
Best Regards,
David Brandon
Copywriter
Rainmaker Digital Services