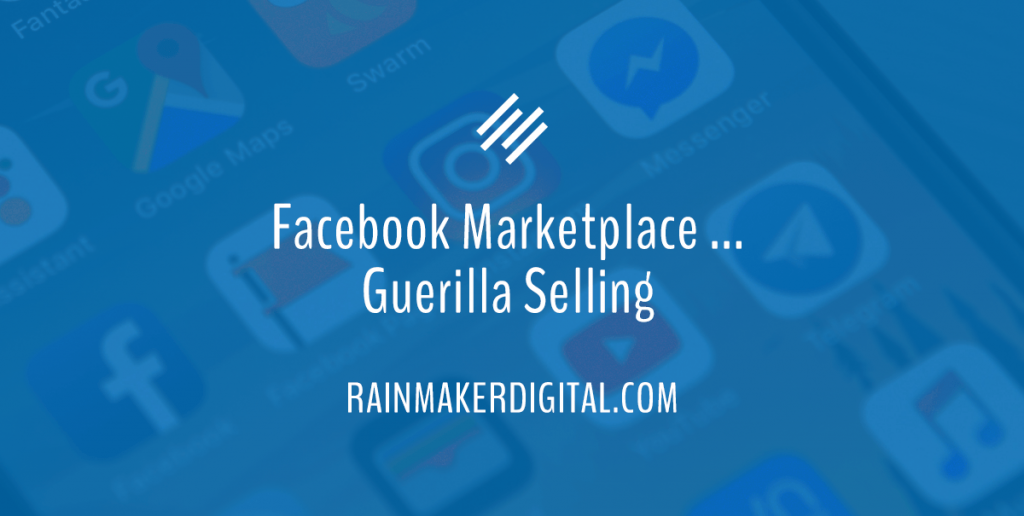 Introduced in October 2016, Facebook Marketplace has become a convenient way to buy and sell items locally. Designed as a "destination to discover, buy, and sell items with people in your community," Marketplace has become a prospect rich environment to sell everything from electronics and clothes to vehicles, property, and home services.
As consumers become more comfortable with sCommerce, businesses are finding Facebook Marketplace a great source for new sales, lead generation, and audience engagement.
This article explores Facebook Marketplace and provides tips on using it to benefit your business.
Virtual Garage Sale – What is Facebook Marketplace?
Some argue that Facebook is the master of imitation, borrowing or buying successful ideas and technologies. Marketplace is Facebook's attempt at recreating eBay, Craigslist, and local classified ads. In fact, Marketplace wasn't even a new idea when it launched in 2016; it had a failed debut in 2007.
Marketplace has seen meteoric growth and audience adoption since 2016.
Growth can be attributed to the ease of use and the perceived person-to-person engagement. A seller loads an item and sets a price, buyers can ask questions and commit to the purchase. This direct interaction between the parties allows for a sense of deal-making and genuine personal connection like neighborhood garage sales. Today, Marketplace is no longer just a place where people can sell used goods or extras. In fact, many buyers and sellers use Marketplace as an additional eCommerce channel. Sellers are creating alerts for good deals, inventory management, promotions, and advertising.
There are only a few limits to Facebook Marketplace. Users must be 18, sellers must be from any of approximately 50 specific countries, and transactions with shipping (an option since 2019) must be processed within 3 business days.
Facebook Marketplace is a Market
Businesses and digital marketers are adding Facebook Marketplace to their marketing strategy because it is an ideal way to increase product and brand discovery with an expanded audience.  Though there are many "How-to" guides on becoming a Facebook Marketplace millionaire, the greatest value comes from the size of the audience. As PaySpace suggests, Facebook Marketplace "is extremely popular so you'll get access to an enormous client base."
Facebook is currently claiming over 800 million monthly users on Marketplace compared to 66 million on eBay and just 55 million on Craigslist. If the goal is product and brand introduction or identifying new audiences, Facebook Marketplace is hard to beat.
Another primary market benefit of Marketplace is the immediate feedback and direct communication between the brand and the consumer. Even with all of the privacy and trust issues that exist on Facebook, Marketplace has managed to use its "Ask A Question" functionality to establish trust between buyer and seller which has led Marketplace to be seen as one of the most trustworthy "resale website" solutions.
Through Marketplace, brands create connections that can extend beyond a transaction for ongoing marketing while personalizing the brand with a Facebook audience.
Facebook Marketplace has personalized eCommerce and cracked the code of "people buy from people" and given both parties the ability to "know" the other before agreeing to the transaction.
Ready, Set, Sell – How to Use Facebook Marketplace
For individuals and personal accounts, Marketplace is easy. All you need to do is:
Open your Facebook account and click on Marketplace from your News Feed.
Click "Create New Listing" and then click "Item for Sale"
Add at least one photo, product information and price. (Pro Tip: You can enter 0 (zero) for price to make a product free.) Once you've added all required information, the Next button will become active.
Publish
It really is easy. For individual sellers, Marketplace success comes from good digital marketing fundamentals. Be sure to:
Research: you need to understand what's selling, where, and at what price. The fastest way to research is to search for products and services similar to what you want to sell on Marketplace.
Build Community: There are local Marketplace Groups that you can join. Use these groups to accelerate your research and gain insight. You'll find how your brand and products fit into the community.
Create great content: Photos are required for Marketplace. Take great photos and write copy that engages, humanizes, and sells. Be honest and transparent. Don't call that old mountain bike gently used if it has seen more spills than a roll of paper towels.
A final tip for sellers …
Include delivery as a part of your sale. The greatest barrier to individual sales is shipping / delivery. There are a lot of delivery services, shipping options, and even direct meetups. Of course, if you are going to directly meet the buyer, tell someone where you are going and who you are meeting, meet in a public place where other people are present. And make sure all the details of the transaction are agreed upon BEFORE committing to the meeting.
Stay in Front
Businesses may find that they cannot fully integrate their business model into Marketplace because as Facebook states, it is still being "gradually introduced." Another challenge is that Marketplace functionality is limited to specific industries and businesses must partner with a third party "inventory listing partner" in order to integrate their inventory with Facebook Marketplace.
Despite these challenges, there is still business value in Marketplace.  It is a great way to research audiences, introduce new products to loyal customers, test market products and offers, and increase awareness. Try combining a product listing linked to a Facebook Store combined with an Automatic Placement ad that displays in Marketplace to generate awareness, secure data about your product/offer and generate incremental sales.
Marketplace is a new opportunity for businesses.
Study successful sellers and create new solutions that will drive your business. More importantly, being seen as testing these solutions establishes your leadership position with the audience. It is a great way to show your innovation and authority with little cost or risk.
If the idea of testing or using Facebook Marketplace seems overwhelming, know that you don't need to go it alone. We're in this with you. If you need a little help, just drop us a line, anytime.
Best Regards,
Ed Bardwell
President
Rainmaker Digital Services