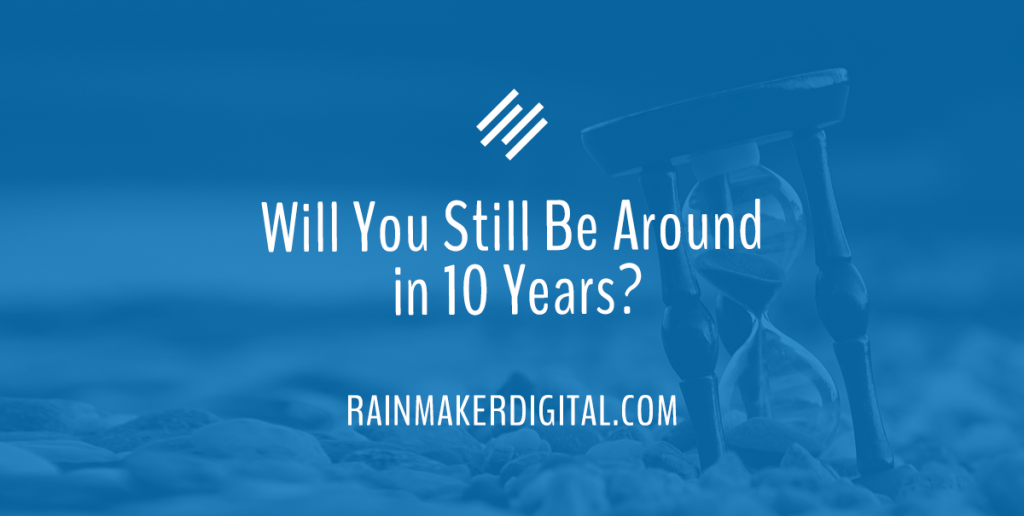 Priceline was a dotcom darling. It shot to prominence with campaigns featuring athletes and celebrities like William Shatner and Kaley Cuoco. It went public for $16 a share and rocketed to $88 on the first day of trading.
Priceline sold airline tickets that fell through the cracks, filling in the gaps where the airlines didn't have coverage. The only problem? It didn't make money. The business model was unsustainable. People paid more than they would through a travel agent, and though they had clever marketing, there was no substance.
Marketing made Priceline a household name. It also kept people from noticing there was no substance to its business model. The company was swept up in the dotcom crash. And it was far from the only one.
Don't be one of those companies that fails despite great marketing. You want your business to last. Will you still be around 10 years from now? Start with a business that provides real value to its customers and you can build your career. Here's how to be a content marketer that stands the test of time.
Don't Take Shortcuts
There is a difference between a loophole and a market opportunity.
Look at all the Facebook firms that bet on specific loopholes in the algorithm, SEO firms that leaned into technical SEO at the expense of good writing,  and "black hat" practitioners that used content farms and sketchy tactics to brute force Google. There aren't many of those companies around anymore.
Both loopholes and market opportunities will close eventually, but a market opportunity won't destroy your business model when it closes, and you'll often have a bit of warning. Loopholes close without much warning, and companies that rely on them for their whole business model die out. One of the prime examples of this is the overseas content farm. Anyone who searched the Internet around 2010 to 2012 would see a number of very badly written articles from the same family of sites ranking for a number of keywords. When Google reworked its algorithm with the Panda update, these articles completely disappeared … overnight.
There are no shortcuts to good marketing. It's a basic principle, but one worth remembering.
At the end of the day marketing is simple. You're sharing a message about a product or service and having a conversation. And ideally you're talking to somebody who's already interested so they ultimately engage.
Cheesing the system undermines that. You wouldn't try to trick someone into saying hello to you. Don't be like the guy at the bar who throws out bad pickup lines at everyone who walks by. It's scummy and it'll eventually catch up to you. Honesty, authenticity and good, consistent work are a foundation that won't crumble. There are no shortcuts.
Stay Hungry — Innovate
Once you build a good customer base, it's easy to focus on what you have and not keep learning and growing.
I was talking to someone recently who owns several pharmacies. He was using an agency that catered specifically to that industry — they had quite a few pharmacies under their belt. But he was looking for a new agency.
Why? On the surface, you'd think the specialized agency would have the industry expertise to really maximize its impact with its target market.
They had stopped innovating. They weren't keeping up, and they weren't hungry anymore. "They've been doing the same thing for 20 years," this man told me. "They have their system in place and they're not changing it." This particular agency focused on maintaining what they had, and as a result, they were losing it.
This should never be the case.
You have to commit to innovation. Constantly ask "Is this really the BEST way to do this?" And success should make it easier, not harder. The more cash, people and other resources you have, the more you can use them to grow and evolve.
If you're not innovating, you're stagnating. Don't lose that hunger to be better that made you great in the first place.
Never Stop Learning
To stand the test of time, you need to be devoted to your own development as a marketer. And that means learning all the time.
In just the past 20 years, we have seen the rise of content as a unique marketing discipline, the advent of social media, PPC as a mainstream advertising format, voice search and the birth of consumer VR. Paid media has gone from investing primarily in broadcast advertising to omnichannel display and data-driven performance. It's a radically different field. And if you didn't stay on top of the changes, you got left behind.
The pace of change is accelerating, not slowing down.
For thousands of years, word of mouth was the main communication channel. In 1436, the movable-type printing press unlocked the written word for the masses. From there, word of mouth and the written word coexisted as the main forms of communication till Guglielmo Marconi invented radio in 1896. Then TV began with Philo Taylor Farnsworth's prototype in 1927, though it didn't hit the mainstream for some years.
These forms of communication coexisted until the rise of the Internet, which brought email and websites to our desktops. Then came social media, PPC, SEM, SEO and the number of platforms we use today.
You can see that the time period between new communication methods is getting shorter and shorter. And for the most part, we're not losing any. TV and radio aren't dead. Print isn't dead. Sure, they may not be the main delivery channels for many businesses anymore, but they're part of the marketing and advertising mix.
Many marketers get their start by taking advantage of a new technology in a way other people didn't. Copyblogger recognized the potential of content marketing in the new environment created by Google and social media. Gary Vaynerchuk got his start using the Internet to extend his dad's liquor store because he realized he could use it to market and sell wine before most other people did. Klientboost took advantage of improved PPC targeting and very, very long content.
You can't recognize new business opportunities without constantly learning and improving in your field. Great content marketers do the work. Don't get complacent.
Keep Moving
Marketing and advertising move constantly. When you're in a field that moves this fast, you have to avoid shortcuts, innovate and learn just to survive. The digital world is completely different than it was even just 10 years ago.
Be a content marketer that stands the test of time. Do the work and you'll stand long after your competitors disappear.
If you're trying to build a content marketing strategy that lasts, we can help. Know that you don't need to go it alone. We're in this with you. If you need a hand, just drop us a line, anytime.
Best Regards,
David Brandon
Copywriter
Rainmaker Digital Services