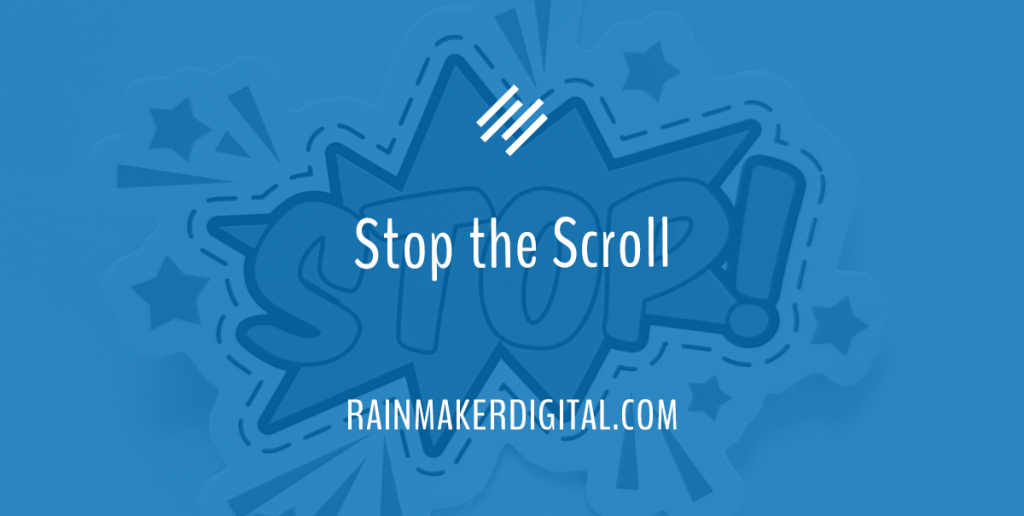 The way we use social media constantly changes.
We don't engage through social media the same way we did five years ago — let alone 10 or 20. One of the biggest changes is the way we post our content.
Businesses used to just post the link to a blog or video with a teaser sentence. These days, it's tough to get people to even look at your post, let alone click through. The content on your social channel has to be scannable and engaging, or your potential audience will just keep scrolling. Social runs on conversations (hence "social" media), and you can't create conversations with just a link.
To stop the scroll, post the main idea of your content on social media.
Stop Teasing Your Audience
Marketer Amanda Natividad proved this point with what she calls "zero-click content."
Zero-click content is content that provides value without a click-through. Inspired by people like Maven CEO Wes Kao and Databox Director of Marketing John Bonini, Natividad built social campaigns based on giving away the best content in each piece on the social media platform itself. The campaigns worked.
SparkToro (the company Natividad works for) has been on this train for a little while, both through the brand account and personally. She and founder Rand Fishkin have been actively using zero-click content on a regular basis. Fishkin posts 2-minute videos on LinkedIn. Natividad posts the main points of blog posts as Twitter threads. SparkToro publishes 150-word summations of the insights from each article on LinkedIn. If you want more examples, the SparkToro crew goes through a number of them at the 16-minute mark in this video — this strategy works across a wide variety of industries and disciplines.
Natividad notes that many content creators have already been doing this. "Reverse-engineering my tactic, you could say I took a cue from the radio and streaming video worlds," she says. "Howard Stern has been doing this on his YouTube channel for years — giving away the juiciest clips of his celebrity interviews when we all know we need to buy a Sirius subscription to listen to the entire show. Twitch streamers like Ninja, Nickmercs, Pokimane, and many more all do this too. They stream for hours on Twitch, then share the best highlights on YouTube."
Give Away the Punchline
For a lot of companies, zero-click content requires a completely different mindset. It's especially tough for people who came up in the heyday of content marketing, when the point of the content was to drive people to the link. But now, instead of posting one or two "teaser" sentences, you'll find your most effective posting strategy is to share the main idea of the piece.
That's right. Give away the punchline.
Every piece of content you produce should have a main idea — for this one, the main idea is "you need to post the main idea of your content on social media, not just a link."
To get attention on social media, add powerful supplemental information to your main idea. Look for something that will hold your audience's attention and make them say "wow!". That could be an anecdote, a stat, a unique acronym, a simple summation of a complex concept or maybe even a little bit of personality or flair.
Social Media Is an Endless Movie Trailer
"If I give away the best pieces of my content, won't people disengage?" is a question we often get.
The answer is … no. Think about a movie trailer — the trailer often has some of the most suspenseful or funniest moments from the movie. In some cases, the trailer is better than the movie. But (and it is an important but) people still watch the movie. People routinely post highlights from podcasts on Facebook, TikTok or YouTube — the audience will still go to the source. Sports teams post their highlights on social media, but people still go to games. Businesses post the top line of an earnings report but people still click through to the full document.
If your content is good, you don't have to fear giving away the main idea. Most of Shakespeare's stories weren't original or obscure; the way they were presented made them great. "To be or not to be" still works if you know Hamlet is about a prince whose father was murdered. The same holds true for your content.
And these days, it's a lot harder to get people to click through a link without giving away some of the content. There's more content, more competition and shorter attention spans. In the early days of platforms like Facebook and Twitter, it was easier to get that engagement because you weren't competing with as much content. I'm using Mastodon right now and finding the same thing — it's way easier to get people to engage there, since they're not swamped with posts, ads and irrelevant content. Mainstream social media platforms are crowded.
Not everyone is willing to click through a link on social media, either. Average CTRs for social media are low. Facebook has the highest average CTR among major social media platforms, at just under 4%. It drops off from there. If you're only posting a link and a teaser, you're missing out on a huge chunk of your audience.
How to Post the Main Idea
To do this right, you need more than just the thesis statement. Natividad's recommendation for social media posts is "200 words, 2 minutes, or less." You're basically creating a second, short version of the original.
Some creators have changed the way they make content to match this model. Copywriters Eddie Shleyner and Stefan Georgi rarely write articles longer than a single LinkedIn post — they usually publish the whole piece on both their websites and the social media platform. Shleyner notes that this revolutionized his reach. "My engagement soared: the post went from my typical 7 or 8 likes and no comments to over 130 likes and dozens of comments — an awesome, almost unbelievable lift," he says.
You don't have to cut your article back to the bare bones like these copywriters. But you do need a short version you can post in its entirety. Here's where to begin.
Start with your thesis.
Add one or two of your best details — things you know your audience will find interesting.
Create an introductory sentence and a wrap-up sentence.
Fill in the gaps.
Keep the final product around 9-12 sentences — or under 2 minutes talking at a reasonable pace if you're creating a video.
Follow these steps and you'll have an effective "scroll stopper," not just a tease.
Don't Include the Link In the Post
Yes. You read that right. Skip the link in the post. Some platforms don't allow it, and readers have become blind to it. There's a better place for that link.
Check out the pros on LinkedIn and Facebook. You'll see that the link to the full content piece is not in the post; it's the first comment after the post. You've stopped the scroll. The user is engaged, and they'll see the comment and the link. If they want more, the click becomes a reward, not an obligation.
In cases where it's impractical or impossible (Instagram or TikTok, for example) to include a link at all, make sure you have a clear link to your site in your profile.
The key is to stop the scroll and establish authority through your content. The link simply gives the audience a way to expand their connection to the content and to you. It's no longer the focus — it's the cherry on top.
Stop the Scroll and Start Socializing
Creating engagement with your content requires more than just sharing a link. Use the main idea of your piece to stop the scroll — then can you start a conversation with your audience. Need a hand? We can help. Just drop us a line, anytime.
Best Regards
David Brandon
Copywriter
Rainmaker Digital Services