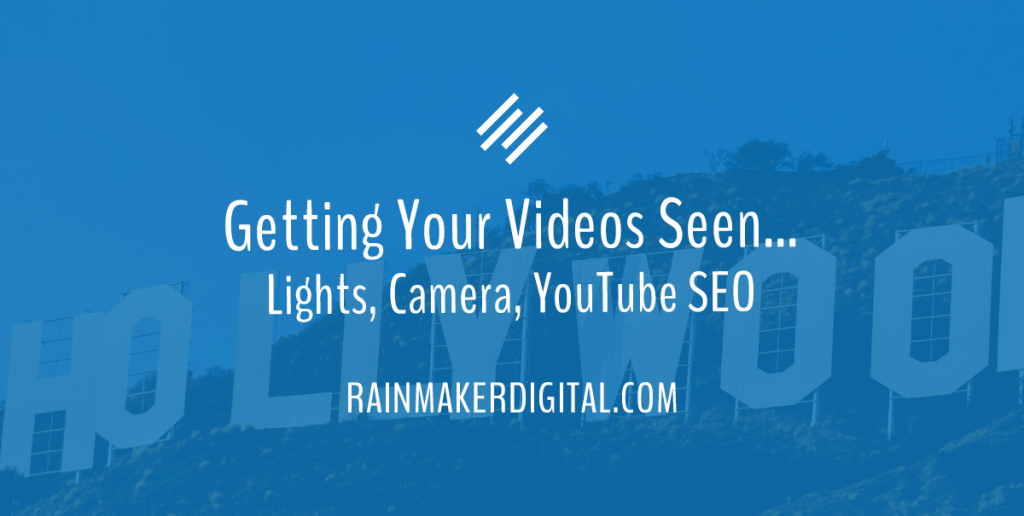 If you've been following our Digital Marketing for Everyone Else series, you've heard us advocate for content strategies that include your website, social media, and video. Many of us are comfortable with creating web content that is easy to find and that ranks well on search engines. That is, written content. Video is a marketing challenge for many content and digital marketers.
As you begin to use video as an integrated part of your content marketing efforts, consider how video can help you build an audience, drive traffic to your website, and engage.
This article describes how to improve the visibility and the search ranking of videos on YouTube.
YouTube SEO is About the Audience
YouTube, like its big brother Google, dominates the video content market and its search rankings impact overall search as well. In fact, research suggests that YouTube is now the second most popular search engine. These are all good reasons to focus on building your presence on YouTube.
Remember that unless you're looking to become a YouTube creator (same caveat holds for every other social platform), the goal of improved visibility is to drive traffic back to your site. Make sure to include complete contact information and links to your website on your YouTube channel and in all of your videos. Your content is the payment you make to YouTube for access to their audience. Drive them back to your website and make the audience yours.
YouTube SEO Starts with Keyword Research
The best news for content marketers augmenting their efforts with video – the SEO process is familiar. The first task is keyword research. Like the Google search tool, YouTube search includes an autocomplete feature that will present predictions of what someone is looking for when they look for videos around a keyword:

Click on relevant search recommendations to see the videos that YouTube is recommending for that search. ProTip: Click the Filters function on the results page and sort by "View Count" to get an idea of which videos have the most views. This is a great way to see what type of video content the audience wants for various content types.
Competitor's Keywords
Another great source of keywords for your video optimization is your competitor's channel. Just as you would do with traditional SEO, we encourage you to go to competitor YouTube channels and look at the content on their channel. Review their channel trailer (the video at the top of the page), the About, and most importantly, their videos on competitive topics.
Look at these competitive videos and review the on-page title and description. For more experienced SEO practitioners, view the page source and search for the keywords. With YouTube videos, the keywords in the meta data are the video tags that creators can add to further improve their ranking.  Collectively, this information will provide you a good roadmap to what the audience wants.
Of course, another great source of keywords are the SEO tools like SEMrush, Google's Keyword Tool, and ahrefs. You can use any of these tools and have them recommend keyword ideas that can be applied to your video efforts. Combine all of these recommendations and the competitor data to create unique, highly relevant, keyword-rich title options.
"How-to" Makes Video "Helpful"
One final recommendation as it relates to defining the keywords you're optimizing your video around. Google will use video results from YouTube that includes "helpful" words (like "how to" or "review") in its search results. While this article is about getting ranked on YouTube, the ultimate goal is getting views on the video that leads to business. Having a video show up on a Google search result can only add value.
Once you define the keywords for your video, be sure that they're included in the video, the title, the description, and the video tags. Make every effort to show, tell, and tag the keywords to establish your video's relevance for a specific topic.
YouTube SEO Ranking is About the Content
Content matters, the format is not that important. Just like every other digital format, better video content will beat worse video content. Bottom line, if your goal is to produce video that ranks well, you need to produce good content that people will watch, like/save, and share.
The good news is great video doesn't require expensive production equipment or studios. Let the story do the heavy lifting and engage the audience. To start, simply make sure that the video production doesn't detract from the message. Here's a basic checklist:
Have the camera stabilized at eye level or slightly above. Never look down at the camera.
Light the "front" of the frame. Never try to film with the light behind you.
Keep the background simple and on message. Never let the background be more interesting than the message.
Add titles and captions. Never assume the viewer is watching the video with audio.
As you progress, adding additional cameras and lights, editing software, and studio effects will enable you to be more creative in your storytelling.
YouTube Audience Interaction
YouTube's recommendation algorithm is responsible for 70% of video views. Unlike Google's algorithm that has back links and a myriad of other factors to determine its rankings, YouTube's rankings are based on 7 factors that you can control. They include:
Relevance – As mentioned above, YouTube will show video recommendations that most closely match what the user searches.
Views – The number of times that at least 30 seconds of a video has been watched.
Subscribers – The number of YouTube accounts that follow the video's channel.
Audience Retention – The number of people that watch the video until the end.
Engagement – The number of likes, comments, shares and new subscribers a video generates.
Video quality – All else being equal, YouTube will give preference to higher quality video.
Channel Authority – Videos from YouTube verified channels or those that have the potential for YouTube to sell (advertising) will rank high.
Final Thought
I love Tarantino and took more than my fair share of film electives in school. At times, the blossoming of digital video awakens old dreams and maybe someday I'll make that movie. But that is not what my clients pay me to do. I'm a digital marketer and must remember that I am building a business not pursuing an Academy award. Video is a tool to help me tell a story that convinces viewers to engage with, and ultimately buy from, my client. Keep the goal of the content in mind and you'll produce videos that rank well, share the message, and keeps the audience coming back.
If the idea of including video in your marketing efforts seems challenging, know that you don't need to go it alone. We're in this with you. If you need a little help, just drop us a line, anytime.
Best Regards,
Ed Bardwell
President
Rainmaker Digital Services