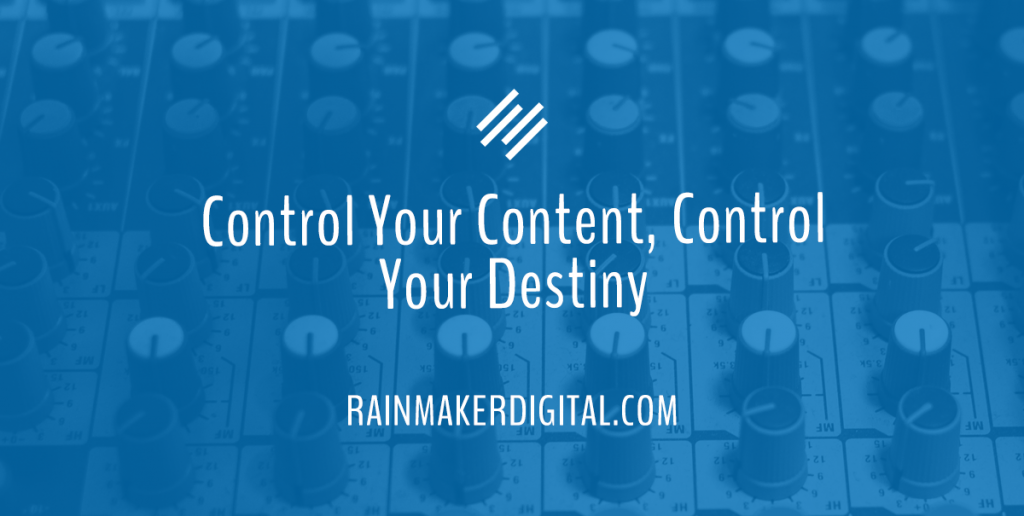 Remember Vine? Second Life? Google+?
These platforms were powerful. They grabbed media attention and attracted large audiences. And it wasn't just users that invested in these — companies plowed money into them. People built audiences there.
And then they disappeared.
If your web presence lived on one of those platforms, your audience died too.
When your main presence lives on someone else's platform, you are at risk. Plenty of people still do it — and they shouldn't. You need a space you own yourself, not just social media accounts.
Algorithms change. Reach changes. Long-term online success starts with owning your own digital presence, not just renting it.
What Rent vs. Own Means
What do we mean by renting vs. owning?
When you rent online, your content lives entirely on someone else's platform — YouTube, TikTok, Medium, and others. They use it and control visibility (if you don't believe me, sign up for a new social media account and read the terms and conditions). It's like renting a house: even if you decide to make improvements to the property, they belong to the landlord. And like those improvements, even if you created it, in some cases, they have rights to use and distribute your content too.
When you own your digital presence, your content lives on a platform you control and you have exclusive ownership of how the content can be used. That doesn't mean you won't rent anything, though. Today, it is essential that you share your content and links to your site on "rented" channels. The key is that you have a home for your content that's resilient to platforms going out of business or becoming backwaters.
Why Does Rent vs. Own Matter?
When you own your own content, you don't have to ask permission to use it — and you can contact your audience directly, instead of having to go cap-in-hand to the platforms themselves.
Take LinkedIn, for example. A couple of years ago, LinkedIn's organic reach spiked through the roof after Microsoft bought it and made feed changes. Marketers responded accordingly. Over the last year or so, we've seen organic reach on LinkedIn drop. Now paid reach (advertising) has become more essential to building an audience. LinkedIn isn't a charity. But it does put the people who don't have funds or only want organic reach in a bit of a bind.
Remember: you and the platform do not have the same goals. Their goal is to get people to engage with the platform, not your content.
TikTok's rise to power upended the entire way we think about social media. Other platforms would push content based on what they thought you'd like, sure. But TikTok popularized the idea of letting the algorithm show you whatever it wanted; sure, you can look at the people you're following too, but it defaults to the "For You" setting. The black box decides what content gets promoted and who sees it.
Google and Meta are scrambling to follow TikTok's example of a long scroll of algorithmically-selected content with YouTube Shorts, Instagram Reels and more; they're not there yet, but that's where they're going.
Attention comes and goes fast; if the black box doesn't like you, people aren't likely to see your posts on rented platforms, even if they follow you.
What Does Ownership Do for You?
Big platforms offer reach. They let you engage with your current audience and find new audiences. But they control that reach, and it's only available as long as they decide it's in their interest to offer it.
Over time, if a platform stays popular, average organic reach begins to decline and paid engagement becomes more compelling. You're dependent on their permission — they decide how much you're seen.
Contrast that with something like an owned list — email or SMS. You get direct access to a person's inbox, and they decide whether to look at it.
It's them giving you permission, not the platform. Owning your own content is about permission: yours and your audience's. Without your own digital presence, you can't talk to your audience without a middleman. And if you don't have permission, you're not really a marketer.
How to Own Your Content
So now you know you need to own your own digital presence to build a permission-based relationship with your customers. But how do you do it?
Create a Regularly-Updated Website
A good website is a destination. Do people type your URL in the address bar? That means you're doing something right.
Your website needs to have good content that serves the needs of the audience. And it needs to be regularly updated. We're talking about more than what we would call a "brochure site" with a home page, contact information and a couple of photos. Regularly publish text, video or audio content — blogs, podcasts, vlogs, video essays, whitepapers that your audience wants. Create content that gives people a reason to visit over and over.
Share your content in a design that is attractive and easy to navigate. A good platform like Rainmaker Platform can help with that. You need to bring people in and keep them; good design gives context to your content.
Build a Contact List
Even the most interesting websites need to remind people to visit. That's where a contact list comes in.
A good list is the single most powerful asset in any marketer's playbook. In every other digital marketing channel, you're dependent on someone else to reach your customer — Google, Facebook, TikTok, Adsense. When you have a contact list, you reach your customer directly.
Email is the default method to contact your audience. It's easy to use, it's ubiquitous, and it allows for any length of message. Over 120 emails are sent and received by the average person each day — and that's just on the business side. It's a crowded channel, and getting email opened can be a challenge. But when done well, email can be very powerful.
SMS marketing has become a major alternative to email. SMS is more niche than email marketing and much more direct. It works best for businesses that are personal, local, or both — barbers, restaurants, boutiques, and the like.
Build a landing page for an email or SMS list and get people to sign up. Your content marketing should make this a natural progression from the site content. Present the sign up as a benefit. For email, invite users to sign up for an insider, discount or special interest newsletter. For SMS, consider a relationship that focuses on spontaneous, direct content including special offers, coupons, and appreciation.
Rent to Own
When you have your owned presence established, tap into the audiences that "rented" media provides.
Choose the social media channels that fit your audience and post content that amplifies your message and drives traffic back to your site. Building an audience on a social platform is a great goal but it needs to be secondary to building your audience on your site. Use the content you've built on your site to cement yourself as an authority in your niche on social media; link back to your content pieces and build your contact list.
Advertising can help you get more eyes on your site too. In today's market, be prepared to prime the pump to get some attention. You may also need to advertise when you change content directions, have a new offering or when you're driving activity around a particular campaign.
Why Owning Your Presence Matters
Rented channels like social media have value, but an owned presence is the single most important goal of your digital marketing. Create a website with good, regularly updated content that meets your audience's needs. Use that content to build a contact list so you can connect on a permission basis. Then use your rented channels to drive traffic to your owned channels.
It's a simple concept. The hard part is doing it. Need a hand? Reach out to us here at Rainmaker Digital Services. We can help. Just drop us a line, anytime.
Best Regards,
David Brandon
Copywriter
Rainmaker Digital Services