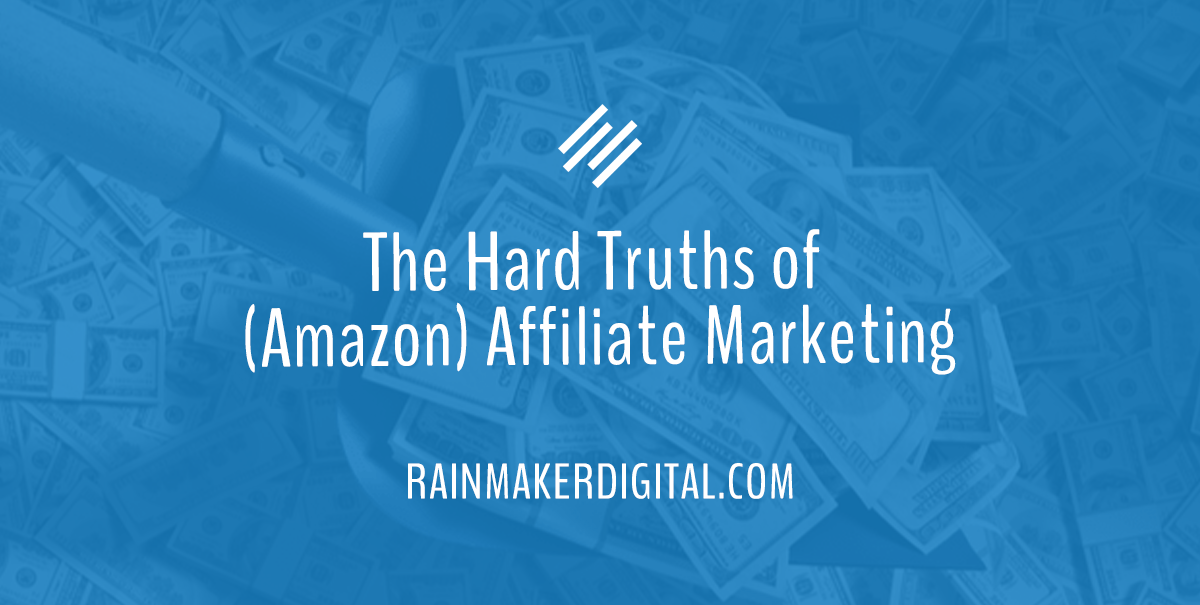 Want to make money while you sleep? Do affiliate marketing.
Set it and forget it; put the link up and watch the money roll in. If Ryan Robinson can do it, so can you. And it doesn't take a lot of work.
The problem is, none of this is true.
Yes, Ryan Robinson claims to have netted $35,000 in March, with $17,000 coming from affiliate marketing. And he makes roughly $450,000 per year on his "side business," largely through affiliate marketing on his blog. But he didn't always.
Two years ago, he was making $6,500 (with under $1,000 of affiliate money) per month. At that point, he had around 40,000 email subscribers, a successful podcast and a blog that ranked well for organic traffic. He was well ahead of most affiliate marketers.
That audience took time and consistent effort to build. There's no secret sauce — just hard, consistent work. And Robinson's an outlier. For every RyRob, there are a hundred people who've tried affiliate marketing and failed to achieve any results.
Can you be successful with affiliate marketing in 2021? Yes, but…
The State of Affiliate Marketing in 2021
Affiliate marketing has been around as long as people have been selling influence, but the Internet turned influence into an industry. The concept is simple: promote a product to an audience and get paid based on the number of clicks, leads or conversions you drive.
There are two essential components for successful affiliate marketing. You must have:
Audience. People who listen when you talk.
Authority. People who believe you.
Sound familiar? Even if your only goal is to become an affiliate marketer, you will still have to build your audience and your authority through content. Most affiliate marketers use blogs, videos, podcasts and emails. Social media plays an essential role in 2021 — YouTube and Instagram see a lot of affiliate activity because they can easily demonstrate the products that the marketers are promoting. An affiliate program uses individualized links or codes to claim and receive credit for traffic. FTC regulations require that affiliates disclose that they are receiving compensation for their efforts.
Affiliate marketing is personality-driven, which gives it a lot of crossover with influencer marketing. Niche communities are often the path to generating revenue. Niche influencers that audiences trust for their expertise may not have significant reach or a large audience, but the impact they can generate for a brand is proportionately larger. More generalized influencers that reach a huge audience are prohibitively expensive and harder to pitch for most advertisers.
Companies like ShareASale, Rakuten, Awin and Avangate have long been the backbone of the affiliate industry. That is until Amazon got into the affiliate game. That's when things began to change.
The King of eCommerce Changed Affiliate Marketing
Amazon is the undisputed center of the eCommerce universe, and their embrace of affiliate marketing at scale has put it within anybody's reach.
Most affiliate marketing used to run through a network middleman. These networks, like ShareASale, collect offers that a seller can promote and let affiliates pick and choose the best offer for their audience. Amazon is different. As an Amazon affiliate, marketers are not limited to specific products or offers. That's because Amazon's product is itself.
Amazon lets affiliates get compensation for ANY product that is bought on Amazon — the market can pick and choose. Drive traffic to Amazon and get paid.
Their approach has borne fruit. Amazon has more affiliates than any other affiliate marketing program in the world. And you can take advantage of it yourself.
How to Become an Amazon Affiliate Marketer
Amazon's program is based on two things:
Ease of use. Amazon's program is easy to sign up for and easy to use. It's one of the closest programs to "set it and forget it" that you can find in the affiliate marketing world.
Scale. Amazon sells everything and it is easy to find products to promote that fit any audience's needs. Other platforms or programs might not fit because they lack selection — on Amazon, you have the choice of promoting anything.
All you need is a qualifying blog or other platform and you can sign up at their affiliate site. (Qualifying isn't hard — the main stipulations are no obscenity and no marketing to children.) Then you can get started.
When you sign up as an Amazon affiliate, you'll receive a custom shortcode that goes at the end of any Amazon URL. These URLs point customers to a specific product and add a 24-hour affiliate cookie to their browser.
Any product purchased within those 24 hours will count as something you sold. That means anything. If you send them to the product page for a pair of headphones and they buy a set of car tires 10 hours later, that set of car tires will generate a commission for you.
Each category has a different commission level. Some categories receive up to 10% of the ticket price as a commission. Luxury items (particularly beauty) make 10%, the maximum commission. Alcoholic beverages make 0%. The bulk of Amazon's categories <are between 2-4%.
That ease of use comes with downsides, though. There's a reason so many other affiliate programs still do well even in Amazon's shadow.
Downsides to Amazon Affiliate Marketing
Amazon recently cut its commissions drastically. They've eaten up enough market share that they don't have to pay market-leading rates to get people interested in being an affiliate. Most other affiliate programs pay better than Amazon. For example, ClickBank advertises commissions as high as 90%, though most fall in the 40% range or lower. Even though it's hard to assign an average industry-standard commission, it is well over even Amazon's 10% top rate.
Cookie life on other affiliate programs is much longer than it is with Amazon. Some programs advertise up to a 400-day cookie lifetime, which gives the affiliate marketer more time to realize a commission than with Amazon. Amazon's one-day cookie life is one of the lowest in the industry.
There are also more restrictions on Amazon affiliates than there are with other affiliate networks. It's much harder to track traffic through Amazon because they restrict the use of URL shorteners and other intermediate pages that can help you with KPIs. Link cloaking and conversion attribution are a no-no, and you're not allowed to use their links in emails.
Amazon Affiliate Marketing is a great beginner program. The bulk of the revenue for successful affiliates tends to come from other networks and middlemen that have higher commissions, better offers and products that match specific audiences. Finding your own audience niches and looking for better affiliates takes time and a little know-how. Only focus on that once you know what you're doing.
Is Affiliate Marketing Worth Your Time?
Trust is the foundation of successful affiliate marketing. Don't undermine it. Only recommend products you can promote in good conscience, not just the ones that pay you the most money. Make sure you're choosy with your partners. Nothing will kill your authority faster than the perception that you'll promote anything for a commission. The audience will leave the community if they lose trust in the authority. Affiliate marketing only works when the audience perceives that the recommendation is made in good faith.
Affiliate marketing can be worth your time, especially with friction-free programs like the Amazon Affiliate program. Still, even successful affiliate marketers don't count on affiliate revenue as their main source of income. It is a constant grind that should be considered an extra benefit for building and nurturing an audience. There's no moment when you can sit back and say "OK, I've built my audience, let's go monetize it" and expect the money to roll in. Do the hard work and expect it to continue.
To be successful as an affiliate marketer, build an audience with time-tested content marketing techniques. Own your own digital presence. Build an email list with good content. Provide value for the people that follow you. Then, and only then, start trying to generate income through affiliate marketing.
Need a hand building an audience? Know that you don't need to go it alone. We're in this with you. If you need a little help, just drop us a line, anytime.
Best Regards,
Ed Bardwell
President
Rainmaker Digital Services