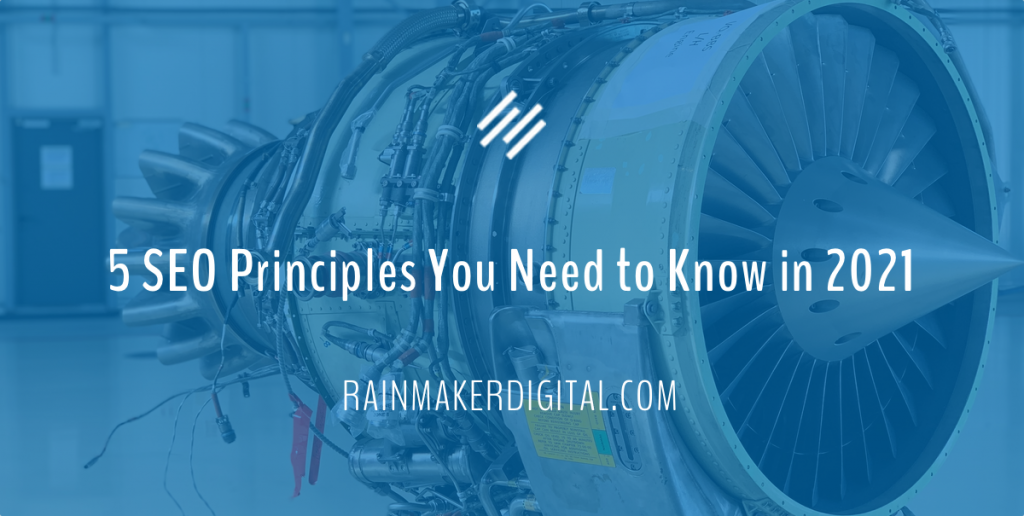 Search Engine Optimization (SEO) is constantly changing and there is still some black magic that true SEO masters have developed. Most success, like so many other aspects of digital marketing, comes from combining skill, hard work, and consistency.
If you've been reading this series of articles, you have already swallowed the red pill and understand that you create your own success.
SEO, as Moz defines, "is the practice of increasing the quantity and quality of traffic to your website through organic search engine results." It is simply the practice of trying to get your web content seen in the unpaid search results on search engines, clicked on and viewed by more people.
This week's article shares the 5 most important SEO principles that you need to understand in order to generate SERP results for 2021. Whether you're pursuing SEO on your own or simply trying to better understand what your SEO team is doing for your brand, these five principles are your keys to success.
1. The Future of Keywords
Search technology continues to change as user behavior and search tools change. With nearly 1/3 of the US population using voice search and mobile displacing desktop, search is moving away from "tax law North Dakota" to "who is the best CPA in Fargo".
Search technology is trying to remain relevant as users' needs evolve. Your SEO strategy will have to evolve to meet those new needs.
A successful SEO effort starts with researching your target audience and understanding the searches that they do when looking for content like yours. There are great tools out there to help you with research.
Moz, SEMRush, and WordStream are all great tools and merit the investment. If you don't have access to these tools, a powerful place to start is the suggestions that Google provides when you type a search concept into the search bar. Things that you should notice:
Keyword phrases are getting longer tails. It is becoming easier to express complex thoughts through the variety of input tools available, so most keyword concepts are now multiple words.
Keywords are bundled with question words and superlatives. As keystroke-based search declines, search results are showing content that addresses user questions.
Search engines account for spelling. Search engines have long "suggested" spelling when it perceives an error. If your keyword concept can be misunderstood as something else, consider relevant options that can eliminate the issue.
Branding matters. eCommerce and social commerce have led to more searching on branded terms. A top 5 search result option for "tennis shows" (intentionally misspelling shoes) is "tennis shoes nike" and the displayed results are plastered with branded ads for various brands.
2. Content That Matters
At the end of the day, the goal of search engines is to show great content in the right context to users. The second principle for successful SEO in 2021 is creating content on a consistent basis that meets the needs of users.
This hasn't changed since SEO became a primary digital marketing discipline over 15 years ago. What has changed is that content is no longer "just" the written word.
Search results today are seldom "just" a list of website links. Content optimization in 2021 will need to account for user preferences for video, podcasts, user-generated content (UGC) and local results.
More importantly, users are showing a preference for video-based content and that trend isn't limited to consumer goods. Currently, the top text result for search optimization has about 300,000 monthly visitors while the top video result has almost 1.75 million views.
To establish the relevance and authority needed to achieve top optimization results, plan to include a variety of content types in 2021.
In addition to video and audio, written content remains important for visibility on the search engines. For 2021, optimization for written content remains essentially unchanged. For maximum effect, your content should include:
Copy length of 2100 – 2400 words. With the growth of Google featured snippet, longer copy gives you more opportunities to have pieces of copy that answer users' questions.
The keyword concept is a headline. Wrap the keyword phrase you're optimizing for in H1 tags and be sure to include versions of the idea in H2, H3, and Strong tags.
Backlinks to other sources that demonstrate the relevance of your content.
Alt-tags for images that tie images to the content. In addition to voice search, image search is a growing area that will continue to expand in 2021.
3. The Preference for User Experiences
The third SEO principle for 2021 is often labeled "technical SEO". Currently, that means making sure that the code – HTML, CSS, and JavaScript, are all clean so that the server can send the site quickly to the user. There are many tools to help test site speed and we recommend using them to get an idea of issues you need to address.
The most common speed challenge comes from slow loading images. Images need to be optimized to the various delivery platforms. For most sites, this means compressing images to create the highest quality at the smallest size and focusing on creating CSS that serves content for mobile, tablet, and desktop.
Responsive design will continue to be a primary optimization consideration. Sites can use the SRCSET attribute to define image sizes and alternatives as browsers will continue to get smarter and "web" content will be found on new surfaces. SEO in 2021 needs to consider what to serve to who and how best to serve it.
The last major technical SEO component to considered was defined in 2018 by Google. Google gives preference to sites that give priority to the mobile user's experience. Create your site and your content in ways that make it easy for mobile users to interact with the content.
From simple, text-based navigation to thumb scrollable layouts, search engines show preference for mobile. In situations where content recommendations and user experience recommendations are in conflict, we see priority (higher rankings) being given to the user experience especially on eCommerce and community-first content.
Content is still king, but user experience is a prince-in-waiting.
4. Target Your Audience
Current estimates suggest that there are over 500,000 websites published every day. That can be disheartening for many content marketers. Don't be discouraged. For 2021, content will continue to expand and that creates an opportunity that many SEO practitioners miss – targeting content to each segment of your audience.
In B2B marketing, a recent Harvard study identified that there are approximately seven people involved in each business decision. The content needed for each of these content recipients varies.
From initial research by staff employees to C-Suite decision-makers, adjust the content for their unique needs. A great source of insight is your own staff. Create personas for all of the people they encounter along the sales journey and create content specifically for those audiences.
Maximize your efficiency by creating one piece of content and then curating it for the different personas in the sales journey. Not only are you meeting your audience's needs for information in a format that meets their expectations, this type of content targeting allows you to submit multiple (unique) versions of a piece of content to Google and demonstrate your leadership.
5. Become Part of the Conversation
The last SEO principle to consider for 2021 is engaging in the broader conversation. It is more critical today that a brand demonstrate that it is a part of the conversation with its audience.
Publish content to social media, engage in conversations about topics of relevance with interest groups and associations to validate your authority. At a minimum, find ways to include links to 3rd party sites that are relevant to the content you're publishing.
Social conversations and link building show your relevance for the topic and creates additional opportunities for your brand, and content, to load a results page (SERP) with content you've created.
A Final Thought on "Ranking First"
As search behavior changes and the technology that supports search changes, the concept of "ranking first" will have to change as well. Ranking first is great for the ego but interested traffic that converts is great for the bottom line.
Which is more important for your success? That isn't necessarily an easy answer, but it is an answer you need to define. We recommend basing your answer on how rankings impact your actual performance.
This becomes an ROI question as you need to understand the actual value and cost of "being #1." Stick to your original objectives and evaluate your tactics and to achieve them rather than focusing on a specific ranking.
If the idea of creating and/or executing on an SEO strategy in 2021 seems overwhelming, know that you don't need to go it alone. We're in this with you. If you need a little help, just drop us a line, anytime.
Best Regards,
Ed Bardwell
President
Rainmaker Digital Services