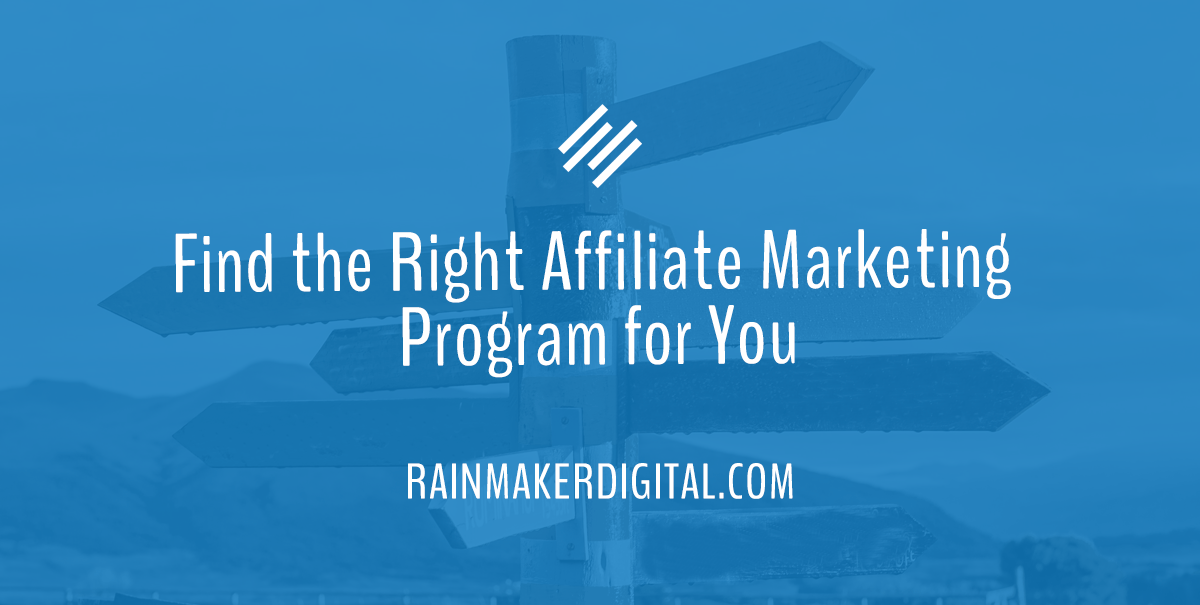 Affiliate marketing is popular, and it's been around for a long time — but it is challenging to do well. Just look at conversion rates to see why. The average for the industry ranges from just 0.5% to 1%.
Still, people wouldn't still be doing it if it didn't work at least some of the time.The "how" matters.
Adding some affiliate marketing to a content strategy can work — provided you're offering something your customers care about. You need both audience and authority to make money as an affiliate, and if you're not careful you can kill them both by pushing bad products. If you're not offering something useful for your customers, don't bother.
We covered this and other affiliate marketing pitfalls in another article and explained how to get started as an Amazon affiliate. This article expands on the rest of the affiliate marketing landscape and what you need to know to find the right partner for yourself and your audience. Like the rest of our industry, affiliate marketing changes fast — we're giving you a picture of affiliate marketing as it exists in Q2 2021. It will change.
Don't Hate, Affiliate
Large affiliate marketing partners are either called platforms or networks. The difference between the two matters.
We've already talked about the biggest platform: Amazon Affiliate. eBay and Walmart's affiliate programs are other examples. That means the affiliate marketer has a deal with the platform itself to refer traffic back to their site. They don't ever deal with individual sellers.
Networks function differently. They're kind of like a broker or exchange, providing access to a wide variety of potential partners for a small cut of the profits. Major players like ShareASale, Awin and Rakuten let you register for an affiliate account the same way Amazon or eBay would, but you have to deal with each merchant individually.
You don't necessarily need to choose between using a platform or network. Many affiliates use both. You do, however, need to understand the benefits and drawbacks of each type of affiliate partner.
Platform or a Network?
Platforms and networks have attributes unique to each. The pros and cons of a platform include:
Pros
Easy. You're only registering with one entity, and your commissions are straightforward.
Flexible. You don't have to sign up with a new merchant to get access to their affiliate links — just grab and go. You can immediately create affiliate links for every product the platform offers.
Safe. You're doing business directly with a big company — you're not having to vet who you work with on an individual level.
Cons
Low commissions. Commissions are usually lower. Amazon tops out at 10% for a few categories but most are much lower. Walmart tops out at 4%.
Short cookie duration. Platform cookie durations are measured in days (one day for eBay and Amazon, three for Walmart). Networks are usually measured in weeks or months.
The pros and cons of a network include:
Pros
High commissions. Commissions are usually higher, and you have the freedom to shop around. You're not tied to a flat rate for a whole category of products — each merchant sets their own rates. Those can go up to as much as 80% for some digital products, where most platforms top out around 10% and usually average 2-4%.
Long cookie duration. Merchants set their own cookie durations but platforms often have minimums and maximums.
Cons
Risky. Some platforms are less choosy with who they let in. Do your due diligence. Don't get scammed and don't unknowingly scam other people. You're known by the company you keep, and advocating a bad offer is a hard stain to scrub from your reputation. Even if the offer starts out fine, you need to regularly do your due diligence to make sure nothing changes.
Slow. You're limited by the network's merchant partners, and you have to get individual approval from each merchant. Platforms let you get affiliate links for every product easily — networks require more legwork and more time before you can start using a new offer. Quick pivots are hard.
Tough. Amazon and other platforms are easy — generate link, use link. Platforms are just brokers. You're doing business with individual merchants, not one entity.
You need to know more than just the general outline of platforms and networks, though. To be effective, you need to understand what each network or platform offers.
Popular Platforms
Amazon
Amazon's affiliate program takes very little effort to get started in, and it has a very low minimum payout at $10. The problem with Amazon is its commission structure, with most commissions hovering between 2-4%. It also only has a one-day cookie duration.
Walmart
Walmart functions very similarly, and most affiliate marketers decide between the two based on the difference in commission between the two platforms for their chosen category. Walmart's cookie lasts for three days, but its minimum payout is $50 to Amazon's $10.
eBay
The bulk of eBay's listings are auctions, which makes it a little different to the other two platforms. Like Amazon, its cookies only last for a day — but if the winning bid is submitted during that time period it will still get attribution so long as the auction ends within 10 days of the cookie expiration. eBay also has a very low payout threshold at $10.
Popular Networks
Affiliate marketers often work backwards when it comes to networks: instead of deciding which network they want to work with, they look at which merchants they want to represent. This takes effort, and often starts with finding out whether X merchant has an affiliate program (more on that later).
ShareASale/Awin
ShareASale was recently passed by Amazon as the most popular company in affiliate marketing, but it still carries a lot of clout. It does not offer software partnerships. The biggest selling point for ShareASale is its exclusive brands — over 1,000 companies are exclusive merchants. ShareASale was acquired by Awin, another of the largest networks. Awin is largely European but has some companies from elsewhere as well. They still have separate platforms but report their numbers together.
Number of merchants: ~16,550
Number of affiliates: ~225,000
Minimum payout: $50
CJ
Formerly called "Commission Junction." CJ represents a number of top brands and has been around for years. It's known for its powerful analytics.
Number of merchants: ~3,000
Number of affiliates: (not public)
Minimum payout: $50
Rakuten Advertising
A Japanese eCommerce company that expanded into affiliate marketing. It has fewer merchant options than some of the other big affiliate networks, but among those are a number of big companies like Walmart and Macy's. You may hear it referred to as Rakuten Marketing or Linkshare.
Number of merchants: ~1000
Number of affiliates: ~150,000
Minimum payout: $50
ClickBank
Clickbank's main selling point is how many small and niche merchants it carries. It largely focuses on digital products but still has some partner companies with physical merchandise. The downside of this platform is its low barrier to entry and easy review process — there is more risk of running into a fly-by-night pop-up company with bad products. The minimum payout is much lower than most of its competitors.
Number of merchants: (not public)
Number of affiliates: ~100,000
Minimum payout: $10
Avangate Affiliate Network
Avangate focuses on digital goods and software, which allows it to support some high average payouts. Be aware — you're looking for Avangate Affiliate Network. You may see some confusion with 2Checkout and Avangate proper.
Number of merchants: ~1,200
Number of affiliates: ~54,000
Minimum payout: $100
FlexOffers
FlexOffers has a unique selling point compared to the other networks mentioned here: it offers a dedicated account manager for each affiliate.
Number of merchants: ~12,000
Number of affiliates: (not public)
Minimum payout: $50
Look for brands you want to partner with — don't decide solely based on the network. And if you're looking for a specific brand, there's another option you may want to consider.
Finding Affiliates Directly
Many brands offer their affiliate programs directly, not just through a network.
There are a number of ways to find merchants to work for as a direct affiliate, including:
Merchant websites. Most merchants that have an affiliate program will have a link to it on the home page. If you have a specific company you want to sell, check their site first.
Google. [company] + "affiliate program" will quickly show you whether a company has a program you can join.
Affiliate directories. There are directories that try to aggregate every affiliate marketing program on the Internet. You can find a list of well-known directories here.
Choosing an Affiliate Partner
There are several questions you need answers to when choosing who to work with, whether that be a platform, a network or an individual merchant.
What counts as a conversion? Each program will have a different definition of a "conversion." Is it clicks? Sales? Downloads? Read the fine print.
How is attribution tracked? There are several different methods of attributing conversions to a specific affiliate. These include first touch, last touch, coupon code, linear and time decay. First touch, last touch and coupon code give 100% of the credit to one site. Linear attribution gives equal value or credit to each site with a touchpoint. Time decay assigns more credit to more recent touchpoints in the buyer's journey.
What is the minimum payout? Networks and platforms have minimum commission thresholds you have to achieve before you get paid. As a general rule, platforms have a lower minimum payout than networks due to their lower commission structure. If an affiliate does not meet the minimum within a pay period, the balance is rolled over to the next pay period until the minimum is met.
How long do the cookies last? Cookies are used to track attribution. For most platforms, cookie duration is between one and three days. Networks vary by merchant, but some platforms have minimum durations.
One of the best ways to discover lucrative deals is to keep an eye on affiliate deal aggregators. If you see a certain name coming up regularly on a site like BradsDeals or RetailMeNot, chances are their program works well. Those sites can't afford to keep low-performing offers up — the conversion rate for affiliates is low as is.
Affiliate marketing groups can also be good sources of information on potential partners. Join a couple of groups and listen to the conversation. Get tapped into the community and you'll learn over time which partners work better and which can be more challenging.
Being a Responsible Affiliate
No matter what route you choose, there's one rule to always keep in mind: your audience comes first. Promoting a bad offer because the commission is good isn't worth the reputational damage. Again: if it isn't good for your customers, it isn't good for you.
Concentrate on quality content marketing first. Build an audience. Then, and only then, you can consider dipping your toes into affiliate marketing. It's hard, but with this guide you have the foundational knowledge you need to find the right opportunities.
Need a hand building up that audience? Know that you don't need to go it alone. We're in this with you. If you need a little help, just drop us a line, anytime.
Best Regards,
Ed Bardwell
President
Rainmaker Digital Services