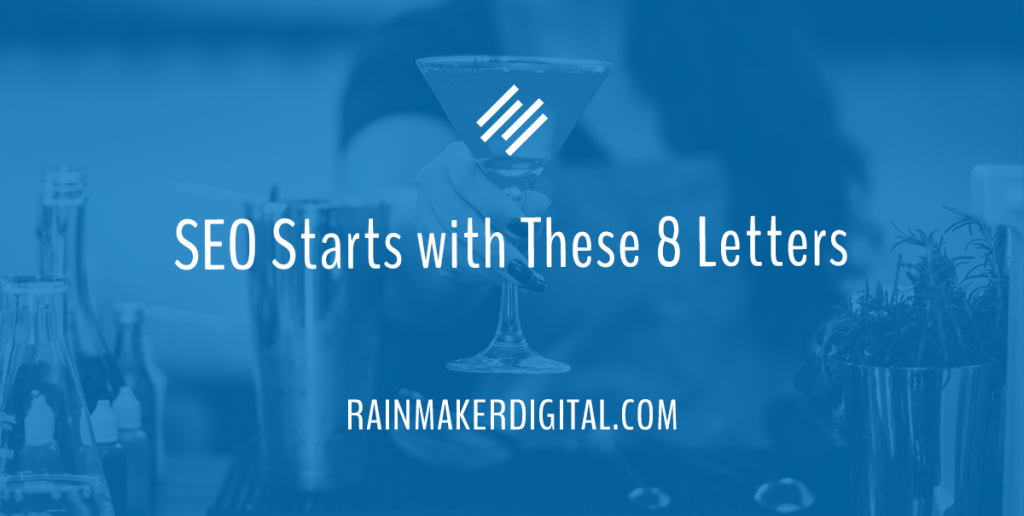 Google is the king of search engines. Over 80% of all searches worldwide are conducted through Google, so when they make changes, the whole content marketing world pays attention.
And they just made a change.
E-A-T was the acronym that defined SEO success for years. Google has changed that. The acronym has added another letter — it's now E-E-A-T. But E-E-A-T isn't the only acronym you need to know: there's also Y-M-Y-L. Learn how you can use Google's two acronyms to drive rank, visibility and traffic.
What Goes Into "The Algorithm"
E-E-A-T and Y-M-Y-L are acronyms Google uses to explain how its algorithm works in 2023.
Honestly, it's a little bit of a misnomer to just say "its algorithm." Google's algorithm isn't one set of criteria. There are multiple layers, weighting factors, ranking signals and data blended together in a machine of vast complexity.
We don't have access to Google's model, but we do have the information they release and several third-party authorities that do testing. We're only looking at part of the picture today; if you want to get more in-depth, sites like Search Engine Land publish regular, detailed explanations of Google minutiae.
It's a complex picture, but Google says E-E-A-T and Y-M-Y-L are the main factors that go into rankings — and based on both third-party and Google-released information, that seems correct. Here's what you need to know.
E-E-A-T
Google's "E-A-T" is a well-known measure of page quality.
E-A-T stands for:
Expertise
Authoritativeness
Trustworthiness
The search engine provider has updated to E-E-A-T, which adds "Experience" to the previous evaluation model.
These are critical concepts Google uses when evaluating page quality and page rank.
Experience
Experience is how much you know about your topic firsthand. I'll use cocktails as an example here, since mixing drinks is one of my favorite hobbies. If the local bar supply store I frequent writes an article about "why you should buy a Koriko Boston shaker," it will rank higher than it would if I wrote it. That's because there's other content published both by and about the bar supply store owner that shows that they use bar tools on a regular basis.
The addition of "experience" is meant to negate AI content and link farms. The entire world of content is being shaken up by new tools that make it easy to generate good content that answers people's questions. A lot of sites are trying to "game the system" this way.
The problem with this content strategy is that most, if not all, of your content creators (human or AI) don't actually know anything firsthand about the subject. I know. I've written about real estate in Miami before, back when I was a struggling freelancer trying to pay my bills. I know nothing about Miami. I've never been there. You're getting surface-level, generic content.
Experience isn't as much of a new concept as it seems. It has always mattered a little bit. But this is the first time Google's actually explained it as a part of their algorithm. It's critical that both your site and your author show expertise. Ghostwriting is one solution for authors that don't have firsthand experience, but it's better to just write on subjects you know something about.
Expertise
Expertise is whether the content creator has knowledge of and skill in the topic. For example, I'm a cocktail enthusiast. But I can write a page on "How to Make a Flawless Ramos Gin Fizz" and the algorithm won't think much of it. The drink is notoriously a pain to make — not something a novice will probably be able to explain effectively. But if bar historian and author Jeffrey Morgenthaler or cocktail resource Difford's Guide creates the same page, Google will rank them highly because it knows they have expertise.
Authoritativeness
Authoritativeness is how much a page is considered a go-to source. In my cocktail example, there are a handful of sources I'd expect to see ranked highly if I search "Vieux Carre cocktail" — Serious Eats, Difford's Guide, Liquor.com, maybe Jeffrey Morgenthaler or Wikipedia or PUNCH. Lo and behold: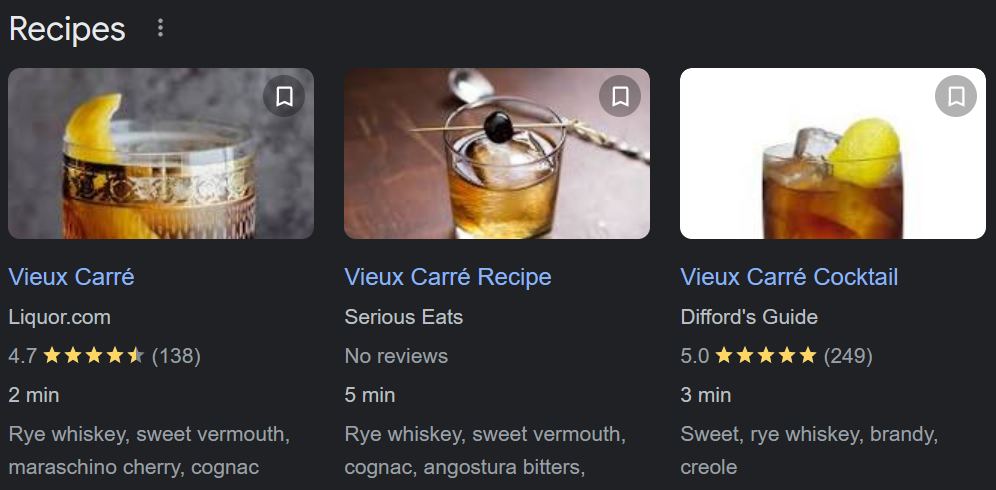 When I ask people in the bar supply industry which recipes they look at, these are all pages they consider authoritative. Google does too. Remember: for Google to think your page is authoritative, people have to too. This doesn't necessarily have to include experience. It solely relates to whether this niche's community consumes content from this source. It has to be relevant.
Trust
The final factor is trust, and this one is the centerpiece of everything. Take a look at the diagram Google uses in their search guidelines: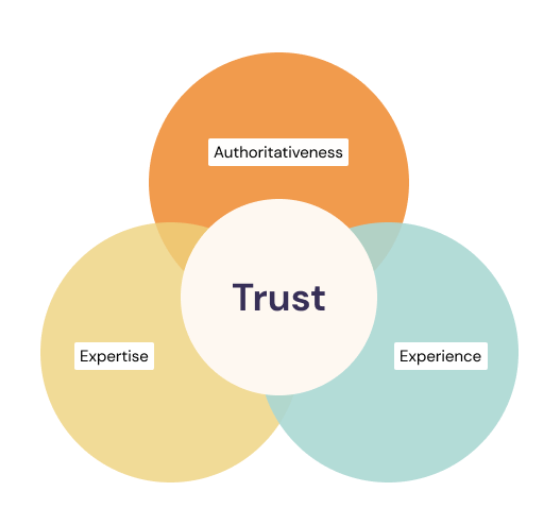 Every other ranking factor supports and is dependent on trust. The page, in Google's words, needs to be "accurate, honest, safe and reliable."
Not all pages need the same amount of trust to rank highly; some are weighted more than others. That's where Y-M-Y-L comes in — not every page falls under this designation, but it is the acronym that rules trust for certain topics.
Y-M-Y-L
Google follows E-E-A-T much more stringently for certain topics — the ones that affect your money and your life, or "Y-M-Y-L" as Google calls it.
There are a couple of categories Y-M-Y-L applies to.
Content that impacts a person's life or health. Self-harm, criminal activity and extremism are all Y-M-Y-L topics.
Content that causes harm if not 100% accurate. Safety topics like natural disaster and medical procedures, finance topics like investment and financial advice, and society topics like who can vote all fall under Y-M-Y-L.
There's a spectrum here, and Google has created a table that will give you a better idea of how Y-M-Y-L will impact content. But at the heart of it is one simple thought: does this have the potential to impact a person, people or society negatively?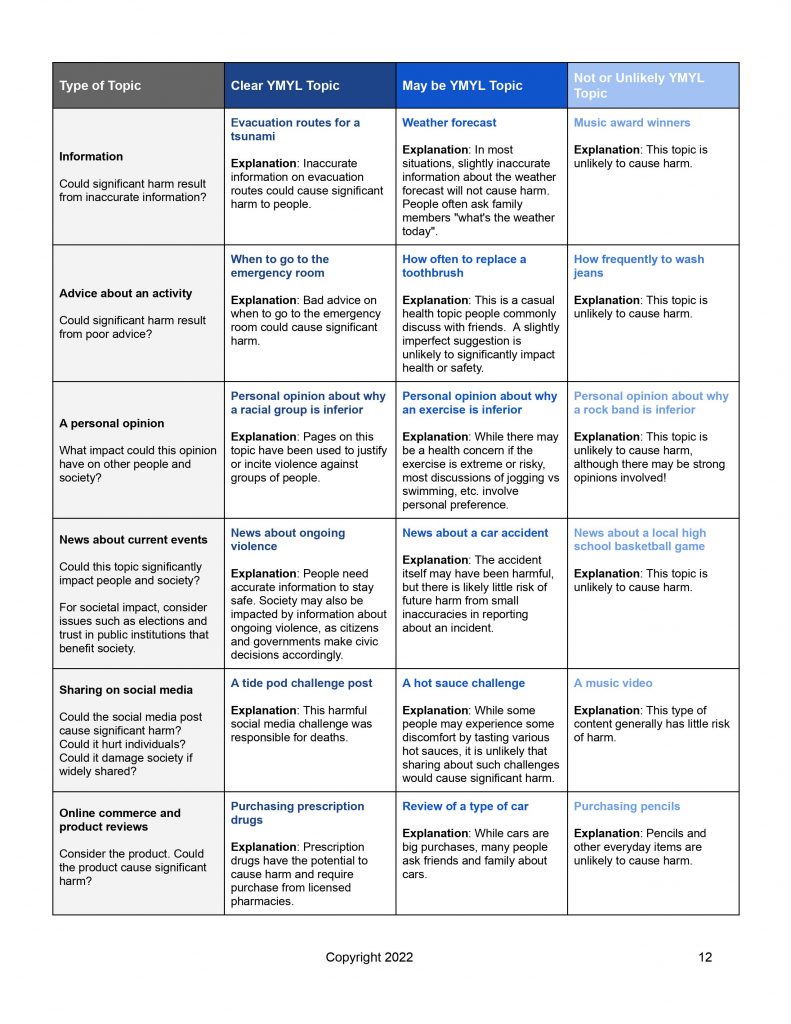 Google explains the two questions they ask to determine Y-M-Y-L in their search quality guidelines:
Would a careful person seek out experts or highly trusted sources to prevent harm? Could even minor inaccuracies cause harm? If yes, then the topic is likely Y-M-Y-L.
Is the specific topic one that most people would be content with only casually consulting their friends about? If yes, the topic is likely not Y-M-Y-L.
Not every site will fall under Y-M-Y-L, but if yours does, you want to be keenly aware of how well your site fulfills E-E-A-T.
Driving Your Site to the Top of the SERP
Following these acronyms makes your site more likely to rank on Google.
These two acronyms — E-E-A-T and Y-M-Y-L — rule Google's algorithm. Make sure your content fits E-E-A-T (and Y-M-Y-L, if your business falls under those criteria) and you'll succeed at SEO.
Need a hand with your SEO? Reach out; we're here to help. Rainmaker Platform makes it easy. Just drop us a line, anytime.
Best Regards,
David Brandon
Copywriter
Rainmaker Digital Services