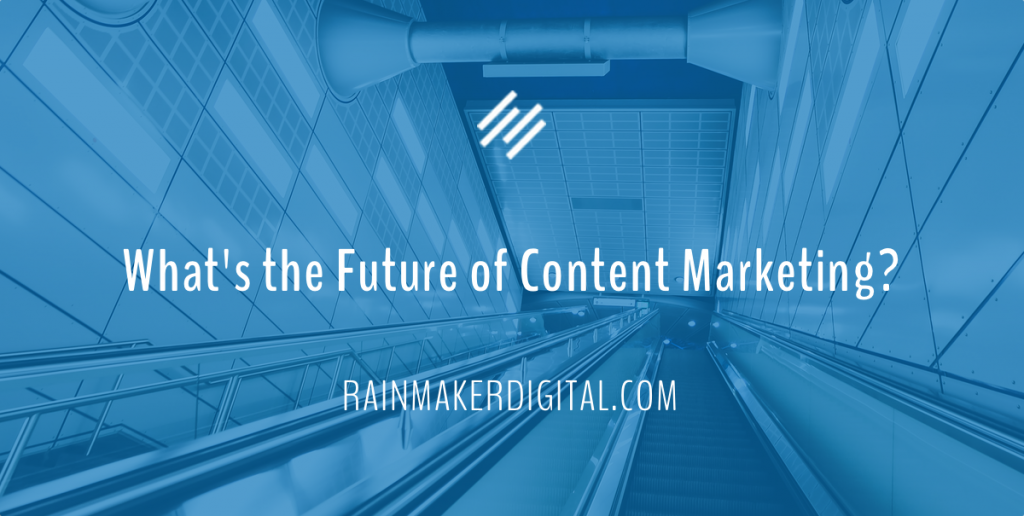 Content marketing thrives in the confluence of technology, data, access to consumers, audience behavior, and the virtualization of society. A lot of these influences are rapidly changing but people connecting through stories hasn't changed, and it won't.
In this article, we focus on the future of content marketing and what actions we can take to generate improved results as content marketing changes. A reminder that the fundamentals of marketing will not change — great marketing starts with great content, content is the key to connecting with people, and connecting with people is essential to — ultimately — motivating them to act.
It is easy to become enamored with a new technology, the latest content fad, or a new social marketing concept. At the same time, it is very challenging to build a long-term, reproducible, and successful strategy based on the latest "buzz".
Our look at the future of content marketing acknowledges that buzz, while centering on these current trends:
Marketing / Messaging is EVERYWHERE and we still want more!: There is content surrounding us and coming at us all day and yet, less than 20% of Americans are overwhelmed by the amount of content. Consumers are receptive to beneficial content when they want it.
Written messages are being replaced by watched messages: Social media has led to an explosion of video and visual communication. Statistics showing that over 80% of internet traffic is video is a bit misleading due to the size of a video file but there is no argument that marketers must account for users that want to watch.
When it comes to social media, change is the only constant: Social media has become part of the daily routine for nearly ¾ of adults online. Social media isn't going away but the channels are constantly changing. Ask any teen for their Facebook account from your GeoCities account …
Mobile is all that matters: Not only have the search engines prioritized mobile-first websites since 2016, mobile web traffic has surpassed desktop traffic. When considering new markets like the developing world and young consumers, the impact of mobile will only continue to expand.
From these trends, we can map the trajectory that content marketing will have to follow to generate business results.
Content is Here to Stay
The past decade has brought us technology that allows non-technical resources to publish world-class content, the digital innovation to create content and tell a story that motivates people to buy, and a strategy to leverage the audience behavior of looking for content via a search engines. Today, many industries fully recognize the power and opportunities that sharing content in digital environments provides.
There are some industries, like healthcare where only 37% of Fortune 1000 healthcare companies have a content-rich web presence. But, even in healthcare, as many as 78% of marketers are expecting content budgets to increase over the next year.
Content marketing has demonstrated its ability to generate results and companies are embracing the role of storytelling in their digital marketing. This is no longer an optional marketing tactic for B2B knowledge-based businesses. Even location-specific, B2C businesses are finding value through building a content-based relationship with their audiences.
Content Belongs to the Recipient
Now that brands recognize the value of content, the question has shifted from "message" to "method." The biggest method question is where brands should build their content. Should you build content on social media or on your own website?
RMDS has always recommended that a brand own its content presence. Not only does this approach allow the greatest flexibility, it also protects the content from any changes that a 3rd party might make to its EULA, technology, or layout. As early as 2007, many content marketing thought-leaders were publishing content as a blog, podcast, and on social media.
This type of cross-channel curation will continue to grow in importance. Create content once, publish to your website as a video, podcast or blog, and then distribute it everywhere. Consumers will tell you where they are, what they want, and when they want it.
An emerging part of the content equation is paid exposure. More marketers are recognizing that online advertising is an opportunity to expand reach, introduce their brand to new audiences and begin the user journey. Search and social pay-per-click have become opportunities to build awareness, not just buy clicks.
Content creators will need to account for curation and paid exposure as key elements in their future content marketing strategies.
Mobile-First Media
Have you ever tried to read a white paper on your phone while riding the subway to work? It is not easy. For years, there have been hundreds of apps to read to you to try to overcome the limits of reading text on a phone.
The change that we have to account for is that users are choosing podcasts and vlogs over articles, and content creators are moving to platforms like TikTok, Instagram Reels and Facebook Live to provide users content that they can enjoy on their mobile devices without needing to read.
While I love a good book and the power that comes from writing down my thoughts, the future of content marketing must account for mobile consumers. Written content will need to be more concise and used to grab attention. Text has become only a part of the message. Images, infographics, audio, and video will be the primary vehicles to explain complex data.
Audio and video will provide a path for personal connection between the consumer and the brand. All forms of media will have to work together to create a complete message.
Mobile also impacts storytelling by allowing the physical and digital worlds to co-exist. Location-based content marketing, driven by the location of the device combined with user behavioral data will present personalized content that uniquely matches the consumer's needs.
There are obvious opportunities for mobile content marketing for hospitality and travel but the potential exists for consumers to see the latest review of that new SUV, detail the benefits of another networks cell service, and more even while that consumer is walking into a competitor's location.
One More Thing …
There are other technologies that will significantly impact the future of content marketing. There are extensions of user content preferences and mobile-first trends that will drive content marketing.
Be mindful of the growth of voice search. Today, 48% of US consumers claim to have made a voice search. The killer voice apps are driving directions and device command applications (like making a call or sending a text) but voice search is becoming a habit that is expanding to all types of interaction.
Search applications like OK Google, Alexa, and Siri are making natural language search easier to perform. As smart speakers and virtual voice attendants penetrate consumer behavior, content will need to evolve to account for the longer natural language search possibilities.
Content marketing drives digital marketing today and will for the foreseeable future.
If the idea of executing on an content marketing strategy seems overwhelming, know that you don't need to go it alone. We're in this with you. If you need a little help, just drop us a line, anytime.
Best Regards,
Ed Bardwell
President
Rainmaker Digital Services