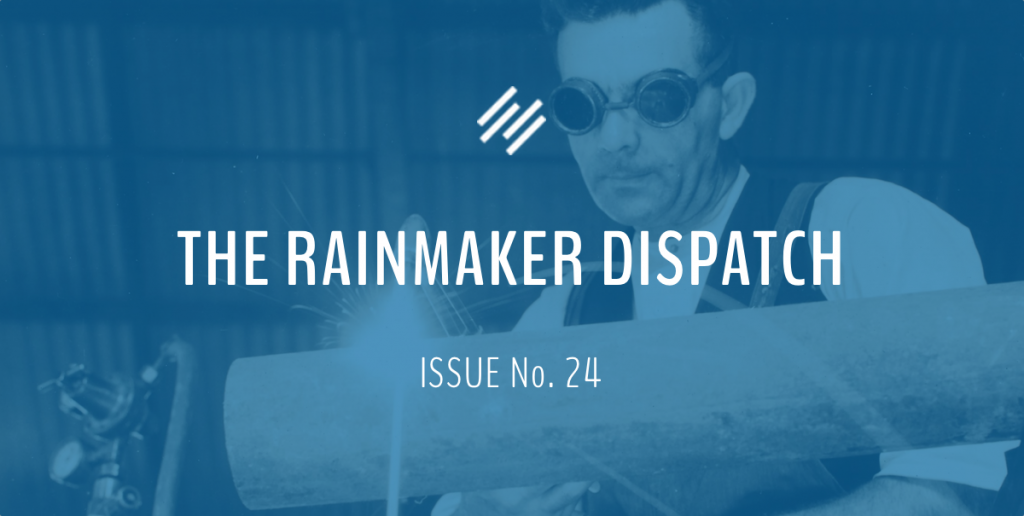 Greetings Rainmakers,
I've got something a little different for you today, in honor of the two-year anniversary of The Rainmaker Dispatch! I hope you enjoy and profit from this latest series I've been writing …
What does it take to build a profitable business in the 21st century?
A very big question, to be sure. Too big, in fact, for the confines of a single blog post … but let me do my best to whet your appetite for what is possible and get you started down the road to success.
If you're beginning down this road of marketing your business — online or off — my hope is that this special edition of The Rainmaker Dispatch can be your guide.
Yes, we live in challenging times (to say the least!), but in the articles I've linked below, I've worked hard to bring you the fundamentals of what truly matters to entrepreneurial success, in any age.
None of us have the time or resources to become "professional" in every arena of digital marketing. Doing what you do best is critical for success and you can partner with an agency where you need help.
Still, we all need a basic understanding of this universe of possibilities. This collection of articles will help provide a foundation so we can define better solutions for our companies and clients, or simply call BS on a so-called "expert."
Alright, on with the show …
The growth in interest in the term "Content Marketing" over the past 10 years has been incredible. Thanks to the pioneering work of thought leaders like Brian Clark and the Copyblogger team, marketers began learning the critical importance of producing valuable content for marketing a business online.
The purpose of this article is to establish that email marketing is critically important for every marketer AND there is a methodology that will be beneficial for every brand. If you haven't begun your email list, I'd like to provide a little guidance here on why you should … and why it may be the most important business decision you ever make.
Humans are social animals. As our lives have become ever more digital, social media has become a fundamental part of how we interact and a major part of every brand's marketing. As marketers in this day and age, we must recognize and harness the power and role of social media.
Search Engine Optimization (SEO) is the darkest of the dark arts in digital marketing. While even the most inexperienced user understands the goal — to be the top-ranking result on Google — not even the most effective SEO practitioner can guarantee that outcome. What then, are marketers to do?
Like most other aspects of digital marketing, there are so many blog posts, data models and "secret systems" about website conversion that most of us are left feeling confused at best and completely incompetent at worst. It is easy to fall for the fallacy that "great marketers" convert every website visitor. Let's debunk that theory and get you on the right track.
Global spending on digital advertising increased 17.9% to $335 BILLION in 2019 and is forecast to continue to increase over the next five years. More importantly, digital advertising finally passed the 50% threshold in total ad spending. What does this mean for you? If you've got nearly any level of budget, this discipline done well can change the course of your business forever.
In the broadest terms, all forms of online commerce can be called electronic commerce or eCommerce. For many digital marketers, we divide eCommerce into four discrete versions since the marketing strategy changes based on the type of commerce pursued. In this article I'll define these different types of online commerce and examine the types of marketing they use.
Ben Franklin is credited with one of the great digital marketing axioms, "If you fail to plan, you are planning to fail!" Digital marketing is hard work and planning is critical. Like all marketing, it requires discipline, sacrifice (you can't be everything to everyone), and a commitment to a plan. Without a plan, even the most innovative tactics and clever creative won't yield the business results you expect.
Make the Roaring 20's Your Best Decade Yet
That might seem an interesting concept — the Roaring 20s — in the context of how incredibly challenging this year has been so far. But we are more than optimistic about what's to come!
And like our brand new decade, the landscape of digital marketing is constantly shifting, growing, and full of opportunity.
Our commitment to you is that we'll be here, ready to help you achieve the success you're looking for, whether you need content, technology, or services.
We'll not only be here, we'll be constantly upgrading our technology and skills to better serve you.
If you have any questions about Rainmaker Platform (or anything else we might be able to help you with), we're always here to listen and help get you the answers you need. Just drop us a line, anytime.
Best Regards,
Ed Bardwell
President
Rainmaker Digital Services