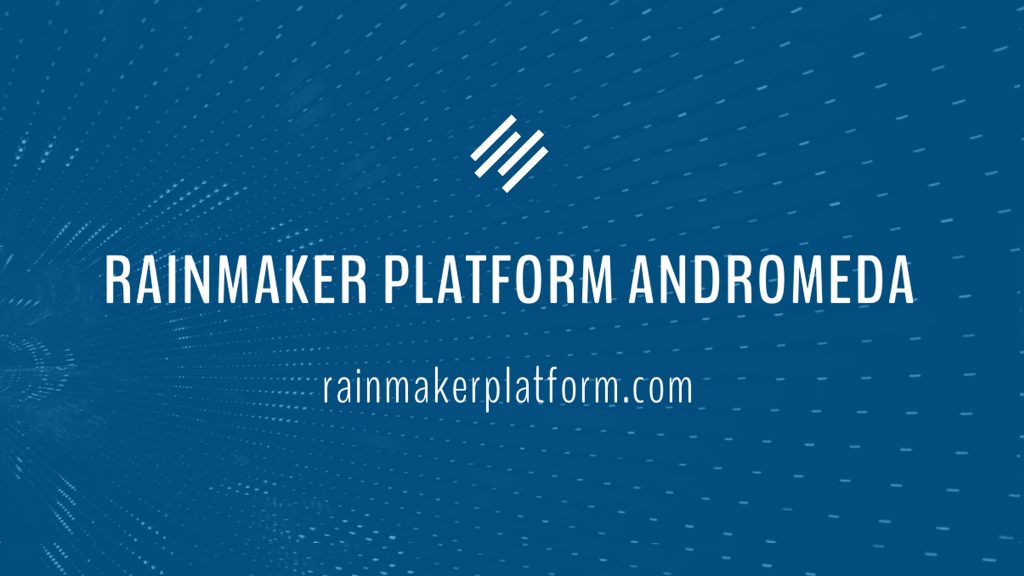 Greetings Rainmakers!
We've had an exciting first quarter of the year. In these first three months of 2021, we've partnered with many of you on projects that can build your business. This includes bringing more Add-Ons to your customization options on the Rainmaker Platform and expanding our marketing technology teams to better serve your needs. Thank you for trusting us with your vision.
The Rainmaker Platform has been around since 2014, with Andromeda coming out in September 2019. In that time we've expanded its capabilities with new features based on your feedback. One of the biggest additions we've made has been the Add-Ons library. Rainmaker Platform is designed to include all the features that you need to market and build your digital presence, but we know you may need specialized functionality beyond what's in the platform to meet your specific goals. That's why we created Add-Ons, and why we offer plugin customizations for anything that we don't natively support.
Add-Ons Library
The first customization we built for Rainmaker was Labs. It held a library of curated plugins that could be run on the Rainmaker platform in a beta state. These plugins were reviewed to make sure they wouldn't cause any major issues, but stability was not guaranteed. It was a beginning. Labs remains the primary means of extending your Rainmaker Platform capabilities on the Legacy (Version 2.x) platform. Andromeda (Version 3.x) added something new: the Add-Ons tab.
Add-Ons is similar to Labs, but these features go through more extensive testing to ensure stability. We launched Andromeda with several popular add-ons based on customer feedback and have added more since then. As time goes on, we plan to both add more to the Add-Ons section and transfer over the old Labs plugins.
There is no cost to use Add-Ons. Turn them on and off as needed. There are a number of well-known add-ons that we've included. Some of the most popular include:
PopUp Maker: Use this Add-On to create pop-ups, banners, slide-ins and other extra elements that can increase conversions on your web page.
Social Warfare: Turn this Add-On on to add social sharing buttons that make it easy to share your content on sites like Twitter, Facebook and LinkedIn. Fast load times and customizable colors make it a mainstay for many sites.
Beaver Builder: Beaver Builder is a WYSIWYG page builder with front-end drag and drop capabilities. Add this Add-On for more templates, modules and pre-made rows to make creating a website easier.
GoTo Webinar: This Add-On allows integration with GoToMeeting's webinar functionality, letting attendees register for and log into webinars from your website.
Customers on Andromeda can access all of these additional features by going to Settings >> Features >> Add-Ons (or Labs):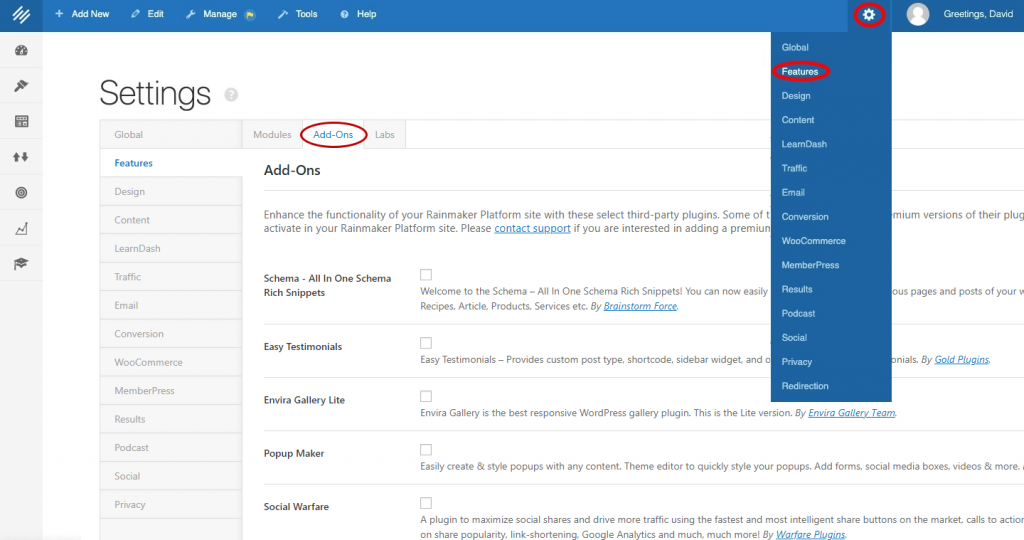 Popular Plugin Customizations
We don't just offer extra functionality through our Add-Ons and Labs sections. Our development team is available to customize your Rainmaker Platform with 3rd party technology through a technical discovery project.
If you have a plugin you want to add that isn't available through Add-Ons or Labs, contact us to see if we've integrated it for any other client site. We have already implemented over 30 different plugin solutions on Andromeda sites. If we have an implementation that meets your needs, we can add it to your site for just the cost of installation (no research needed.)
The customization process gets a little more complicated if you want to add something we haven't yet tested. We will do a technical discovery — that is, establish a separate testbed installation of Rainmaker Platform to run the plugin you want to use and make sure it's stable and doesn't conflict with anything else. The fee associated with this testing varies depending on the complexity of the plugin.
Some of the most requested and impactful plugins we've deployed include:
WP Mail SMTP: This plugin uses third-party services to authenticate any emails you send to make sure they don't get marked as spam.
Genesis Simple FAQs: This popular technology makes it easy to add a FAQ to any WordPress site.
FacetWP: Sites add this plugin for advanced filtering options on eCommerce sites to make it simpler to drill down on products (or any content) by category.
MemberPress Corporate Accounts: Add this plugin to expand your MemberPress functionality and add group accounts that allow multiple people to use the same subscription on your site.
We love Rainmaker Platform and want it to be the best integrated solution for your digital presence, but if you want to add extra capabilities, there are ways to do it. We make digital marketing and web design simple. Rainmaker Platform is designed to be a turnkey solution but a flexible one — we'll help you add the implementations you need without fear of breaking your site. If you have questions about how to turn on plugins in Add-Ons or want to have us add a plugin customization, reach out. We're here to help.
Best Regards,
Katy Barrilleaux
Vice President, Client Services
Rainmaker Digital Services