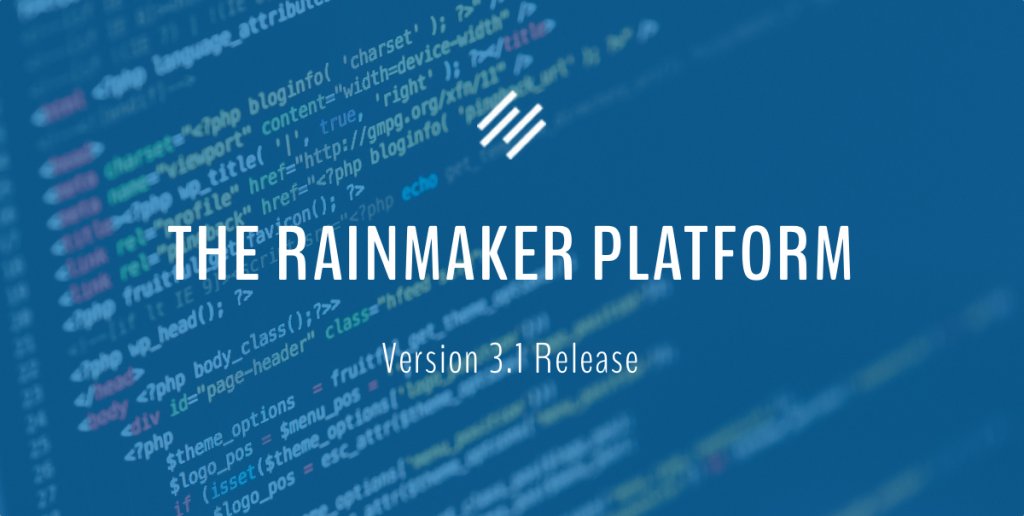 Hey Rainmakers,
Welcome to October!
I'm taking a break from our ongoing video series this month to let you know that we've released another update for Rainmaker Platform Andromeda.
We're excited to announce version 3.1. We've focused on everything from brand new functionality to upgrades for RainMail and MemberPress, to a group of essential bug fixes.
But before we get into those updates, I'd like to remind you of a few great resources we've put together for you …
The Rainmaker Platform Video Series
If you haven't been able to watch all of the videos in our series yet, I've put together a handy single page for them to live on. If you've got questions about certain aspects of Rainmaker or you're simply interested in checking out a new functionality that might grow your business, you can always find every video in our series right here.
What's New in Rainmaker Platform Andromeda?
Many of you have been asking for a single page that lays out everything that's new in Andromeda. So, of course, I wrote it! I think it's well worth a look in order to catch a quick glimpse of what your Platform can do for you. It may even inspire some of you to branch out into completely new lines of business using Rainmaker! Click here to check it out right now.
Rainmaker Platform Andromeda Version 3.1 Release Notes
Below you'll find the release notes for RMPa 3.1 … all of these great updates are currently live on all Andromeda sites!
NOTE: If you are still using the legacy version of Rainmaker Platform, you won't see or be able to take advantage of these updates. But we're ready to migrate you over to Andromeda right now, free of charge! If you're ready to do that, it's super easy and we'll take care of all of the heavy lifting, all you need to do is head over to this page and follow the simple instructions there. Not sure whether or not you're on Andromeda? There's a quick way to find out … once logged in, if your left hand menu is black you're running legacy Rainmaker Platform and if it's gray, you're on Andromeda. If you're still unsure, just drop us a line, anytime and we'll get you fixed up right away.
OK, let's take a look at the upgrades currently live on Rainmaker Platform Andromeda, Version 3.1 …
NEW Features
Active Campaign For MemberPress is available (with MemberPress module enabled). To activate the plugin, go to Settings > Add-Ons > "MemberPress Active Campaign – Lists Version." Then click the "Plugin Settings" link in the plugin description to add your ActiveCampaign API credentials.
ActiveCampaign now has Subscription Forms. Just head over to Settings > Features > Add-ons and activate "ActiveCampaign Subscription Forms."
MemberPress Developer Tools (with MemberPress module enabled) is available to enable webhooks and use the MemberPress REST API for third-party integrations. To activate go to Settings > Features > Add-Ons and look for "MemberPress Developer Tools." Once activated go to the Settings Gear Icon > MemberPress Dev Tools.
WP GoToWebinar has been added to the platform. We previously had another GoToWebinar integration in Rainmaker Labs and it didn't work very well. We've added a new integration that you'll find in Settings > Features > Add-Ons. Once activated, look for the new tab under the Settings menu to configure the integration.
Improvements
Implemented RainMail sub-account backups
Implemented synchronization process for subscribers between platform and RainMail
Implemented Subscriber and shortcodes for double opt-in confirmation emails
Added a "force unsubscribe" link in the double opt-in confirmation email
Aligned all filtering elements in MemberPress list view to the left
Improved the responsiveness of the Privacy Settings page
MemberPress has been upgraded to version 1.8.15
Bug fixes
Removed empty left hand menu from Theme Import confirmation screen
Post Editor: Fixed the format of the Testimonial button in WYSIWYG mode
Appearance: Fixed the footer text displaying on public area before saving settings
Fixed the issue of greeting and name not using the same font size
Fixed the default footer alignment in RainMail
Fixed the left margin on the RainMail plain text template
Added removal of your own list from the "Unsubscribe From" hook
Fixed the empty excerpt issue with a "read more" link in broadcasts
And, In Case You Missed It …
We already emailed you our Andromeda updates from the 3.0.2 release back in July, but here they are again, in case that email slipped by you!
Features
Make your site faster by optimizing CSS, JS, Images, Google fonts and more with the Autoptimize plugin. Activate it by going to Settings > Features > Add-Ons > Autoptimize
If you are not using it, now you can turn off the Yoast SEO module at Settings > Features > Modules. This is for those who purchase the Yoast Premium SEO plugin.
If you are not using the Forums module, you can now deactivate it at Settings > Features > Modules > Enable bbPress Module.
Conversion
Assign Coupons to All Products
Coupon Links for Migrated Coupons
Implemented Strong Customer Authentication (SCA) into Stripe payment gateways
Added Conversion Settings to the Core Module
RainMail
Improved styles on Broadcast Email editor buttons
Implemented font family and font size options on Broadcast Email editor
Adjusted header image requirements and language in Email Settings
Made suppression lists updateable
List pending subscriptions under lists
Adjusted language on admin notice after creating an A/B Test
Improved organization on the Broadcast Email sidebar
Added DNS Verification Message When RainMail is first activated
Allow searching subscribers by email address, name and ID
Option to send Excerpt Instead of Full Post to RSS Feeds
Set default test email
Enhancements to Broadcast reports
Social Scheduler
Allow connecting multiple Twitter accounts
Updated requests to Bitly API to v3
Miscellaneous
Mailchimp: Improve error handling when trying to subscribe an already subscribed user to a Mailchimp list
GDPR: Prevent displaying the message about cookies on the Privacy Policy page
Enabled SVG uploads
Admin User Interface
Display the Site Name on login screen instead of "Visit Site"
Changed "Testimonial Category" page headline to "Testimonial Categories"
Migration From Legacy Platform
Added process to re-sync affiliate reports
Integrated PayPal Standard settings from legacy sites
Bug Fixes
Fixed the Site Notice pop-ups not adhering to display rules on cached pages
Removed the blog post image and post meta when previewing Forms
Fixed unwanted Podcast episodes showing up in reports
Fixed Podcast episodes without plays and downloads showing up in reports
Quiz Results message will now display the quiz URL as a hyperlink instead of raw text
Prevent duplicate tags in Infusionsoft while renewing subscriptions
Prevent duplicate AWeber subscriptions to lists
Avoid reaching Sendgrid Segments with "Resend to unopens" in RainMail
Avoid deleting RainMail lists assigned to Broadcast Emails with "draft" status
Fixed RainMail Email Broadcast "Send" button text reverting to "Publish" when saving a draft
Fixed empty left menu when viewing RaiMail A/B Test screen
Avoid saving gateway modes in preview sites
OK, that's it for now. As always, if you have ANY questions or concerns about Rainmaker Platform, we're here for you, you don't have to go it alone. All you need to do is drop us a line, anytime.
Best Regards,
Will DeWitt
Director
Digital Solutions
Rainmaker Digital Services