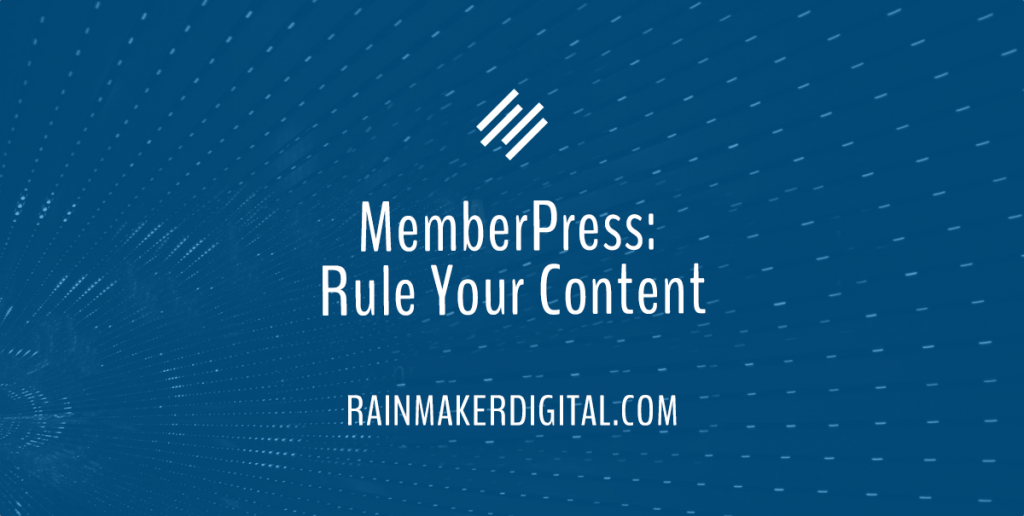 Starbucks, Bespoke Post and Huckberry all have something in common with many Rainmaker Platform customers and your local gym: they use memberships.
Memberships are powerful tools for converting customers, creating loyalty and generating recurring revenue. Want to explore memberships on your Rainmaker Platform site? Take a look at the MemberPress Module.
We've talked about MemberPress before. This time we're going to dig a little deeper into the module to show you why and how to use MemberPress Rules to protect or "gate" your content.
Setting Up MemberPress
MemberPress is easy to set up. You can look at our overview of MemberPress to get started, but here's a quick summary.
Turn on the module (if it's not on). You can do this by mousing over the gear icon in the upper right of your Rainmaker Platform Admin, then clicking "Features" in the drop-down menu. From here click the check mark next to "MemberPress Module," scroll down to the bottom of the page and click "Save."
You'll then need to create a membership. We have a guide you can follow for that. Once you have that membership set up, you can start gating your content.
How Do You Gate Your Content on Rainmaker Platform?
MemberPress has a very powerful system to protect content and control access based on membership: Rules.To get to your Rules, look in the left-hand menu and mouse over the bulls-eye icon. Then under the MemberPress section, click on "Rules."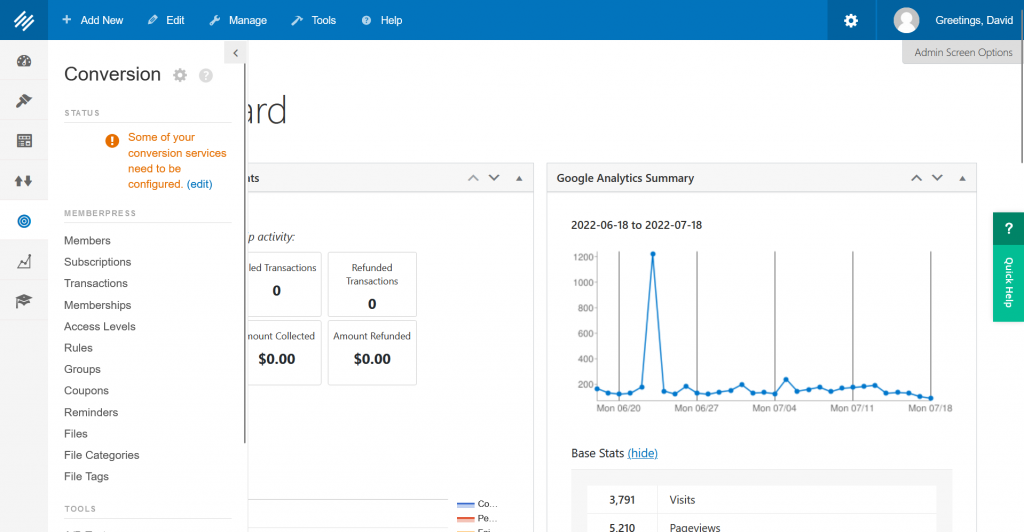 Click "Add New" on the next screen and you'll be able to build your Rule.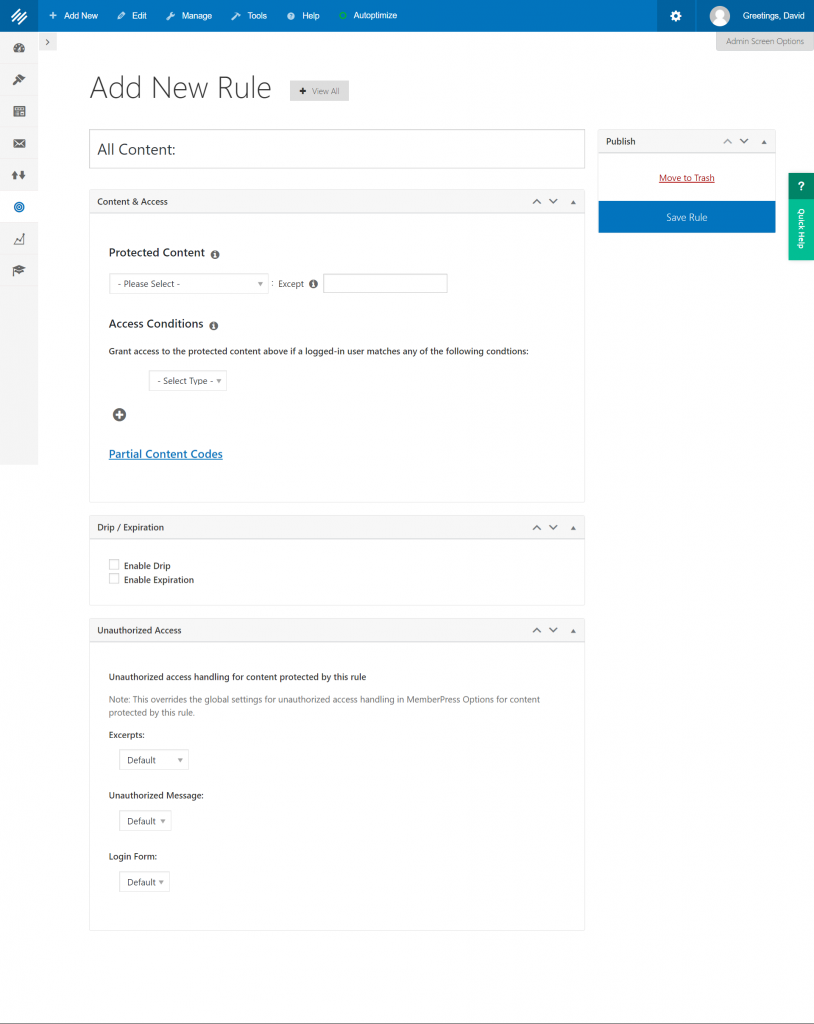 Types of Protection
Every rule requires that you 1) choose which content to gate and 2) choose what conditions control access.
The "Content & Access" box is the first thing you're looking for. The first drop-down box under "Protected Content" has an absolutely dizzying number of options to choose from. We can generally group them into two different categories:
Individual protections cover one specific page, post, portfolio or popup. That individual asset will be protected by the rule.
Blanket protections cover everything that falls in a "container." That could be a category, a tag, or a custom definition you create. This lets you create a rule like "protect all pages with the 'graphics card' tag." One of the most unique versions of this is Custom URI, which lets you protect based on a specific string in a URL.
And with both of these, you can use the "except" box to make exceptions to the rule.
There's one more type of protection, and this is partial protection. This lets you use a shortcode to protect a small piece of a page or post instead of all of the content on a page. Partial protections are great for something like a blog post or article where you want to be able to see a sample. ESPN routinely does this: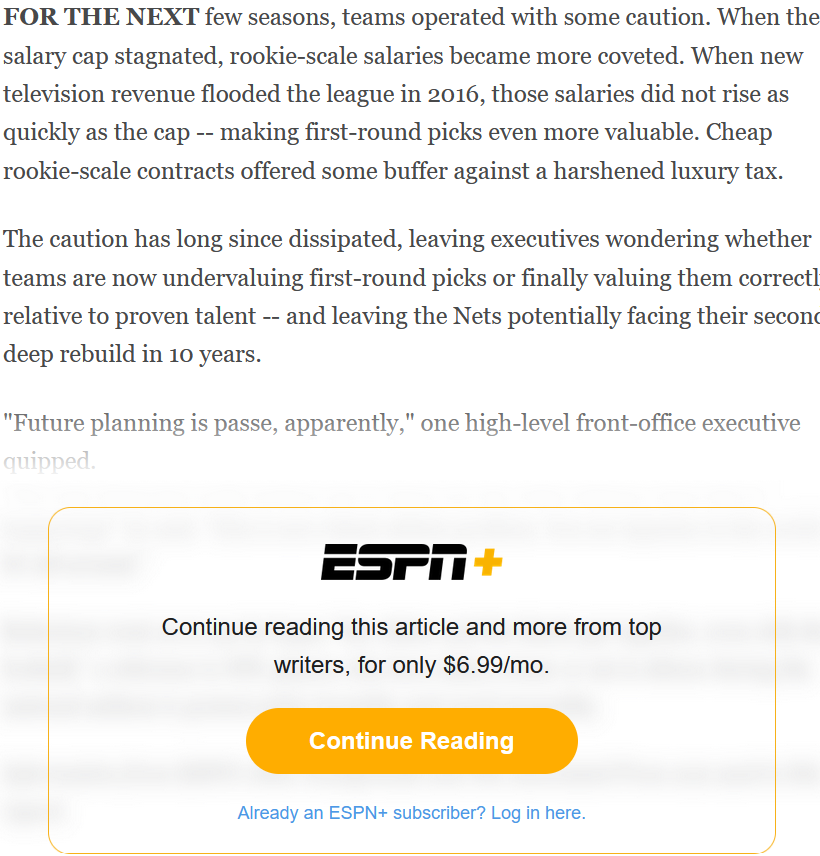 The "Access Conditions" box lets you choose which group you want to associate this rule with. You're almost always going to choose a membership, though there are other options. Then you choose which membership you want to use for the rule. This comes in handy for sites that have multiple types of memberships or tiered memberships – you can build different sets of rules.
Notice too that you can choose multiple memberships. This means that all of these groups can access this content.
Using Protections Effectively
It's one thing to say you can gate off content, but it's another thing to effectively use that protection.
You can put a whole class of items behind a rule. For example, let's pretend we're running a site about professional basketball (my favorite). I've done some writing about a number of different basketball-related subjects, but the subject I know the most about is the NBA salary cap. So all of my posts would be open to everyone except for posts where I've added the tag "#trade" in the tag box because I want those for my members. I could set up a membership around trade analysis and every post with that tag (or category, if I wanted to set it up that way) would be under control of a rule.
If I had a particular eBook that I wanted to only be available to members (say, something breaking down NBA trade rules), I could gate that eBook behind a rule. Or if I had two eBooks, I could add a rule for a group of items. Use your imagination.
Specialty Triggers
Sometimes you want your rule to change over time. That's where the next options come in.
Look at the box that says "Drip / Expiration" and you'll see a check box for drip and expiration rules.

A drip rule will let you open access up to different pieces over time. Think about something like a time gated course, or perhaps a content series you want to build buzz for. Disney Plus does this with series like Kenobi or Loki, which released an episode at a time. It's a good way to build anticipation and get people into the funnel.
An expiration rule is a little different. It goes away entirely after a set period of time. This lets you set up things like early access, which gives creatives like musicians and writers the option to give people a sneak peek. It's also good for something that you might want to beta test with your members before releasing to a wider audience.
So, in summary, if you want to protect your content, here's the process: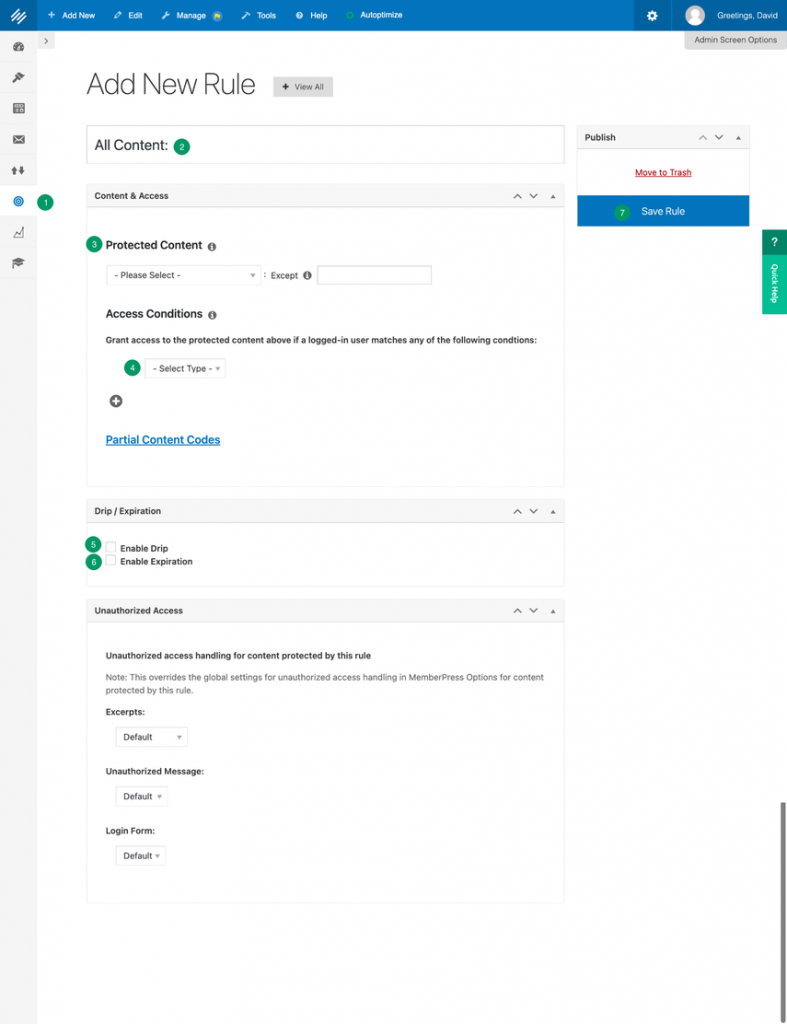 Go to Rules and create a new Rule.
Name your rule.
Choose what you want to gate from the drop-down menu.
Choose which group you want to be able to see that content.
Decide whether you want that content to be released over time as a drip. Check yes or no.
Decide whether you want this rule to expire. Check yes or no.
Click "Save Rule" on the right side of the page.
There are other actions you can take (for example, creating individualized messages for unauthorized access), but these will let you build basic rules to control access to your content.
Why Gate Your Content?
There are a couple of reasons to put content behind a membership.
Build relationships. Want to turn customers into clients? Start treating them like they're special. A sense of belonging makes people care more. And through those relationships, your clients will tell you more about their preferences. That lets you serve them better.
Create value. Putting some of your better content behind a membership makes it more valuable to people because they actually have to invest something to get it. Maybe that's money. Maybe that's just an email address and a little personal information. Whatever it is, make sure it's worth it for them.
What Kind of Content Would I Put Behind a Membership?
There's a huge array of content you could put behind a membership.
Special deals. Running a members-only sale is a great way to add value to your membership and build loyalty. It can also mean you could offer a better sale because you know your maximum demand.
Complex or advanced content. Advanced content is tailor-made for memberships. I've been learning drums, and Drumeo's free videos have been really helpful for that. But once I get good enough there are many more advanced course materials I could get through the membership. It's not worth it for me to pay for it yet, but their free content is moving me down the funnel to where I would pay for the advanced lessons.
Certifications and user benefits. A certification builds value for a membership. Copyblogger's Certified Content Marketer program is a great example of this. When people sign up, they get the benefits of connections, visibility and prestige.
Is There Any Reason NOT To Put Content Behind a Membership?
There are reasons you wouldn't put content behind a membership. And they pretty much all revolve around the concept of the funnel.
Memberships work best in the middle of the funnel: people have already been pulled in by that lighter, top-of-funnel content, and they're interested in pursuing a relationship. But they may not be ready for some of your high-end offerings.
Make sure you're giving something better than free, but not top-of-the-line. If you gate too early in the funnel, people don't yet believe they'll get value. If you gate too far down the line, you might not ever see good ROI on your premium content. Stick to the middle of the funnel.
Rainmaker Platform and the Power of Memberships
Memberships let you build loyalty, create value and make money off your premium content. And Rainmaker Platform makes them easy with MemberPress. Start using MemberPress Rules to gate your content today and see how it can change your business. And if you need a hand, contact us. We're here to help.
Want to see us put some of these rules into action? Join me and Katy Barrilleaux for a webinar on August 4th, 2022 at 1 p.m. Central Time. Sign up today.
Best Regards,
David Brandon
Copywriter
Rainmaker Digital Services