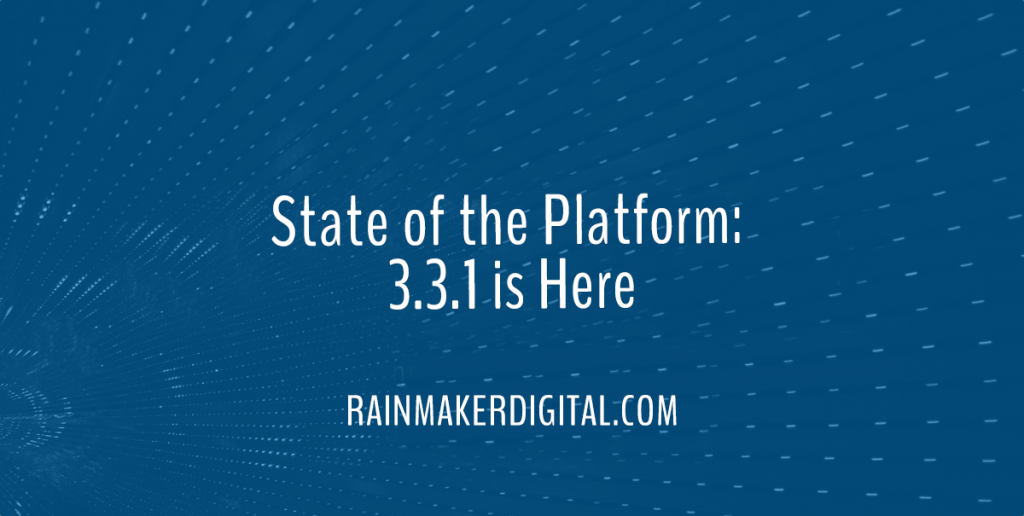 All of our Rainmaker Platform Andromeda version clients and servers have been upgraded to Rainmaker Platform version 3.3.1, and we're excited to share it with you all. We appreciate your patience during the deployment process.
The new release includes over 200 enhancements and fixes. We've focused on the areas clients like you have asked us to prioritize — this update tunes up your site so it runs more smoothly and is easier to work on. If you want a full list of the changes, check out our changelog.
There are several aspects of the platform you should review with this update — some new, some not. It's easy to just keep doing what you're doing and let some of these enhancements fall through the cracks. Don't. Here are the five features you should take a fresh look at in Rainmaker Platform 3.3.1.
Yoast SEO
Some of our previous SEO features have been replaced with new options. One of the most important is the Yoast integration with Wincher.
To connect Wincher to Yoast, navigate to one of your published posts. Scroll down to the "Yoast SEO" panel: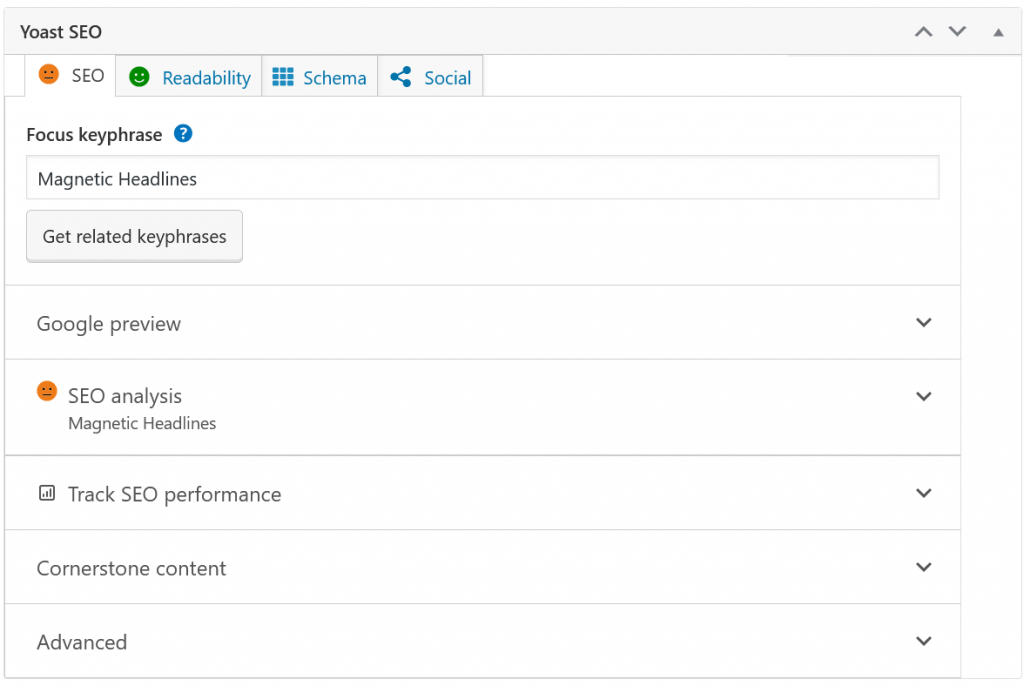 Make sure you have a focus keyphrase chosen for the page. In this case, we've entered "Magnetic Headlines."
Now click the arrow on the right side of "Track SEO performance." This will open a sub-panel.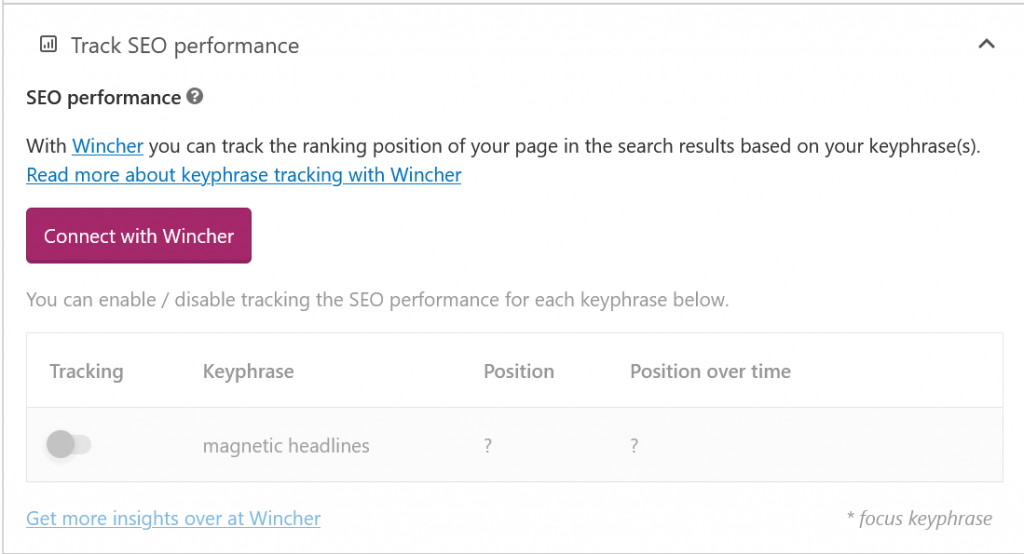 Here you can track your keyphrase with Wincher, a new integration with Yoast SEO. Click "Connect with Wincher" and create an account, then follow the on-screen instructions.
Once you've finished, a new page will open in a new tab.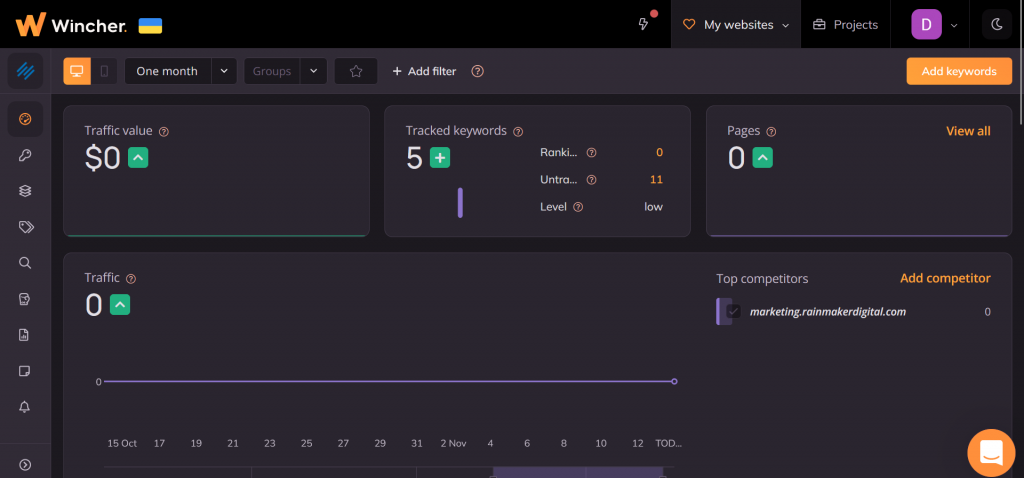 You can use this for insights, but you can also find that information right there in your posts. Go back to the post page again and refresh. Then go to "Track SEO performance" again.
Make sure you have a keyphrase entered. This is what you'll see: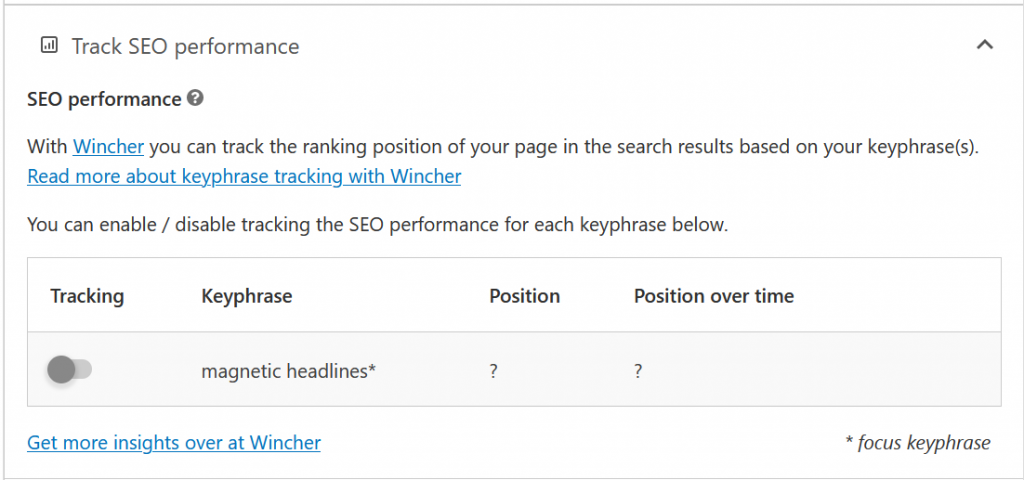 You can toggle tracking on and off now with the toggle under "Tracking."
There are plenty more features you can take advantage of with Rainmaker Platform's Yoast integration. Feel free to explore, or reach out and we can walk you through your SEO options.
Beaver Builder
We've added several new templates and content tools for Beaver Builder. The content tools are available within the editor, but many people don't know how to find the templates.
Start a new page, then click "Launch Beaver Builder."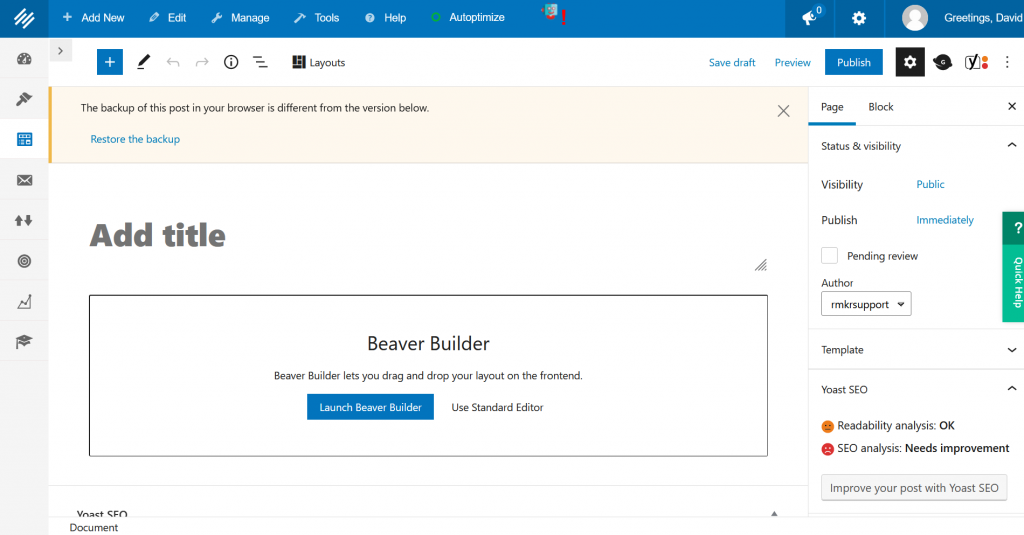 Once you've launched Beaver Builder, click "Templates" in the drop-down menu and choose from all the options. We've added several new ones for you; take a look and see what you like.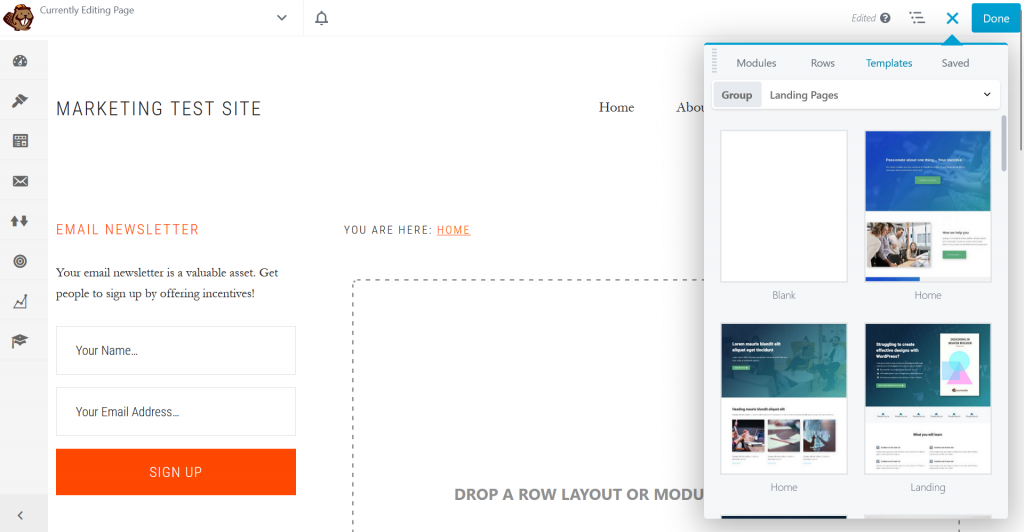 Use the drop-down box next to "Group" to choose the type of page you want, then find the design that you want. Simply select and add to your page. From there, edit as you would normally. It's not complicated, but if you need a hand deciding on the right option, reach out to us and we'll help.
RainMail
Want to run an A/B test? RainMail makes it easy. We've corrected any issues you might have dealt with on your A/B tests in the past, and you should be able to check your emails against each other without a problem.
Click "A/B Tests" in the left menu.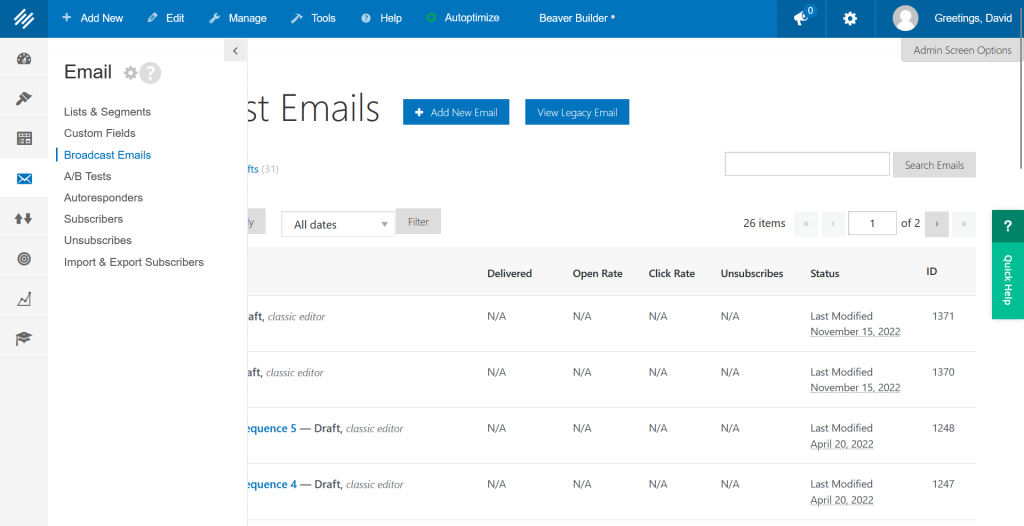 From here, click "Create New AB Test." Now you'll be in the A/B Test screen.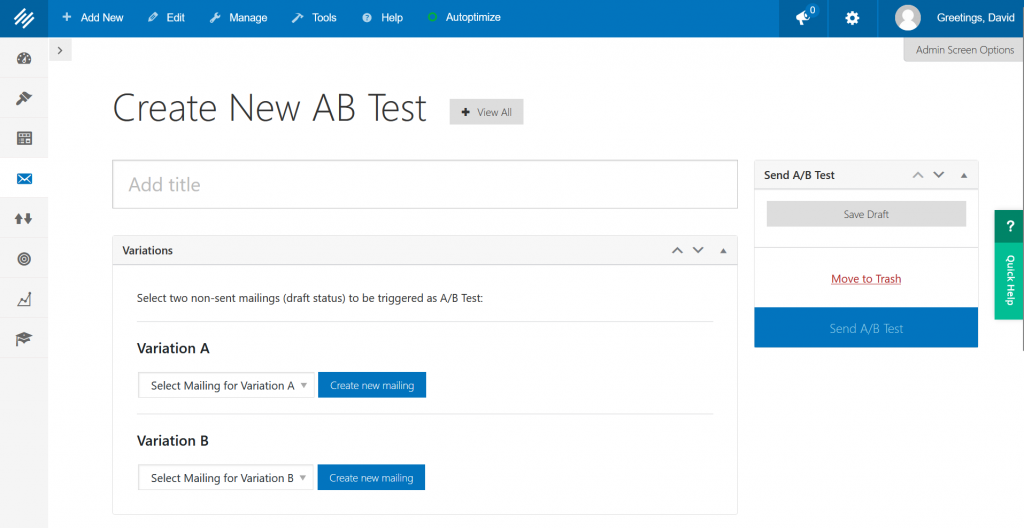 Choose the email you want for mailing A and mailing B. They should be variations of each other; the whole point of the A/B test is to see which mailing does better.
Then choose a list to send to; it needs at least 50 subscribers.
Once you've chosen your emails and your list, you'll need to save the draft or send. Save it as a draft first, then check everything to make sure it's correct. Then send when you're ready.
RainMail's A/B test functionality is a great way to improve your open rates. Make sure you're taking advantage of it, and if you need a hand, we can help.
Rainmaker Labs
Used Rainmaker Labs lately?
Rainmaker Labs is where we test features that might become part of the platform. Sometimes they make it — GoToWebinar is now officially integrated with the platform, for example. In other cases they don't, or they're superseded — for example, Visual Page Builder, which has been replaced by Beaver Builder. Your input is vital for our decision-making process, and if you want to weigh in, you can reach out to us and give us your thoughts.
Mouse over the gear menu on the top right of the dashboard and click "Features." From here, you can click the "Labs" tab to find our experimental features.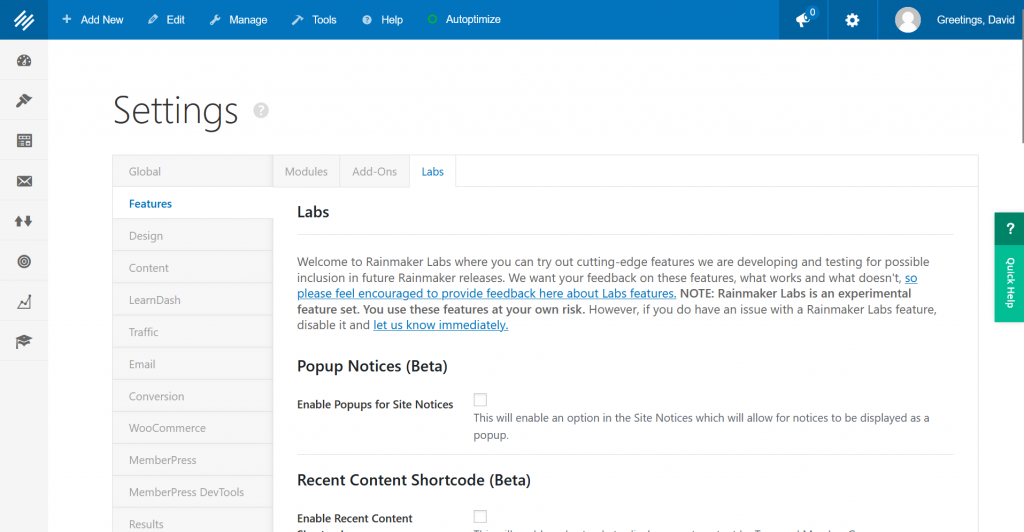 Click the check mark next to any of these to turn them on.
Labs isn't new to 3.3.1 but it's easy to forget that it's there — and we rely on feedback from our clients to decide which of these are worth keeping around. Don't neglect them. And if you want to touch base about Labs, reach out to us. We'll give you a hand.
Free Upgrade to Rainmaker Platform Andromeda
Finally, we want to remind you that if you're still running the legacy version of Rainmaker Platform, you're not reaping the benefits of this recent update. We'll keep supporting old versions of Rainmaker Platform and doing maintenance, but enhancements are only published to Rainmaker Platform's Andromeda version.
Want to upgrade? It's easy and free.
Just reach out to Client Services — we'll help you make the migration to the new version. Over 250 legacy customers have migrated to Andromeda. Join them. Reap the benefits of new updates and added functionality.
Content marketing changes fast, and you don't want to be stuck behind the times. Take advantage of our free upgrade offer while you can.
Give Us Your Feedback
We're constantly working to make Rainmaker Platform the best solution to your online marketing needs. Check out our changelog for the full list of changes, and contact us today if you have any thoughts, comments or concerns.
Best Regards,
Ed Bardwell
President
Rainmaker Digital Services