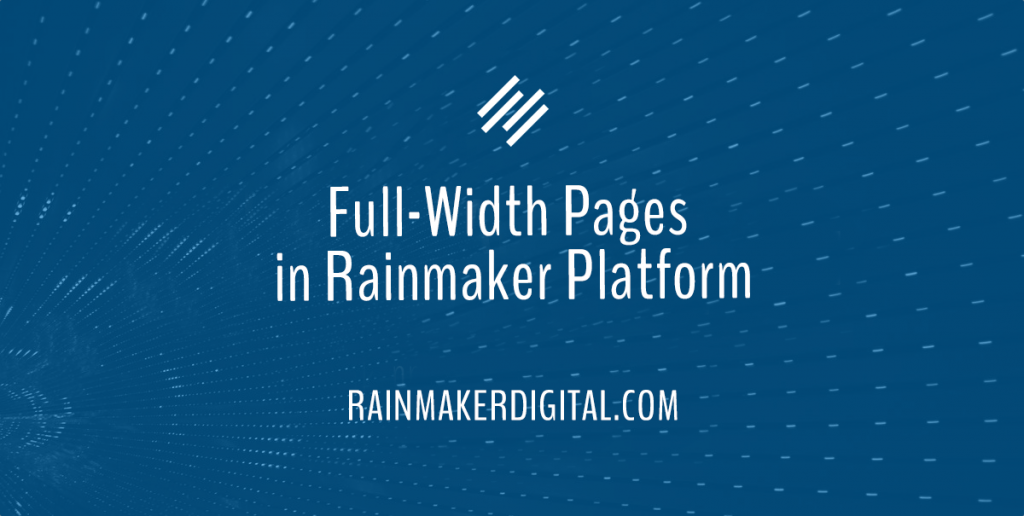 Greetings, Rainmakers!
Welcome to this month's State of the Platform! We have a full slate of updates, customer stories and tips for you, so let's get right to it.
Rainmaker Platform Version Releases
Since the last State of the Platform, we've had two minor releases and a couple of smaller changes to Rainmaker Platform.
This month, we released version 3.3.3, which included the migration of all of the beta features from Labs to the Add-Ons tab of the Features menu. We've also published a minor revision, 3.3.3.1, which included a couple of small fixes and back-end updates. For a full list of updates, check the changelog.
We haven't forgotten our legacy clients either. As data privacy restrictions and ranking algorithms have changed, our patented Scribe technology hasn't been fulfilling the level of performance we expect. We've fully switched over to Yoast for all SEO functions on the legacy version of Rainmaker Platform. If you need a hand getting used to Yoast, just reach out to our team — we'll help you settle in.
We have some exciting releases coming down the line this year too. Stay tuned for future State of the Platform updates; we'll keep you in the loop.
Introducing the Client Spotlight
Rainmaker Platform clients hail from all over the globe, from every walk of life and every industry. We appreciate all of you — and we want to spread the word about how you're using the platform to succeed.
Each month we're going to highlight a Rainmaker Platform client and give them a chance to tell you about what they do. This month we spoke with Fred Schenkelberg of Accendo Reliability.
Here's a small taste of our interview with Fred:
What made you embrace the Internet for your business?

I've been doing webinars and blogging since before web browsers. We used an internal email list where anyone could ask a question and they would get (and I made sure of it) multiple good responses. That was one part of how we created a community across an international company.

Accendo Reliability is the natural progression of how I've shared my work and built a community for a very long time. My three partners and I started the company when we realized that the four of us were each posting a blog each week, but were rarely found on the search results page. We were just too small individually to be noticed. So we decided to build one site and each post weekly. Having regular new, useful, practical content helped the site be found. Plus, if someone found my post useful, they might discover my peers via their articles right there on the same site.
Want to read more? See the full interview here. And if you'd like to get featured yourself, just send an email to davidb@rainmakerdigital.com.
Tip of the Month: Full-Width Pages
This month's walkthrough is all about producing full-width pages. Most of our themes have a content "container" on the page, and your content can't stretch beyond that. Full-width templates allow you to use all the real estate on the screen, not just some of it. Learn how to turn on full-width templates, use them on your pages and combine them with Beaver Builder:
00:00 State of the Platform
00:25 Turning on add-ons
00:46 Creating a new page with a full-width template
01:58 Using Beaver Builder
03:07 Building full-width content manually in Beaver Builder
04:59 Building full-width content with a Beaver Builder template
05:28 Previewing your page
06:52 Thank you and contact
Thanks for being a Rainmaker Platform client. We appreciate all of you. See you next month for the next State of the Platform, and if you need a hand with anything, let us know. Just drop us a line, anytime.
Best Regards,
David Brandon
Copywriter
Rainmaker Digital Services