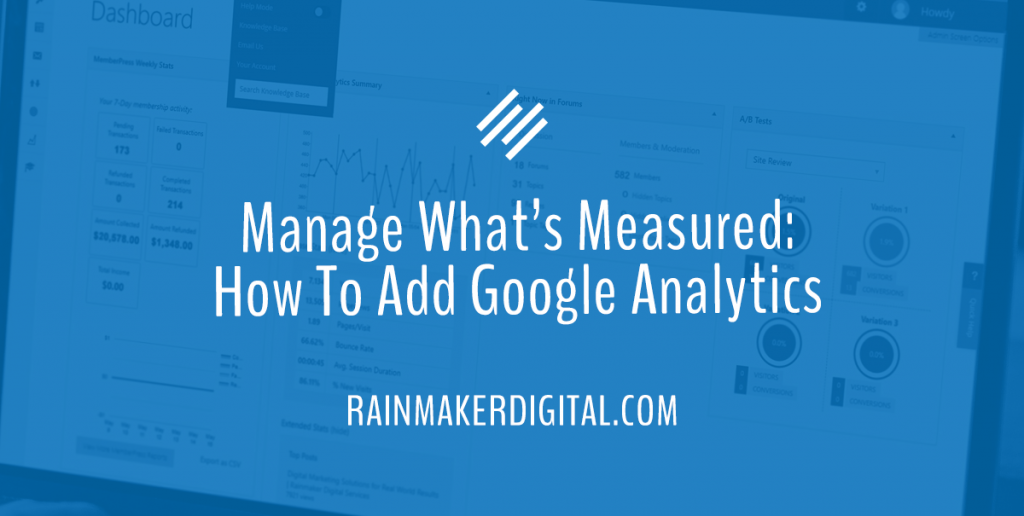 "What gets measured gets managed."
You've probably heard that famous business axiom. But are you following it?
Understanding your website's performance will allow you to succeed. There are a number of tools out there on the market — Adobe Analytics, Hubspot, Mixpanel and more. But Google Analytics (often referred to simply as "GA") is the granddaddy of them all. GA is the most common solution for website analytics. And it's free.
Rainmaker Platform's dashboard can show you some statistics about your site, but you really need to supplement it. This month's State of the Platform shows you how to add GA to your Rainmaker Platform site.
Why GA Matters
GA is the most popular option for a few reasons.
First, it's free. That's big for smaller organizations trying to keep costs low.
It's also very robust. Reporting is easy to set up — you can generate custom reports without much issue, and there's plenty of documentation out there to help because of how common GA use is. Internal site search data and some basic data breakdowns on your visitors are available by default.
GA is global, and clients understand it. Most people who deal with websites have at least a passing familiarity. If you need analytics (and you do need analytics, you can't get away with not measuring your results), you need to know GA. You may want to use another solution, but they almost all require a similar header code to the one GA uses. And it's simple to add to your Rainmaker Platform site.
Adding GA to Rainmaker Platform
First you need to verify the account is set up and create a property.
Open Google Analytics and log into your account, or create an account if you don't already have one. Click the Admin link in the bottom left (it looks like a gear).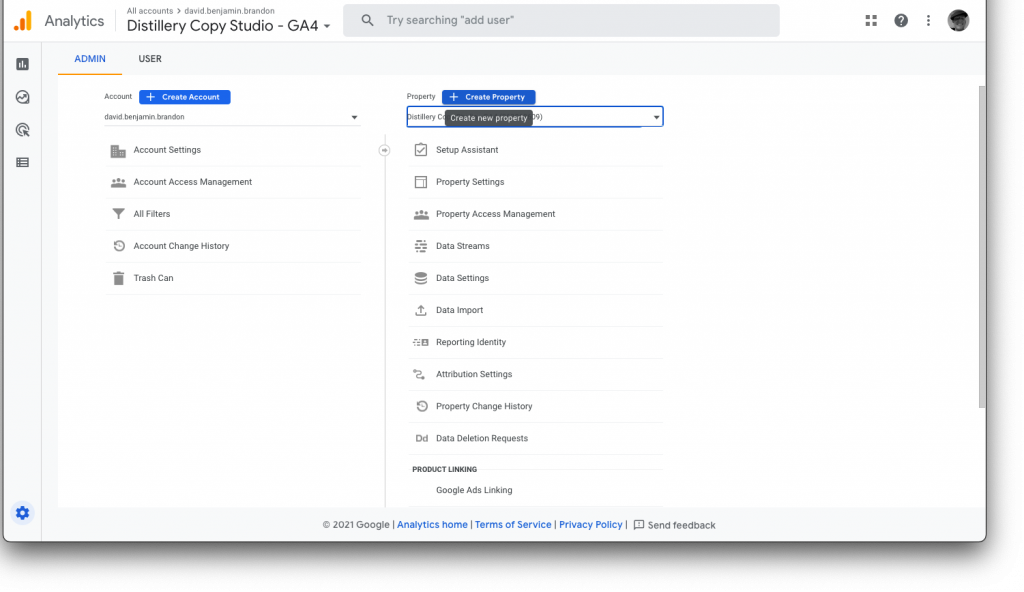 Click the blue button that says "Create Property" in the middle of the screen.
Set up the options the way you would like, then click the "Advanced Options" button. Choose either to create a GA4 and UA property or just a UA property. UA is Google's legacy analytics platform; GA4 is the new version. You can add tracking for both GA4 and UA to Rainmaker Platform. However, in order to see your GA traffic results in the platform, you'll need to set up UA. Make sure you select "Create both a Google Analytics 4 and a Universal Analytics property" or information will not feed to your dashboard.

Set up your business options. Then scroll down and hit "Create." You may have to agree to some terms of service if you haven't set it up before.
If you want to set up Google Tag Manager, you can do that here. Otherwise, if you just want to jump in, you can use GA directly. Reach out to us if you have any questions on how to get your Google Analytics set up.
Scroll down to "Tagging Instructions" on the resulting screen. Click the copy button (looks like a small rectangle) in the box with the tag code. This will copy the GA4 script. Then switch to your Rainmaker Platform site again.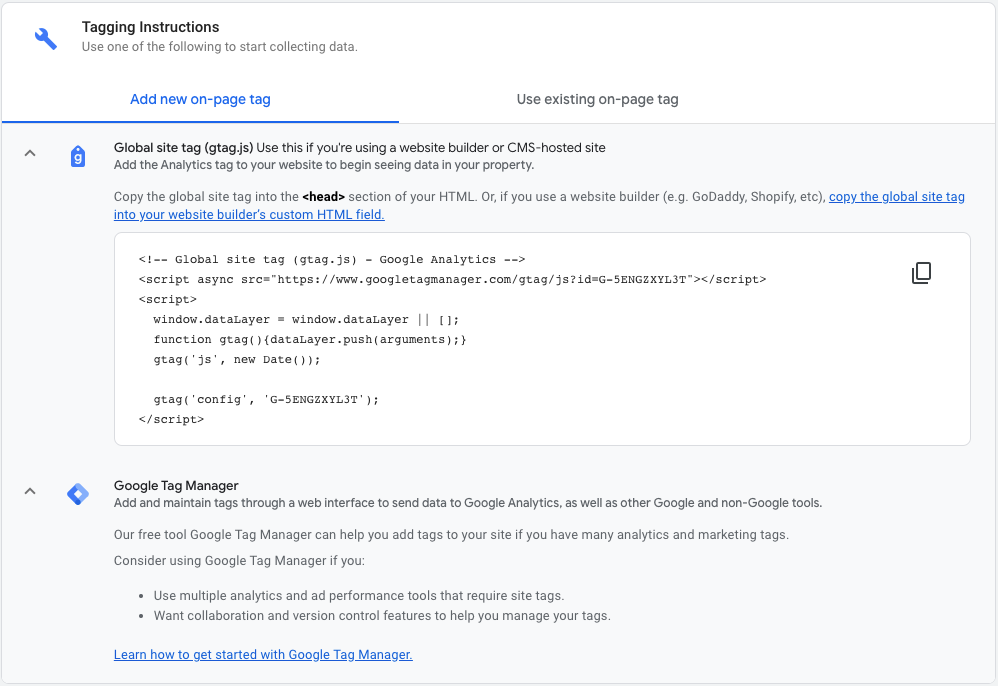 If you've already set up your property, you can just click on the data stream in the original GA admin screen to find the tag.
In the Rainmaker Platform left-hand menu, click on "Design" and choose "Appearance."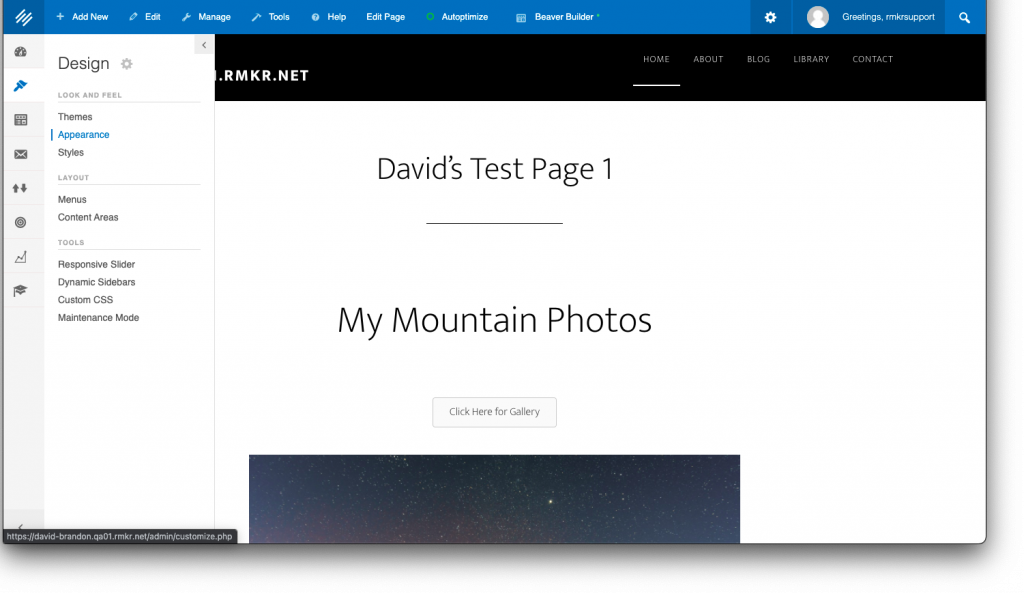 Then click "Scripts" in the left side menu and paste the GA code in the "Header Scripts" section. Then click "Publish."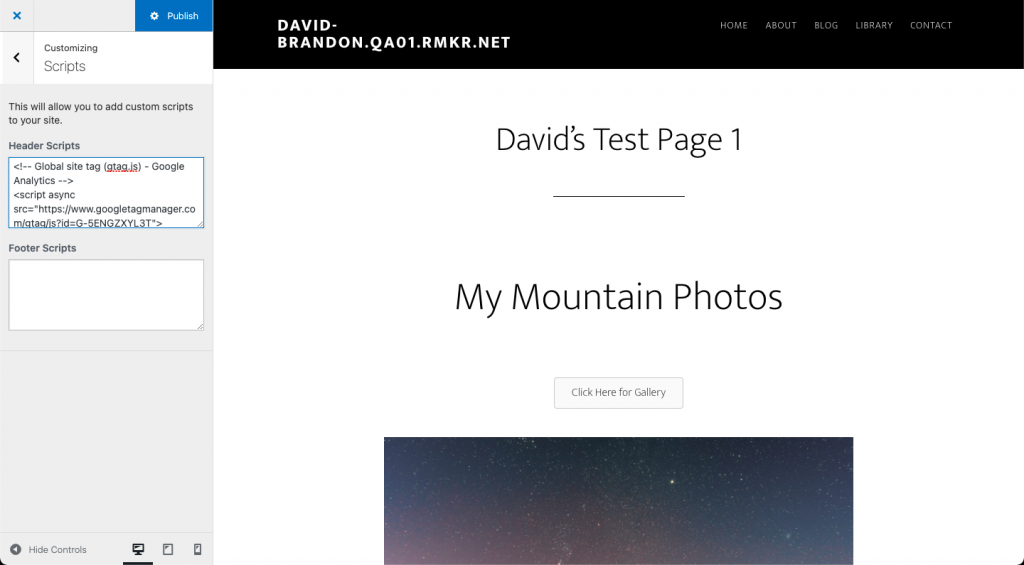 You can exit from there.
To connect GA UA to your dashboard, go to the settings menu in the upper right. Click the "Results" option from the drop-down menu.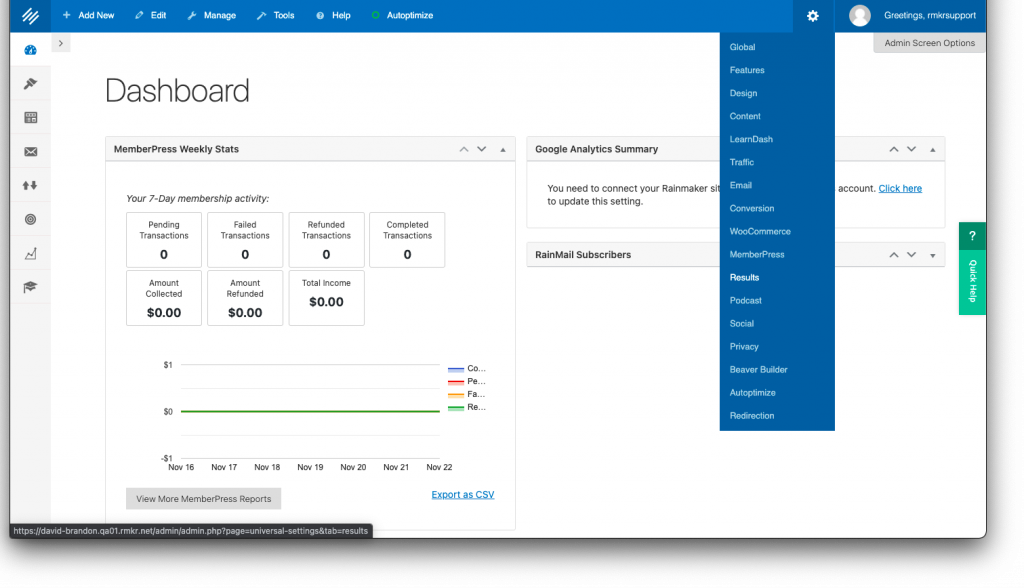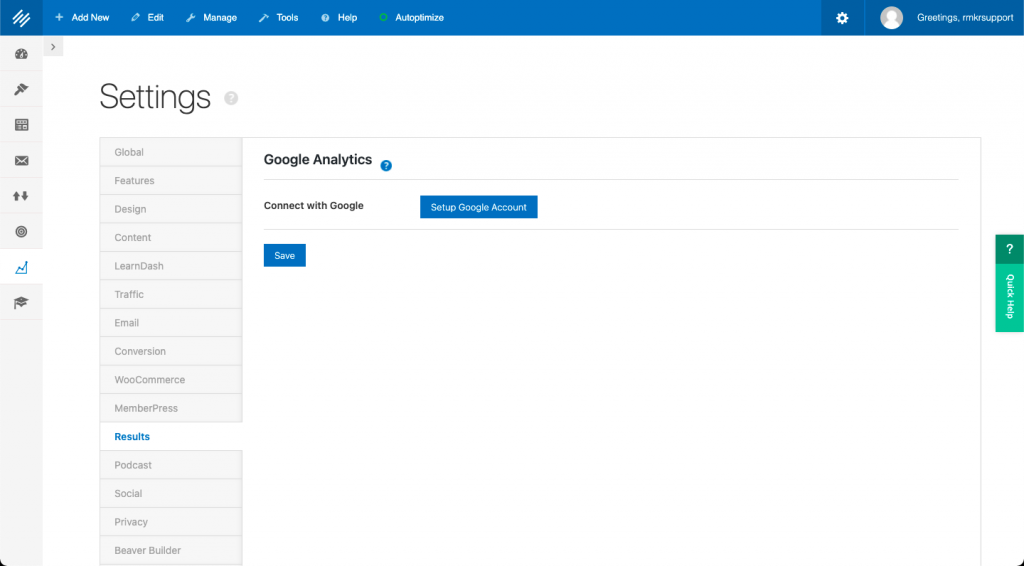 Click "Setup Google Account." Sign in and authenticate your account with Google.
Once your account is authenticated, you'll be back at the original screen you left on Rainmaker Platform — only this time, it will show that Google is connected.
Make sure "All Web Site Data" is selected in the "Select Web Property" drop-down box. Then go ahead and click "Save."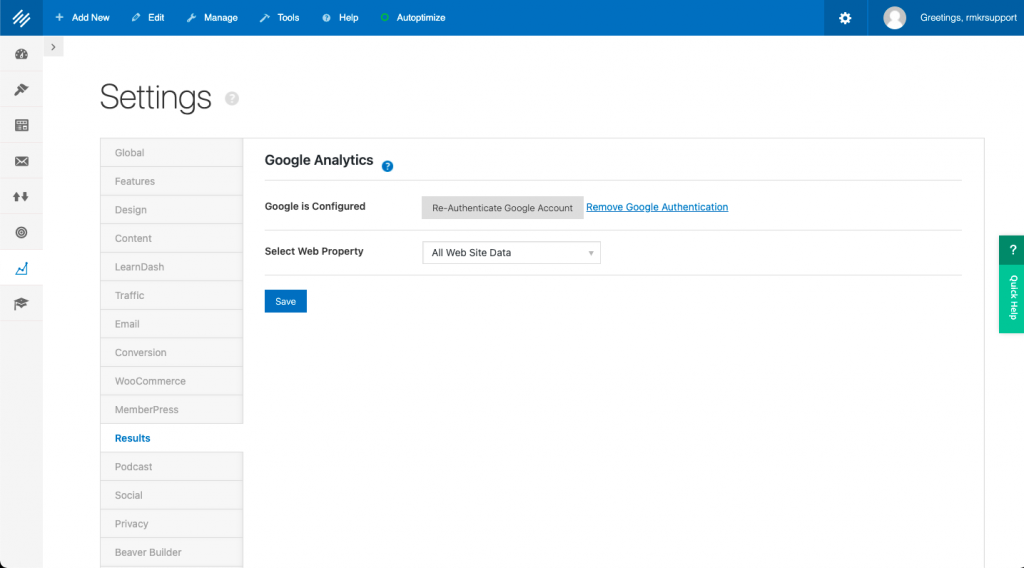 Now GA stats (through UA) will show up in your Rainmaker Platform dashboard, and you can set up your own reports in GA itself. You can also access your UA traffic data in the "Results" menu under "Google Analytics Reports."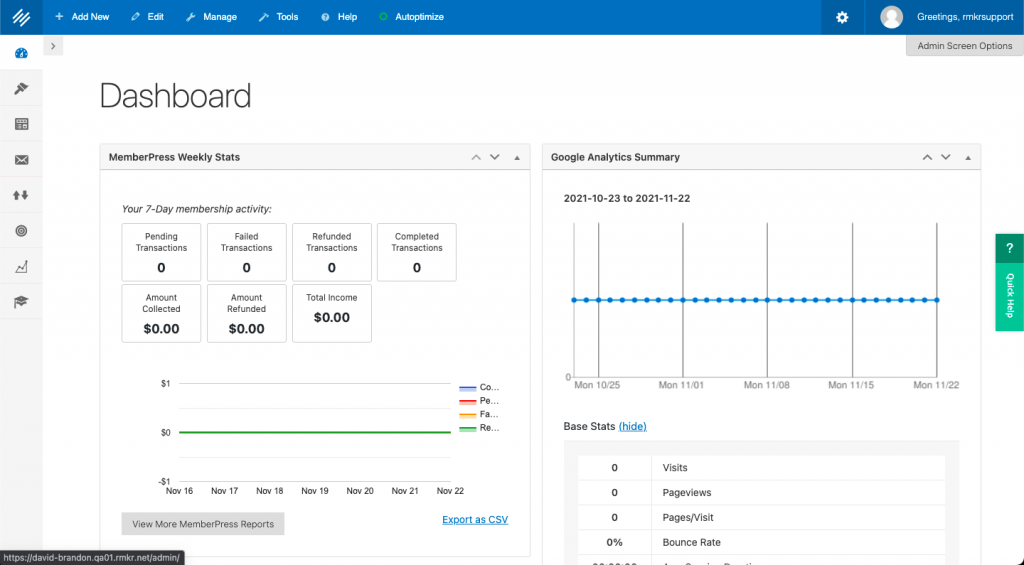 Once your account is authenticated, you'll be back at the original screen you left on Rainmaker Platform — only this time, it will show that Google is connected.
Taking Advantage of GA for Your Rainmaker Platform Site
With GA you can now track users, sessions, session duration, pages per session and more. You can combine multiple stats in one report with custom reporting. There are plenty of reports you can generate through Google Analytics itself — Google's knowledge base has a great deal of instruction on how to do it.
Understanding your audience is key to creating a great user experience. Analytics let you do that, and Google Analytics is simple, cost-effective and powerful. Connect it to your Rainmaker Platform site and start using your audience data today. ​​And if you have any questions about connecting GA to your Rainmaker Platform site, reach out. We're here to help.
Best Regards,
Ed Bardwell
President
Rainmaker Digital Services