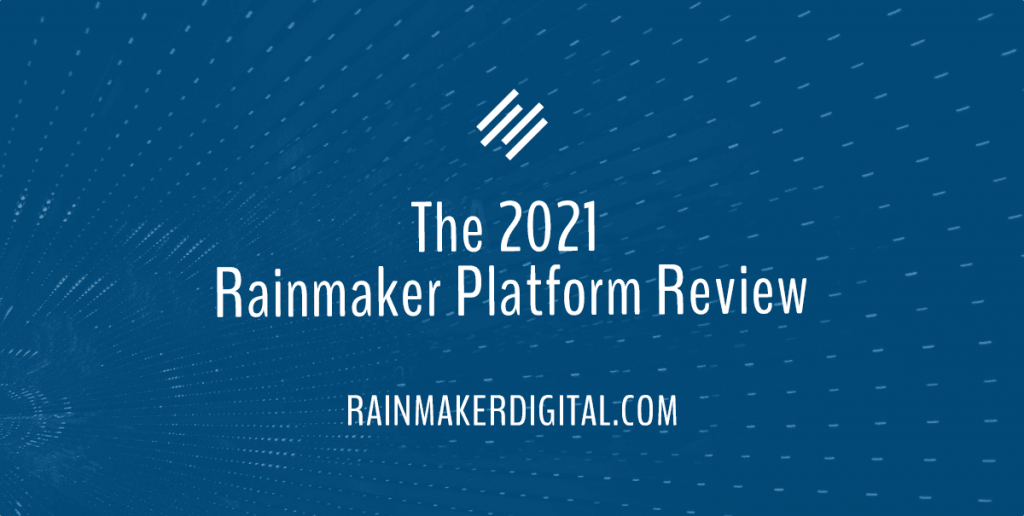 It's been a good year for Rainmaker Platform.
Thank you for making 2021 a great year. We appreciate your business and we remain committed to delivering the technology, strategy and service to help you achieve your online goals.
This year, we've added features and quality of life improvements across the board. As 2021 wraps, we thought it would be a good idea to look back at the biggest enhancements to Rainmaker Platform Andromeda. You can find the changelogs for the 3.2.1 and 3.3 releases here if you want to go into more detail.
LearnDash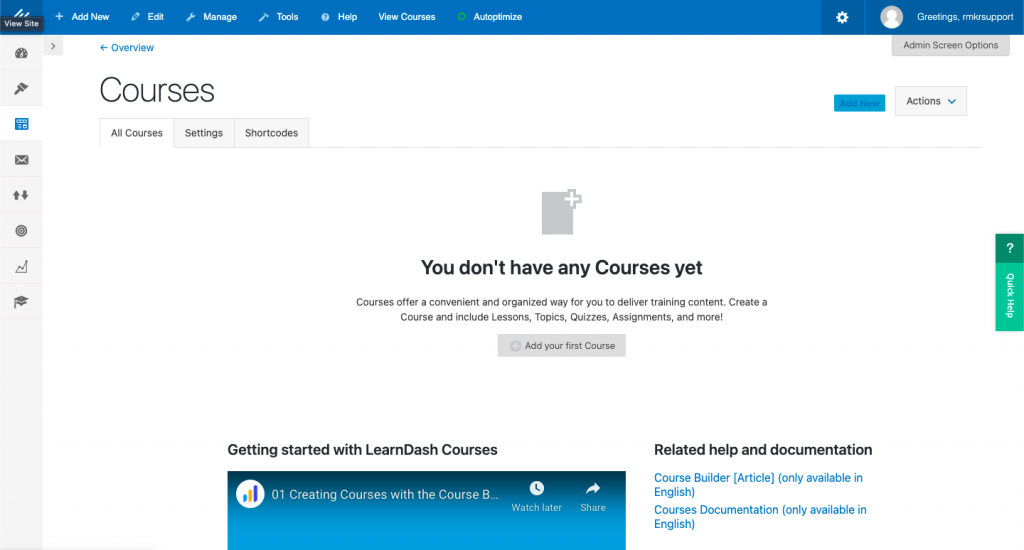 The biggest change of the year rolled out in the 3.2 update with the addition of the LearnDash Learning Management System (LMS).
LearnDash offers Rainmakers an alternative to the Rainmaker LMS that provides robust course management capabilities, expanded content options and integration with Rainmaker Platform's other tools.
We believe in premium content, including selling online courses. They're a great way to add value and get people engaged with your brand. Having LearnDash available for enhanced course design and production is one way that Rainmaker Platform is making your content marketing easier. Over 20% of our Rainmaker Platform Andromeda customers are using LearnDash, and we hope to see that number grow in the coming year as you begin to understand how much it can do for your business.
RainMail Enhancements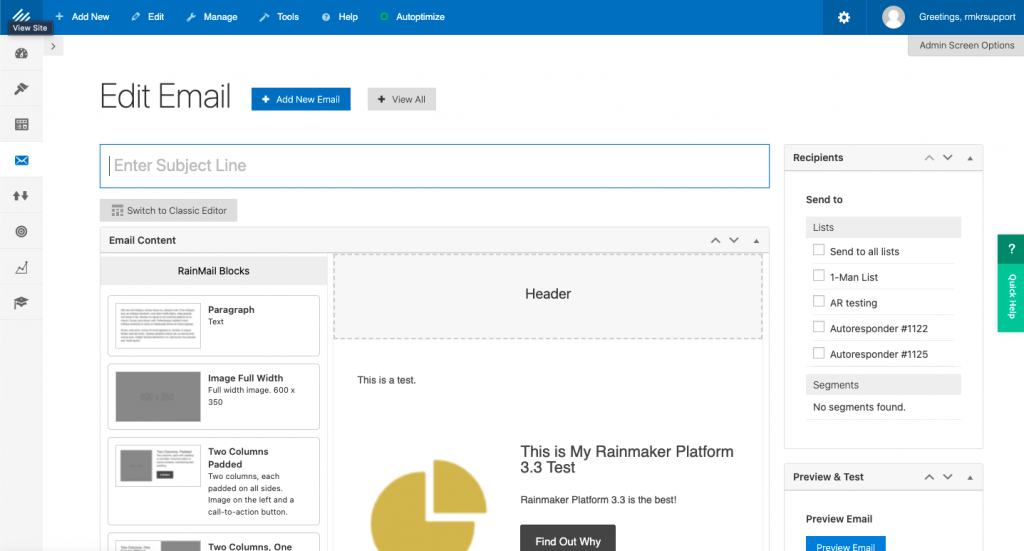 RainMail is a key part of Rainmaker Platform, and we've added a number of features this year.
We added the capability to put shortcodes in subject lines, allowing you to personalize your emails with the addressee's name and other subscriber data you have captured.
We also added the ability to preview your email headers, letting you see what you're working on while you're working on it — instead of having to save a draft and send yourself a test.
And in our recent 3.3 release, we've improved email creation with a new content block editor. You can enable the editor to drag and drop blocks to build your message. Instead of dealing with code or a basic rich text editor, you can mix and match blocks for text, pictures, columns and more. It's never been easier to create great marketing emails in the Rainmaker Platform.
RainMail is critical to your content marketing efforts — email is still the most important channel you use to reach your audience, and we want it to be as easy as possible for you to do that.
Extending Beaver Builder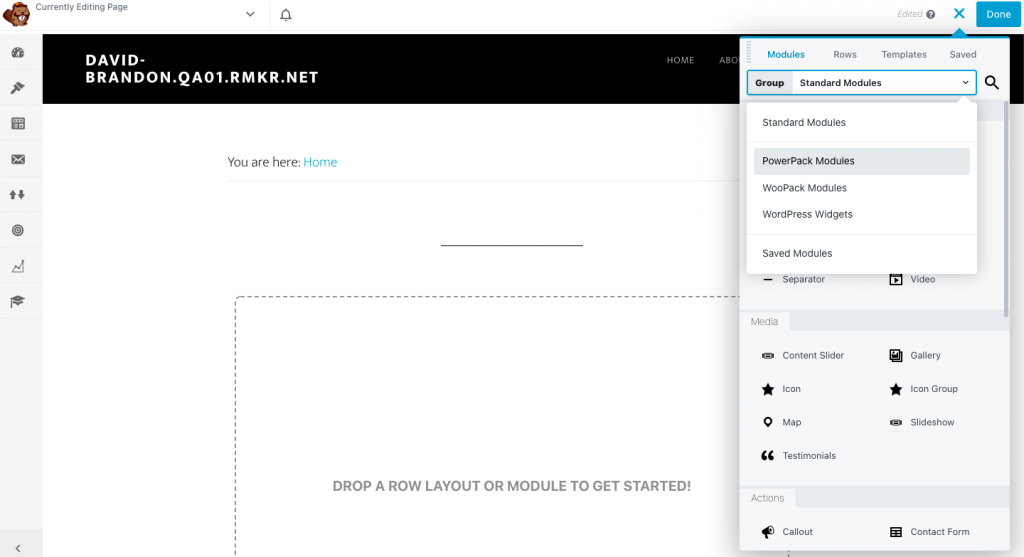 This year, we extended the functionality of the Beaver Beaver drag and drop page editor by integrating WooPack and PowerPack. WooPack offers Beaver Builder support for WooCommerce content; PowerPack gives you a much broader set of templates and modules as well as the ability to build out custom headers and footers for individual pages. Together, these tools make Beaver Builder easier for non-technical users to create amazing user experiences (UX).
Beaver Builder is central to our "marketing for everyone else" ethos, and it's only getting more powerful as we continue to add to it.
New Themes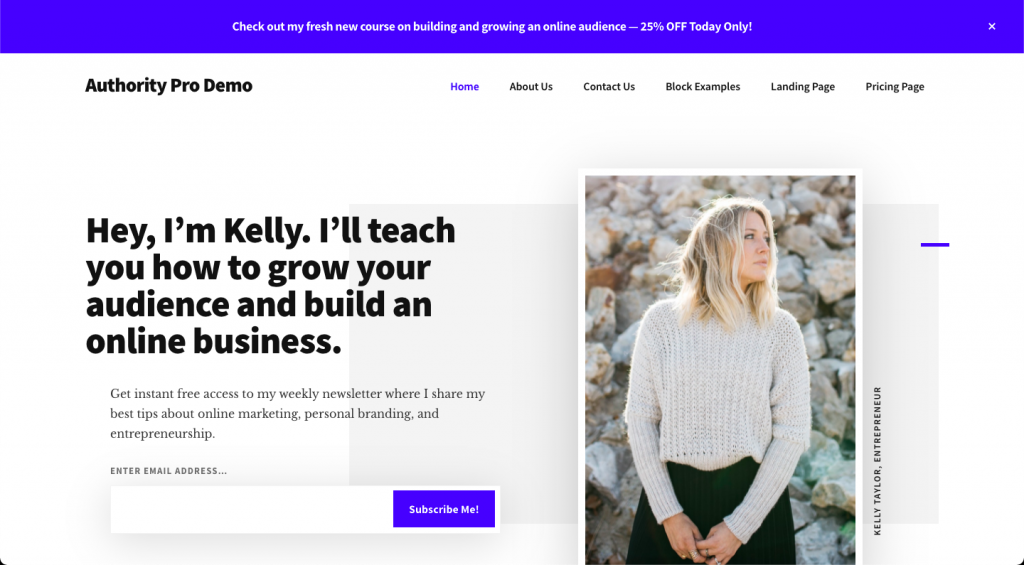 New themes are a constant request, and one of the most-requested themes this year was Authority Pro. This design from StudioPress puts your expertise front and center. It's made to showcase knowledge and immediately inspire trust from your customers — and now it's available on Rainmaker Platform.
Onward and Upward
2021 has been a year of challenges worldwide, but it's also been a year of overcoming hurdles and forging ahead. Rainmaker Platform is better than ever, and we won't stop trying to improve it. We're excited about the possibilities of working with each of you in 2022.
And if you haven't switched to the Andromeda version of our platform, there's never been a better time to migrate.
Keep letting us know which features and enhancements you care about the most. We want to know what's important to you so we can make Rainmaker Platform the best possible solution for your needs.
Feel free to reach out. We're here to help.
Happy Holidays and all the best in the New Year,,
Ed Bardwell
President
Rainmaker Digital Services