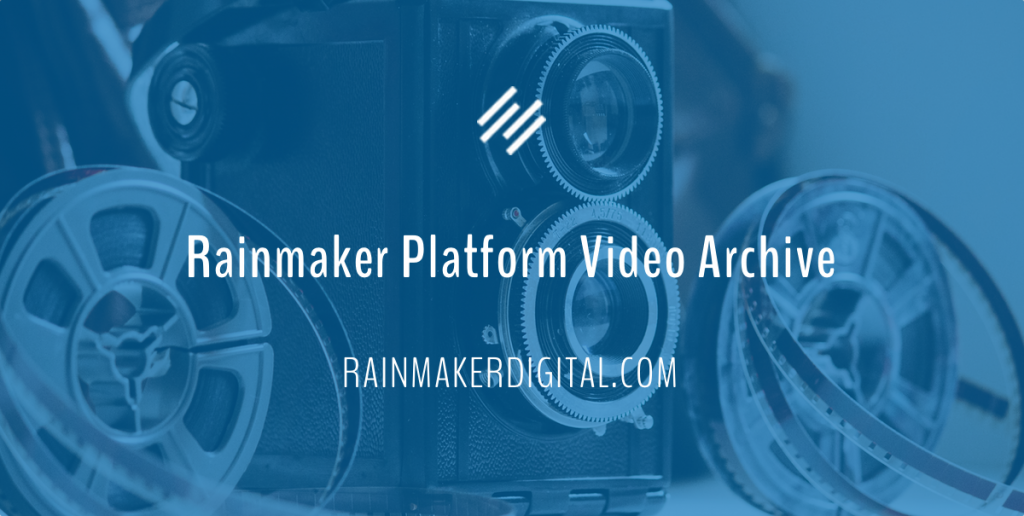 The possibilities that Beaver Builder offers in terms of site design and layout are nearly limitless. There's no way we could cover everything it offers in one video, so we wanted to give you a general overview of this feature, one that will help you hit the ground running in building beautiful website pages without a designer!
RainMail is the fully integrated email marketing service built into Rainmaker Platform. In this video we walk you through the basics of this powerful tool, from overall stability and deliverability, to the power to resend your broadcast emails to those who didn't open them the first time, to the ability to import (or export) subscribers from inside the platform, to the improved process of A/B testing … RainMail is ready to power your marketing strategy.
WooCommerce has rightly earned a legendary reputation in our industry, which is one of the reasons we've decided to seamlessly integrate it into Rainmaker Platform. With WooCommerce in Rainmaker, you can easily sell anything on your site. If you've been wanting to start your own e-commerce store to sell physical products, Rainmaker Platform + WooCommerce comes equipped with all the sales tools you need to succeed.
The membership functionality of Rainmaker Platform is proudly powered by MemberPress! This industry-leading "All-In-One" membership plugin gives you incredible freedom in building your membership site — and with so little hassle. There are endless new benefits to you, with the addition of MemberPress to the Rainmaker Platform, check them out today!
In terms of consumption, there's likely no better medium than audio. Your audience and prospects can listen from anywhere and at anytime, with your voice intimately connecting with them in a way that even great copywriting can't match. Since the birth of Rainmaker Platform in 2014, we've taken podcasting seriously, and we're not letting up. Our podcasting suite gives you everything need to not only get started as a podcaster, but to take your show as far as it'll go into the market.
One of the most powerful aspects of Rainmaker allows you to easily make use of external tools that aren't native to … well, Rainmaker. Rainmaker Add-Ons give you the ability to enhance the functionality of your site by utilizing our included third-party plugins. These add-ons make taking your Rainmaker much, much further … much, much easier. And you don't have to use them if you don't want to, you can turn them on and off as needed!
What happens when two of the most powerful Rainmaker Platform Add-Ons join forces to move your business (and profits) forward? You're about to find out in this video! MemberPress and WooCommerce are amazing enough add-ons in their own respective rights, but together they open a world of eCommerce possibility for you that you definitely need to capitalize on.
Sometimes you just need a little more room to be yourself. Rainmaker Platform makes it easy to create and customize your homepage to reflect exactly what you want, anytime you want! Bottom line: You don't need to be a designer or developer to get this important job done. With your content and a few clicks, you'll be on your way and back to work.
Maybe you've got an older page or post on your site that's no longer relevant, but you don't want to delete it. Or maybe you want to push some of that Google juice in your archive to newer pages that are just starting out. Whatever your specific need, the redirection of pages and posts is a powerful (and sometimes necessary) way to keep the hard SEO work you've done in the past working for you into the future.
LearnDash has arrived in Rainmaker Platform! To learn how to get started using LearnDash to create amazing and profitable courses and more, Will DeWitt takes you through the basics of setting it up, as well as answering a few burning questions about this amazing new integration.
Perhaps 2021 is the year that you want to begin creating and selling subscription-based memberships on Rainmaker Platform. Maybe you already are selling memberships on Rainmaker Platform, but just don't know how to create one that is subscription-based. Or maybe you want to begin offering a digital library of downloadable content to your members, but don't know where to begin. Whatever your specific need, I've got you covered. This video will show you all that you need to know about subscriptions and protected files (like eBooks) on your website.
Rainmaker Platform 3.2.1 adds some extra capabilities to the platform and incorporates quality-of-life fixes that customers have been asking about. Copywriter David Brandon and technology director Andrés Villarreal take you through the details of the new update.
Got questions about using Rainmaker Platform to start and/or grow your business? You don't have to go it alone, we're listening and always ready to help … just drop us a line, anytime.