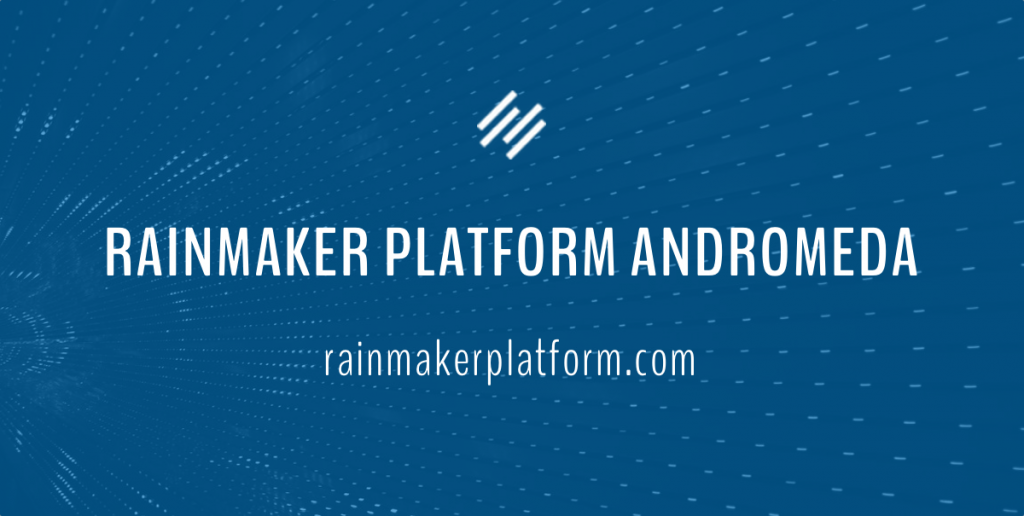 In October 2019, we launched Rainmaker Platform Andromeda, an entirely upgraded version of the platform. What does this mean for you?
Whether you're starting a new site or wanting to migrate an existing site to Rainmaker Platform, we want to help you succeed at every point along your entrepreneurial journey.
It's been six years since the Rainmaker Platform was initially released to the world.
In that time, we've been constantly updating and improving it, not only to keep up with, but in some cases surpass the digital marketing trends of the day and as we have been since day one, we're right here with you. And we're not going anywhere.
If you'll come along with me for just a moment, I'd like to show you what we've been working on recently, and what it can do for you and the future of your business.
NOTE: If you are still using the legacy version of Rainmaker Platform, you won't see or be able to take advantage of these updates. But we're ready to migrate you over to Andromeda right now! If you're ready to do that, it's super easy and we'll take care of all of the heavy lifting, all you need to do is head over to this page and follow the simple instructions there. Not sure whether or not you're on Andromeda? There's a quick way to find out … once logged in, if your left hand menu is black you're running legacy Rainmaker Platform and if it's gray, you're on Andromeda. If you're still unsure, just drop us a line, anytime and we'll get you fixed up right away.
What is Rainmaker Platform Andromeda?
In one succinct phrase, Rainmaker Platform Andromeda (RMPa) is the complete operational solution for content marketers and internet entrepreneurs.
That is, if you're doing nearly anything in a business capacity online, RMPa can likely help you do it better, faster, and more profitably.
From building your own e-commerce or d-commerce site, to executing on a sophisticated (or simple) email marketing campaign, to never having to worry about upgrades, updates, or hosting again … Rainmaker has been at the forefront of helping entrepreneurs build their businesses for years.
But that's just the first chapter in this story of your success.
Because the business of world-class software never sleeps and is never static, we spent months completely rewriting and refactoring the entire Rainmaker code base, from the ground up.
This has been a monumental and completely worthwhile mission for us, and we think you'll be interested in taking a look …
What Can Rainmaker Platform Andromeda Do for You?
Great question, and really, the only one that really matters.
Rainmaker Platform is a complete digital marketing and sales solution. It combines powerful website features with email, marketing automation, and a ton of other powerful tools that you have to see for yourself.
Let me give you the bullet points. With Rainmaker, you can …
Create powerful content-driven websites on your own domains
Run your entire email marketing operation, within Rainmaker
Build membership sites and online training courses
Sell both digital AND physical products online
Perform sophisticated online lead generation
Optimize your content for search engines and social networks
Avoid a patchwork of plugins, themes, and complicated code …
… while having access to the third-party plugins you love and trust
Forget about upgrades, maintenance, security, and hosting headaches
Plus, you get a full suite of podcasting features, research, outreach, and optimization tools. A library of cutting-edge, future-proof HTML5 responsive designs, and much, much more.
Putting all of that together out in the wild could cost between $10,000 and $30,000 (or more) in development work … and that would be just to build the bones and functionality of a similar site!
The Rainmaker Platform does WAY more than I've mentioned here. And that's to say nothing of the improvements we're continually working on, in order to bring you this brand new platform …
Completely rewritten and refactored code base, from the ground up
A completely rebuilt RainMail with new functionality
"Modularization" significantly improves performance, loading only features that you need
Complete access to the new Gutenberg editing tool from WordPress
Easily enable and disable selected 3rd-party plugins in the new Admin
Massive performance improvements regarding stability and speed
A brand new Genesis design theme added to the Rainmaker Platform theme library
WooCommerce and MemberPress integration for selling both digital and physical goods and services
Updated LMS for streamlined course production, followed by a soon-to-be-announced partnership with a major e-learning provider (more on that coming soon)
And much, much more …
The platform has been battle-tested over the last five years, and now we've completely rebuilt and largely reimagined it for the digital marketing reality we're all living in, in 2020.
OK, enough of the setup, let's take a look at what's new in Rainmaker Platform Andromeda!
1. LMS: Your Online Courses Under Your Own Roof
Whether you want to launch a simple pop-up project or a massive online community, online courses are a powerful opportunity for creative business owners.
You don't need to compromise: get the site you want for your digital course, right now, without spending a fortune.
We've added new features to our Learning Management System, to help you get even more out of your e-learning, including …
New LMS Analytics: Get the data you need to optimize your courses for maximum impact
New Automated Emails: Send email reminders to those students who haven't been engaging lately, with the timing controlled by you
Bulk Edit: Make more changes with fewer clicks, in less time. You'll have the power to make multiple changes across your LMS items including sidebar and layout selection and membership access
LMS Categories & Tags: Like blog posts and podcasts, you can now add categories and tags to your lessons, modules, courses, and quizzes to help keep things organized.
2. RainMail: The Center of Your Online Marketing Strategy
RainMail is the fully integrated email marketing service built into Rainmaker Platform. It comes included with your Rainmaker account, and your first 999 subscribers are included at no extra charge.
Unlike some other email services, you will only be charged per subscriber — you won't be nickel and dimed for how many times you email your audience.
In Rainmaker Platform Andromeda, we've completely revamped RainMail to give you even more ways to grow your list(s) and improve your overall work experience …
New Functionality:
ReCAPTCHA for Double Opt-In Forms
Import and Export your subscribers
Bulk Delete subscribers
Move Subscribers from one list to another
Resend Emails to those who have not opened it
A/B Testing (test headlines, CTAs, etc.)
Improved Experience:
Improved Metrics (to make better, informed decisions)
Simplified Shortcodes implementation (to quickly create customized emails)
Improvements to the user interface
3. Podcasting Suite: Start and Grow Your Podcast
If you're creating and distributing audio content, you may be hosting your show on a third-party provider, or you may be one of the many that host their podcast directly on the platform.
Regardless of where you're hosting your current show, we're excited to let you know about these great upgrades to our podcasting suite …
You now have the option to host your podcast(s) on Blubrry instead of locally on Rainmaker Platform. Simply connect your Blubrry account in your platform settings, create your podcast post as you normally do, and your podcast files will automatically live on your Blubrry account
Improved podcast reports (get the data you need, seamlessly)
4. Membership Sites, eCommerce, and dCommerce
With Rainmaker Platform Andromeda, You can technically sell anything on your site. But let's keep it legal, folks!
You now have the ability to sell physical products via a wonderful shopping cart experience with our new ecommerce integration with WooCommerce.
There have also been multiple upgrades made to the membership site functionality with our new integration with MemberPress. Specifically …
Coupons: Now you can easily generate coupon codes
Checkout: Integrate MemberPress with WooCommerce for a wonderful shopping cart experience with bundled physical products and digital products and memberships.
5. Add-Ons: Easily Make Use of External Tools that Aren't Native to Rainmaker.
With Rainmaker Platform Andromeda, you have the ability to enhance the functionality of your site by utilizing our included third-party plugins, which are officially called "Add-Ons."
Here's what's new with Add-Ons in Andromeda …
We've enhanced our environment to provide "select" 3rd Party Plugins. There are several plugins you can activate to bolster your and your visitors' experiences. These plugins are aimed at giving you more power, flexibility and capability inside Rainmaker Platform. We'll be adding even more third-party plugins in future releases as well.
*You really need to dig into Beaver Builder to fully understand just how much easier it'll make your life ;-). When you've got a few minutes, check out this short video we produced about Beaver Builder … you'll never look at "web design" the same again..
6. A Brand New Design Theme is Here!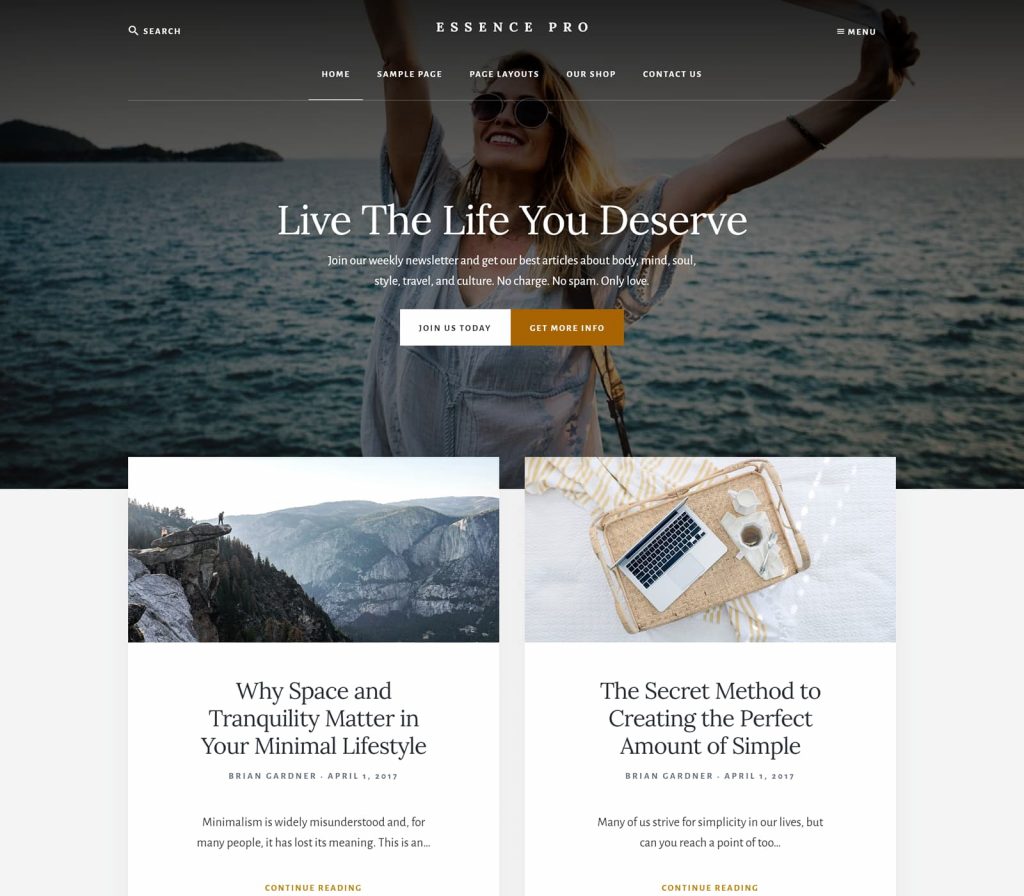 Rainmaker Platform design tools give you tons of choices, flexibility, and the option to go custom if your heart so desires.
We've added the beautiful and functional Essence Pro theme to our growing library of themes available to you in the Rainmaker Platform! From the Essence Pro description:
"Essence Pro is a beautiful, clutter-free theme for sites in the health, wellness, and lifestyle niches. Designed for simplicity, both at the exterior and on the back end, allowing you and your readers to focus on the essentials."
We've also updated our bountiful collection of currently available design themes!
7. Who Ya Gonna Call? Forms and SEO
Anyway, two more great upgrades are waiting for you in Andromeda …
With Rainmaker, you already have access to powerful keyword research tools. Beyond that — and Rainmaker's crystal clear code that Google loves — you can also show one title to people and another to the spiders, add meta descriptions, and perform a variety of other SEO tasks without code or even leaving the content area you're working in thanks to Rainmaker's patented content optimization software. Andromeda is upgraded to the most recent version of Yoast SEO.
In addition to easy form creating for leads, general contact, and other uses, you can archive and manage the information that is sent to you with easy reporting. We're staying ahead of the game for you, via upgrades to the most recent version of Ninja Forms, which includes their visual form builder!
8. UI-UX Enhancements
One of the things our customers have always loved most about Rainmaker is just how beautiful it is, it's a delight to work with. When it comes to workflow and ambiance, we're not slowing down, here's what new in Andromeda …
We've built a new Settings Menu UI that is more user-friendly and provides the ability to turn on and off various features with ease.
Dashboard is "refreshed" with new widgets for WooCommerce and MemberPress
We've given you the ability to turn on/off features (RainMail, Membership, WooCommerce, Podcasts, Forms, LMS, Third-party plugins)
9. WordPress
Forget hosting, maintenance, and security updates. You should expect nothing less, but in case you're wondering, we've updated Andromeda to WordPress version 5+ (which includes the new Gutenberg block editor).
Gutenberg is truly amazing. If you haven't checked it out yet, take a few moments when you can. The short version is, with Gutenberg you can easily build your post or page with pre-populated content blocks, like:
Quotes
Paragraphs
Shortcodes
Form
Image
Heading
Gallery
List
Audio
Products
And many, many more!
And, if you're not comfortable with the block editor yet, don't worry! You can always get back to the classic editor with the click of a button, or by setting your default preference on your profile page.
That's it, for now …
… but stay tuned, we're constantly working to update and improve Rainmaker Platform.
If you have any questions about Rainmaker Platform Andromeda (or anything else we might be able to help you with), we're always here for you, just drop us a line, anytime …