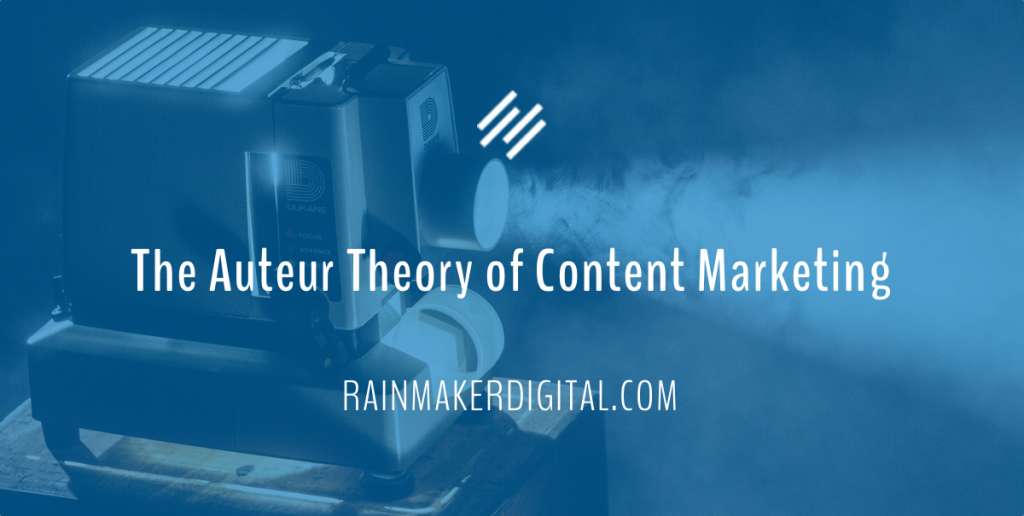 Greetings Rainmakers,
We're focusing on Content Marketing this month, coming at it from a number of different angles.
From what Wes Anderson and Martin Scorsese can teach us about storytelling, to hard tactics for finding content marketing success, to a more philosophical (and vitally important) approach to achieving your professional goals, this issue of The Rainmaker Dispatch pulls no punches.
I hope — despite the struggles we're all battling through — you're having a fruitful and productive  season. As always, stay the course, keep on producing, and let me know if there's anything we can do to help you get where you're going!
Alright, on with the show …
In one sense, you could say this is an article about "finding your niche and sticking to it." But, that would drain the wonderfully powerful lesson here of all of its life. What if, instead of just being a "content marketer," you approached your career like a Scorsese, a Tarantino, or a Hitchcock? Do not miss this great read.
Ahrefs delivers again. If you've spent any time at all just "writing content" and throwing ideas against the wall to see what sticks … STOP. Stop and read this article immediately. You don't need more content, you need more of the right kind of content. In short, you need a content marketing strategy.
One of the most exciting aspects of our industry is how it is constantly evolving. Yes, the fundamentals remain the same but the way those fundamentals are applied toward our business goals is always a moving target. This article is my initial take on what's coming for all of us engaged in this craft of content marketing.
Getting press? Isn't that just so last decade? No it is not my friends … ours is a business of getting (and then directing) attention, and getting press is an essential aspect of this process. Mr. Dry delivers several quick and excellent case studies in doing just that. Must read.
As usual, Seth Godin writes up a very important philosophical question about why we're doing all of this work and where it's actually getting us. Working hard toward a specific goal is great but are you sure that it's the goal you actually want to achieve? If not, it's never too late to make a turn onto the right road … the right road for you.
The idea of the "hook" is familiar to us in the context of music, but what about in writing? And more specifically, is this an important concept when it comes to writing with the intention to persuade? Well, the answer is definitely yes, but most of us might need a little help in getting there.
This headline DELIVERS. Mr. Dean never disappoints and this article (can we even call it an article?) goes above and beyond in terms of actionable advice. If you're struggling with getting traffic to your site, read and study this article, then do it again. Then, put the advice into action!
Make the Roaring 20's Your Best Decade Yet
That might seem an interesting concept — the Roaring 20s — in the context of how incredibly challenging this year has been so far, for so many of us. Still, we are more than optimistic about what's to come!
And like our brand new decade, the landscape of digital marketing is constantly shifting, growing, and FULL of opportunity.
Our commitment to you is that we'll be here, ready to help you achieve the success you're looking for, whether you need content, technology, or services.
We'll not only be here, we'll be constantly upgrading our technology and skills to better serve you.
If you have any questions about Rainmaker Platform (or anything else we might be able to help you with), we're always here to listen and help get you the answers you need. Just drop us a line, anytime.
Best Regards,
Ed Bardwell
President
Rainmaker Digital Services