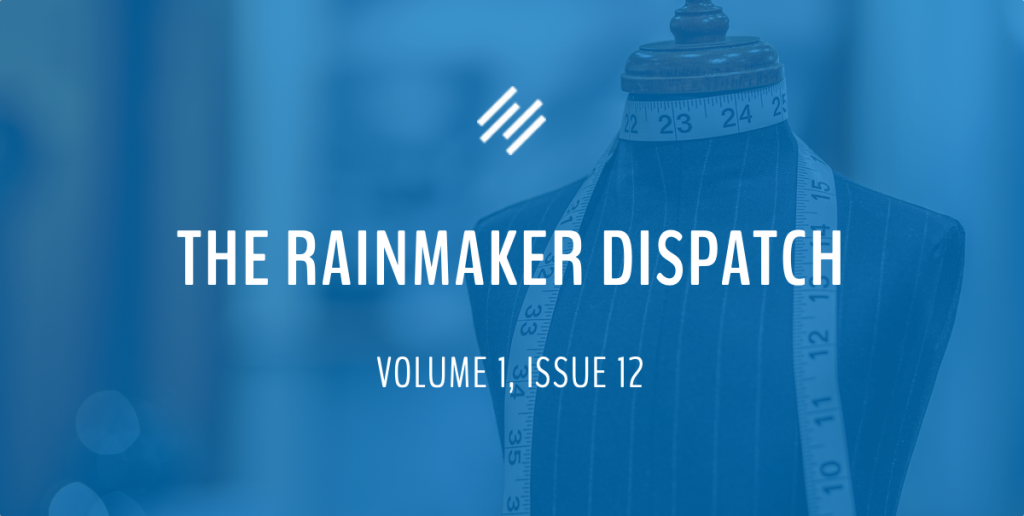 Happy Holidays!
How about we bring a little nostalgia to the season here and go back to basics in this twelfth issue of The Rainmaker Dispatch? Let's go back to the topic that started it all — copywriting.
Copywriting is the foundation of the modern media company. It's the past, and very much the future of your business, and of ours.
Whether your focus is on writing, video, or audio content, it doesn't matter … it all starts with writing copy that people actually want to consume. And the first link in this month's Dispatch is the godfather of all starting points for becoming an excellent and effective copywriter.
Of course, we've curated a ton of other great stuff for you as well … how to know if your product will succeed, why your content marketing isn't working, building an Alexa Skill, and more.
And of course, The Rainmaker Dispatch wouldn't be what it is without a heavyweight and supremely practical contribution from the great Brian Hayes … this month he's celebrating the holidays with a look back at the best Rainmaker How To's of 2018.
On with the show …
If you're trying to get anything going online, this is the place to start. It can't be overstated how important even basic copywriting skills are to your business goals. You don't need to be David Ogilvy, and this link (registration required) will give you everything you need to get started.
Fascinating idea here. Mr. Newport has argued very well that you don't need to engage social media to advance your career, as he himself, has not. Are we spending too much time building social media followings and not nearly enough time working on actually building something great? Yes, we are.
Famous for many things, including his legendary Dilbert comic strip, as well as being one of the very first public figures to publicly predict that Donald Trump would win the 2016 Presidential election … Mr. Adams is, objectively, a very smart man. He's been right so often, could he be right about this?
"94% of small businesses, 93% of B2Bs, and 77% of B2Cs use content marketing. Basically, that's everyone." Mr. Patel starts this article with that stark truth, one that many don't want to admit. But he delivers some excellent, practical advice on the matter, including his first suggestion … refine your content marketing strategy!
Here's one that may seem out of left field, but make no mistake, audio is the future. We're all aware of the power of podcasting, and the various uses of audio within course materials … but have you thought about its application in one of the most obvious places? The next decade will see an absolute explosion in home pods, don't miss it.
Don't let this headline turn you off to the profound truth in this article. We all get caught up in far too many second-rate activities and "hacks" in our work. The marketing industry is rife with supposed quick fixes, magic bullets, and shortcuts. Long term, there are none. Focus on your craft, your brand, not the hottest, latest marketing trick.
A classic from Mr. Altucher, an absolute monster article covering his process of self-publishing his own book. This is a fascinating case study, one that can set you well on your way to putting your own book out in the world, if you apply its lessons. Have you been thinking about writing that book?
Rainmaker Platform How To: The Top 3 Tips of 2018!
Mr. Hayes is back and celebrating the holidays with the best of this year. Go ahead and click the links below and scroll to the "How To" section in each article to check them out!
How To Share Content From Your Site to Facebook (with No Bugs or Translation Errors)
Use the Facebook Debugger tool to tell Facebook to display the correct information when you share your content on their platform.
Copying Content into Rainmaker the Right Way
Learn how to ensure content from external sources, like Word, looks right when published on Rainmaker your Rainmaker website.
Use Rainmaker's Built-in Content Curation Tools
Did you know you can automatically subscribe to other websites from right inside your own Rainmaker site? Discover how to use the content curation tools already built into your Rainmaker dashboard.
*Big thanks to Brian Hayes for a great year of Rainmaker How To tutorials. You can access even more great tips and tricks from the Rainmaker Knowledge Base anytime you want. Just login to your Rainmaker Portal and click "Knowledge Base."
See you next year!
With that, we wish you an incredible holiday season, and sincerely thank you for continuing to trust us with your most foundationally important business asset, your website.
We've been building (and studying) profitable websites that actually work for many years. We've seen a lot of successes in that time, but we've also made — and learned from — virtually every mistake in the book. From that experience, We're now offering an in-depth survey of your site's marketing and conversion performance. We call it The Rainmaker Site Review and we'd love to know what you think!
Or, if you need a little help with copywriting, or building a digital marketing strategy that can further your business … drop us a line, anytime.
Best regards,
Cody Haney
Director of Support
Rainmaker Digital Services