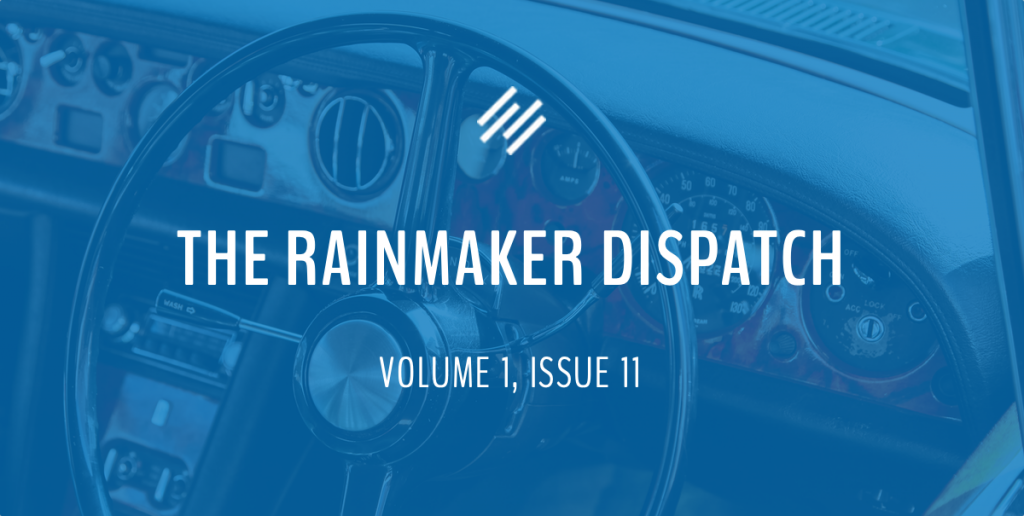 This eleventh issue of The Rainmaker Dispatch is what you might call a collage of classics. With advice from "The Father of Advertising" to one of the greatest American novelists of the 20th century, it's all business.
The business of becoming a media company.
Yep, we stay in our lane. We keep talking about just a handful of important things — the fundamentals — over and over again because 1) it's what we know, and 2) it's what we know will work for you.
In addition to the invaluable marketing advice you're about to read, the great Brian Hayes returns — he's like a clock that never stops ticking — with a deceptively simple Rainmaker Platform How To. It'll save you hours of headaches in the future.
On with the show …
If you were stranded on a desert island and could take only one piece of digital marketing advice with you, this would be it. Read it, absorb it, apply it. If you do, you'll be well ahead of almost everyone else in your industry.
A supremely practical article here, one that you could spend hours and hours learning from. So, with the headline above saying just about all that needs to be said, I'll let you click through and get to it!
Some of the best from arguably the greatest practitioner ever. We're never done learning how to write good headlines, it's a lifelong discipline. If you were to only ever study Mr. Ogilvy's work for the rest of your career, it would turn out just fine.
While we're praising the late, great Mr. Ogilvy, let's continue. In this classic Copyblogger article, Ms. Hayden distills years of wisdom from the grand old man into just a few minutes of supremely pleasurable reading. There's no excuse for not taking advantage of the greatest advice in the world, it's at our fingertips!
Mr. Ravikant stands out in Silicon Valley, not only for his success, but for his beautifully practical wisdom. In this short video, his brilliant mind is on full display, particularly when it comes to his advice regarding the cultivation of patience in business.
Mr. Draplin has, through years of hard work, built himself into one of the greatest and most sought after independent designers and entrepreneurs in America. His style is unmistakable. But more than that, his personality and story have won over an entire generation. This video will show you why.
To round out this edition of the Dispatch, you couldn't do much better than some good writing advice from one of the greatest writers of the 20th century. So, that's what we're going to do. Mr. Miller's "11 Commandments" are not only helpful, they offer a delightful window into the soul of a writer that we can all learn the craft from. Enjoy.
Rainmaker Platform How To: Copying Content into Rainmaker the Right Way
OK, this one is deceptively simple. Maybe too simple? That might be a fair enough argument, except that this "how to" addresses one of the biggest issues we see when it comes to the correct display of your content. Very important!
Whenever you copy content you've written from an external source like Word, and then paste it into the Rainmaker Editor … there can often be some embedded code present that can interfere with the proper display of your page.
To ensure your content is always clean and always displays well, paste your content into a text editor like NotePad, Byword, or TextEdit first … then copy that clean text and paste it into your Rainmaker Editor.
Doing this will ensure the removal of all formatting, stripping out any code that you may not be aware of.
Simple? Absolutely, but this simple step will produce big wins when it comes to showing your work to the world!
*Thanks to Brian Hayes for another great Rainmaker How To. You can access even more great tips and tricks from the Rainmaker Knowledge Base anytime you want. Just login to your Rainmaker Portal and click "Knowledge Base."
See you in December!
As always, thank you for reading the Dispatch. We hope you're heading into a beautiful and prosperous holiday season.
If we can help you write headlines that work, drive traffic to your site, or build a digital marketing strategy that helps you build your own media company … drop us a line, anytime.
Best regards,
Cody Haney
Director of Support
Rainmaker Digital Services