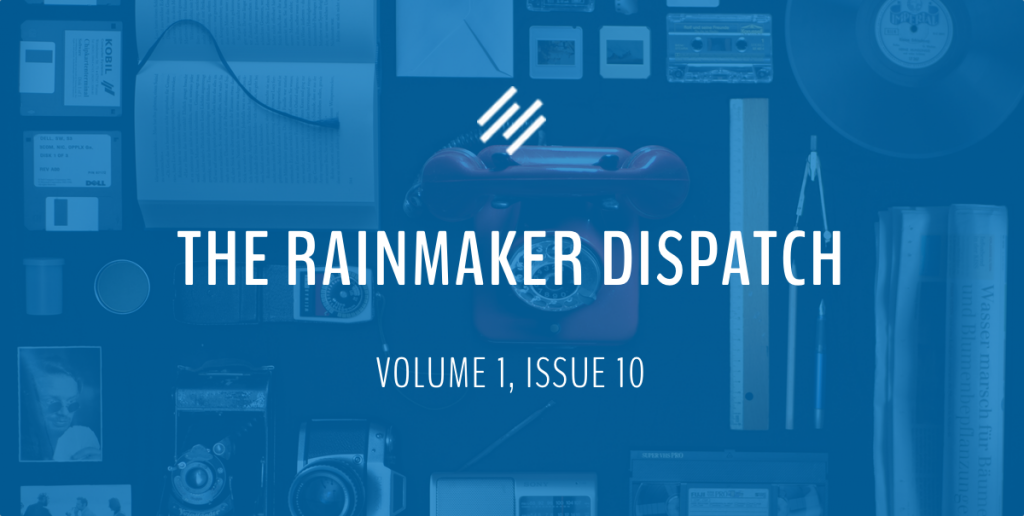 The marketing of your product, service, or business in the digital age can seem … complicated.
Sure, there's a lot to consider, but when it comes down to it, it's really about one thing. And that "thing" has little to do with what you may have come to believe about marketing.
A few years ago, Brian Clark began talking about the concept of "media, not marketing." This is not a new idea — creating and distributing compelling media (text, audio, and/or video) that people actually want to consume — but it's certainly one that marketers have forgotten (even abandoned) in recent years. Cranking out mediocre "content" has been, and always will be, a recipe for abject failure.
The basic idea here is that, whether you like it or not, it is clear that you need to become an extraordinary media company, not a "marketer."
In this issue of The Rainmaker Dispatch, I've linked to a number of articles that will get you thinking about what it takes to become a profitable media company, and a few concrete ways to go about making it happen.
And yes, Brian Hayes is back with a most excellent Rainmaker Platform How To!
As always, if you've got a useful link you'd like to see featured in a future issue of The Rainmaker Dispatch, let us know! On with the show …
What has come to be known as the practice of "content marketing" is really the very essence of what it is to become a media company. Mr. Farnworth wrote this article almost three years ago, but it stands as a foundational explainer for getting where you want to go in your business goals.
A simple (not easy) strategy from one of the best in the business today. Love him or hate him, if you're not watching what Mr. Vaynerchuk is doing, you're not serious about becoming a media company. Everything changes, and everything stays the same … Twitter, Facebook, and Instagram are the ABC, NBC, and CBS of today.
Another classic resource from one of the originals. This, like the first link above, is more a handful of resources, but if faithfully read and absorbed, it will put you in the mindset of the media producer, and in the top 1% of digital marketing operators today. The fundamentals carried out day after day are what bring the interesting and profitable results. There is no magic bullet.
We often recommend the practice of content curation to our clients. Not only is it a great way to produce valuable media for those of you who worry about being too busy (hint: we all are), it's a great way to build an audience around a topic, period. You don't have to become a great writer or podcaster to make it in today's media landscape, if you can become a great DJ.
OK, time for a very specific, tactical piece of advice. Though the list post continues to be despised, maligned, and reviled by those more concerned with their pseudointellectual pedigrees than with what actually works in human communication, the humble list carries on. It's been a faithful literary workhorse for thousands of years, and will continue to be until … the day we all stop reading.
Time is one of those resources that suffers most from our excuses. And it is, of course, our most valuable resource. Mr. Babauta tells the story of his problems with "finding the time" to create and distribute media … and how he found more to get it all done.
And here it is, the 35-page white paper that summarizes Brian Clark's "Media, not Marketing" philosophy. Guess you can say I saved the best for last. If you only click one link in this issue of The Rainmaker Dispatch, let it be this one, an email optin is required to download the white paper.
Rainmaker Platform How To: Use Rainmaker's Built-in Content Curation Tools
Tired of constantly checking specific websites for fresh content? Not a huge fan of email newsletters? No problem … in case you've missed it (until now), you can automatically subscribe to other websites right inside your own Rainmaker site. Yep, you've got your own in-house RSS reader!
More importantly, you can also easily share those imported posts on social media, or insert them into posts and pages on your Rainmaker site. This functionality is crucial in executing on a content curation strategy that works for your business.
If you've never used an RSS reader, or have no idea what an RSS feed is, check out this great explanation from Seth Godin (maybe his site is the first you subscribe to).
Here's a few images for using the Rainmaker Curator:
And, a guided tutorial to using Rainmaker's curation tools can be found by searching the knowledge base for "RSS Feeds Overview."
*Thanks to Brian Hayes for this great Rainmaker How To … as he mentioned above, you can access even more great tips and tricks like these from the Rainmaker Knowledge Base anytime you want. Just login to your Rainmaker Portal and click "Knowledge Base."
See you next month!
Thanks again for reading the Dispatch. And, if the idea of becoming a media company only leaves you with more questions and more concerns, drop us a line, anytime.
Best regards,
Cody Haney
Director of Support
Rainmaker Digital Services
P.S.
We mentioned this last month, but another quick reminder here that we're putting the finishing touches on our Rainmaker Site Review, a simple yet powerful service that many of you will be familiar with from last year. We want this updated version to be an affordable and effective way for you to get a clear picture of how your site is doing in terms of marketing and conversion, and offer concrete recommendations for improving your bottom line. We'll let you know when it's ready, stay tuned!