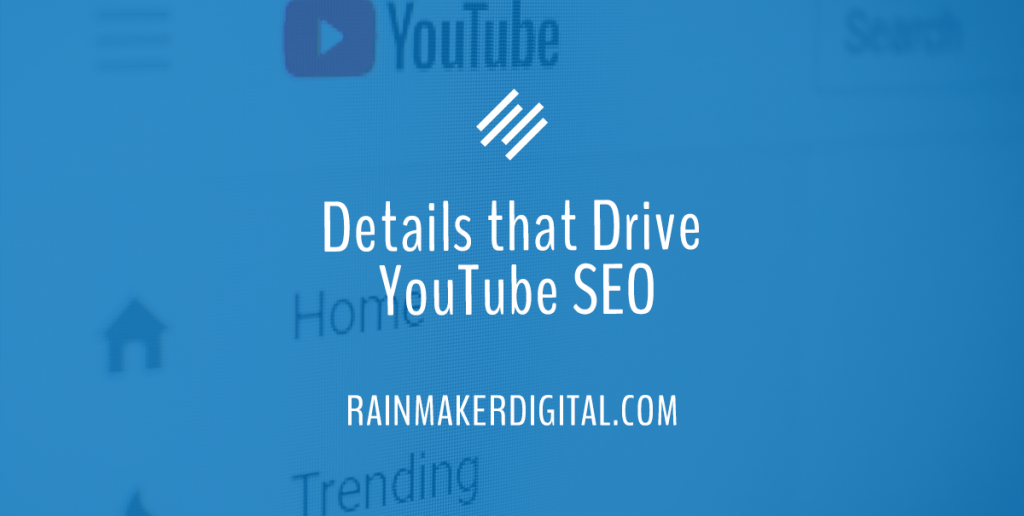 Google is the unrivaled king of search engines. Every smart business optimizes for Google.
What about the runner-up?
Focusing on the second most popular search engine on the web gives you access to 2.3 billion users, over 3 billion searches per month and almost 80% of all Internet users. What's number two? YouTube. And, like Google SEO, YouTube SEO is essential.
Many businesses use YouTube to host videos. That's not all it's good for. With the proper techniques, you can use it to find new audiences and supplement your existing Google optimization. We've talked about the basics of YouTube SEO before, but today we're going to dig deeper to boost your engagement and your visibility with YouTube SEO.
Google and YouTube Cross Over
Most organizations are familiar with Google SEO techniques already. Some of those techniques cross over to YouTube as well.
YouTube looks for keywords like Google does. Though they have separate rankings, some of the most popular keywords are similar, and tools like Ahrefs and SEMrush can be helpful. There are some differences. YouTube tends to rank "how-to" keywords higher than Google, as those videos tend to be very popular.
There are tools you can use to check YouTube keywords, but one of the simplest methods is simply typing your chosen keyword into the search bar and seeing what comes up.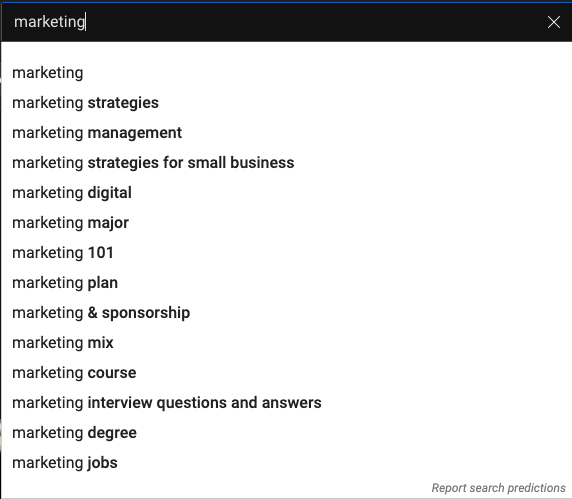 These are not options generated by YouTube's algorithm. They are popular search queries that users have typed into the Google search box. This is a great starting point for finding keyword variations to optimize your videos.
Searching Google for your preferred keywords and finding out which YouTube videos come up can also be helpful for your SEO, though the keyword rankings won't be the same on Google and YouTube. This can be doubly useful. Videos that rank high on both Google and YouTube will drive traffic to your channel. These off-site searches will bump up relevance on both search engines.
We've touched on this in a previous article, but competitor research is a fertile source of keywords as well. Use their most popular videos to get a sense of which titles work. You can also use a tool like VidIQ to pull the tags and keywords from their videos for review.
YouTube-Specific SEO Tips
There are some SEO opportunities that are unique to YouTube — and these are the most critical for boosting your engagement and your visibility.
Harness YouTube's Traffic Report
YouTube creates reports that explain the traffic to your videos in great detail. These reports can be broken down into internal and external sources — external traffic being outside websites and apps that display or link to the video, internal being YouTube search and page links.
You can access your YouTube Traffic Report from the Analytics section of YouTube Studio. This report will give you data on every link that reaches your channel. There are specific reports on YouTube search, playlists and suggestions as well — these are invaluable for fine-tuning your efforts.
YouTube counts an impression as any time that at least 50% of the video thumbnail is shown for one second. There are some sources that are excluded (for instance, external apps, embeds, email, end cards and notifications).
You may notice that impressions and views don't scale linearly. That's because of the way these impressions are counted. External traffic will generate views without generating impressions, and it's particularly common to see high views and low impressions if your video traffic relies heavily on external links.
Your click-through rate (CTR) may also be affected by the reach of your channel. More popular channels often have lower CTRs as they reach a wider audience, while a narrower channel with a more engaged audience will often have a higher CTR.
If your channel isn't doing a lot of volume, some statistics may not have enough data to be useful. Data is important but it shouldn't be the only criteria in your decision-making. This channel, for example, has little useful data on its report.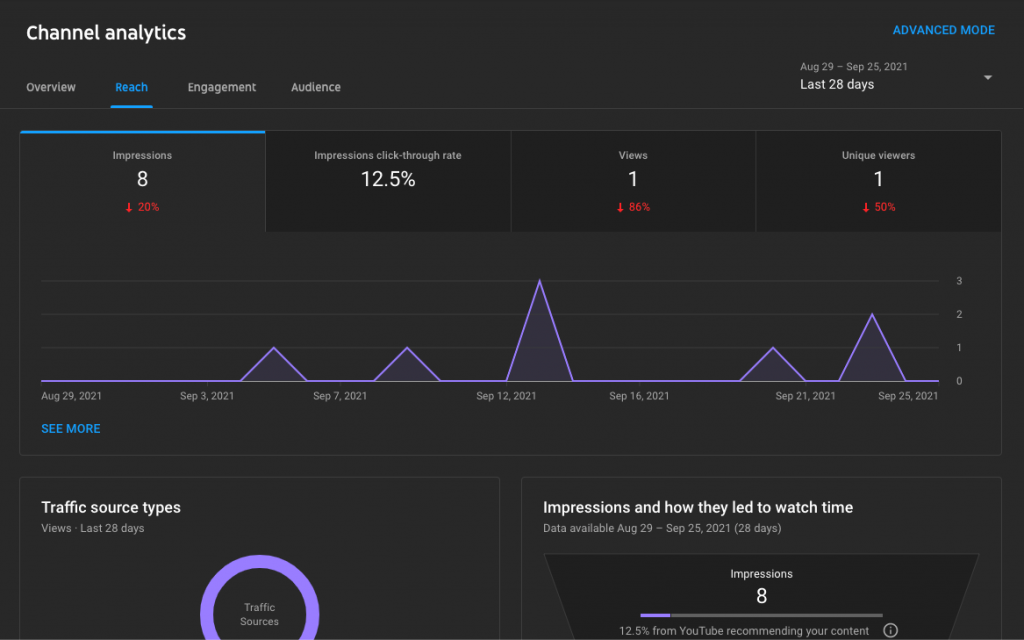 Optimize Your Headlines
YouTube headlines are directly tied to CTR. Just like any other headline, the more effective it is at grabbing and holding attention, the better your CTR will be. Consider keywords that will generate search activity but that are relevant to the video. This often means that you'll select keywords that have less search volume, which will also give you a better shot at generating SERP visibility.
Your keyword should be as close to the start of your headline as possible — this helps both the viewer and the YouTube algorithm to see the video topic. It should be immediately apparent your video is relevant. Don't bait and switch.
Write the Right Description
Your description is the second most important block of text behind your headline for YouTube optimization. The keyword you choose should be in the first 25 words, and you should try to hit around 250 words for the description. Go shorter and you might not have enough information to tell YouTube what your video is about. Remember, YouTube content is largely visual and doesn't translate well to search — this isn't Google, where there's a ton of extra context. The description and headline must be long enough and clear enough to give the search engine something to work with.
Tune Up Your Thumbnails
The secret sauce of CTR is the thumbnail. If you've been doing SEO for any length of time, optimizing the headline and the on-page text are no-brainers. But YouTube offers you a unique opportunity with its thumbnails. Don't just let YouTube generate a thumbnail image. Create an eye-catching image that summarizes the video and works in tandem with your headline to drive traffic.
Embrace Closed Captions
Here's a little secret for you: closed captions are crawlable.
If you upload a transcript of your video to YouTube, you're not just making it easier on your disabled users and people who don't want to turn the sound up to understand the video. You're getting a direct benefit on both your Google and your YouTube SEO.
Be aware, though: your transcript or closed caption on YouTube only helps with YouTube SEO. To get the benefit of the transcript through Google as well, you should tie it into your website. Create a page with a video embed and post the transcript on the page. Podcast and radio show This American Life saw a 4.18% increase in unique visitors when it posted transcripts, and the embedded links on these pages can help point Google visitors to your site back to your YouTube channel.
Create Quality Engagement
If people love your videos, YouTube loves them too. Interest is a great proxy for relevance — there's a reason CTR matters so much for Google rankings. It matters for YouTube, too, but it's not the only factor.
YouTube loves retention. Videos with a high bounce rate tend to fall lower down the results page. Your videos will see a bump in their rankings if viewers watch to the end. If your content is able to keep attention all the way through, you'll see your videos climb the results page.
Active engagement matters a lot too. Comments and thumbs up are the lifeblood of any channel. There's a reason every popular YouTuber says "like, comment and subscribe" in their videos.
ProTip: Ask for specific comments in your video. For example, if you were a baking channel doing a video about donuts, you might ask "What pastry should I do my next video about?" at the end. This helps you build rapport with your audience, gives them a concrete reason to comment and helps you gauge how engaged they are.
Get Your Content Noticed
YouTube works great as a library for your video content, but it's more than just that. Use it right and it will become an engine that drives engagement and traffic — not just for your channel, but for your website as well. You'll see the benefits in your backlinks and your web search results. You might start showing up in the video results on Google SERPS. Don't ignore this critical piece of your digital marketing mix.
Need a hand with your content marketing? You don't need to go it alone. If you need a little help, just drop us a line, anytime.
Best Regards,
Ed Bardwell
President
Rainmaker Digital Services