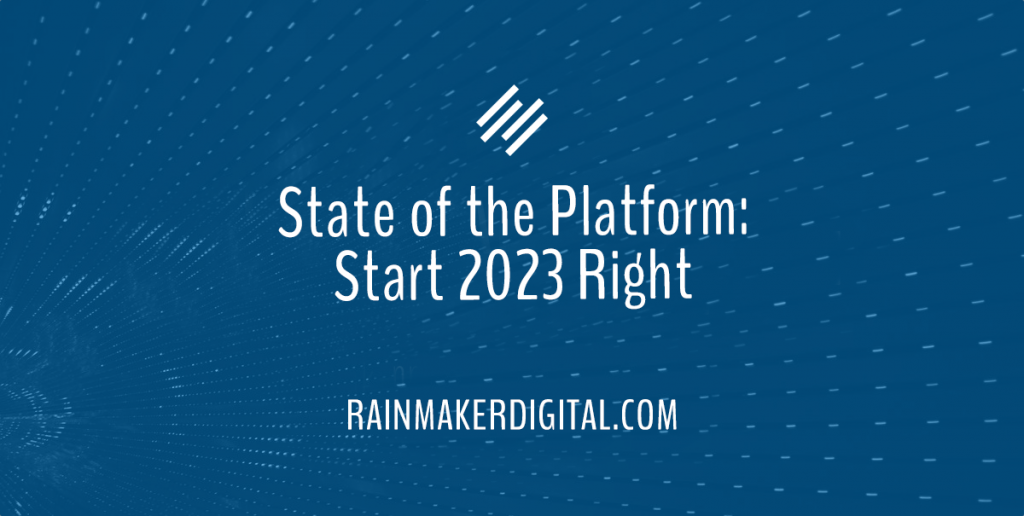 2023 is in full swing — we're already halfway through January, hard as it is to believe. We're hard at work putting together the next couple of Rainmaker Platform releases, with one right around the corner (we'll let you know the details in the next couple of weeks.) We've got a lot planned for this year to make your sites safer, more powerful and easier to use.
We've been taking a look at our own digital presence too, figuring out what's effective and what's not. Some of the things we've learned can help your site as well. Here are three areas we all need to focus on: capturing audience, auditing your digital presence and updating your analytics.
Capture Your Audience
Content marketing isn't just about putting out content that people will read, watch or listen to. It's about building a relationship — and to do that, you need to capture access to your audience. You need personal information that you can use to have one-on-one conversations at scale with your audience. The primary piece of information you're looking for is an email address.
Rainmaker Platform is packed with tools you can use to capture emails from your audience.
The primary thing you'll need is a landing page with some kind of offer — often a newsletter, promotion, eBook or whitepaper. With Rainmaker Platform, you have many options to build a landing page.
Most of you know about our landing page feature (you can find it on the top menu > Add New > Landing Page) which allows for smart, fast and compelling offers. Over the past couple of years, many customers have asked how to build a landing page with Beaver Builder, either from scratch or with a template. That's a great alternative. You can build a landing page with Beaver Builder by adding a page (go to Content > Pages in the left menu and click the blue "Add New" button.)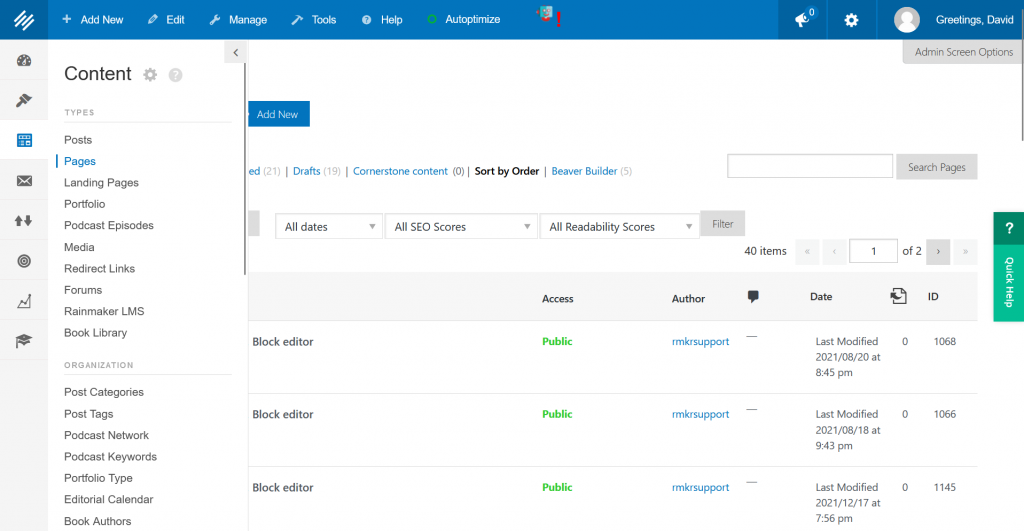 From there, you can click "Launch Beaver Builder" and build your landing page.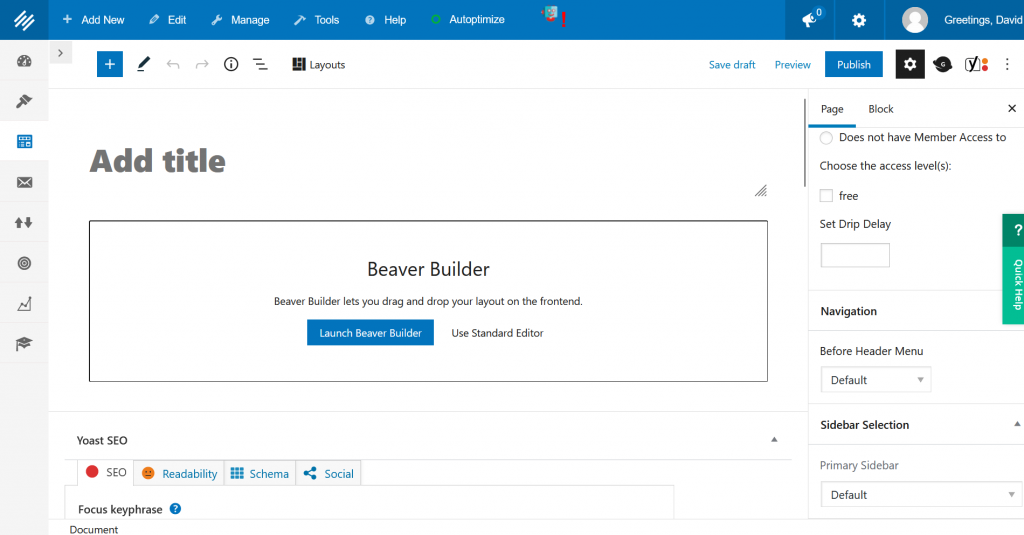 We recommend you use Ninja Forms to create a form for your email capture by going to Content > Tools > Forms in the left menu and clicking the Add New button. You can then add this form to your page as you would any other Beaver Builder element.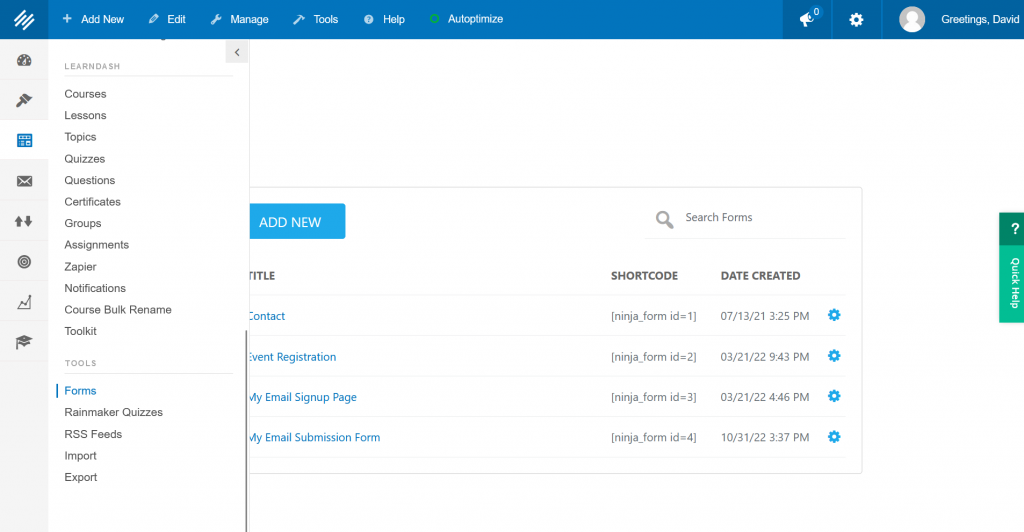 There are other elements that you can include, like an autoresponder on signup, but these two alone will be enough to get you started. If you want to learn more about how to create a complete email capture sequence from scratch, reach out to Support and we can help you create all the important parts.
You need to make sure you're giving your audience an incentive to hand over their email address, though. A hook is no good without bait. One of the most common is an email newsletter (which many of you use already). Unique, high-quality pieces of discrete content like whitepapers and eBooks are good "bait" too.
Audit Your Digital Presence
We're in the process of going through all our content. I thought I knew our site. When I started digging, I found out I didn't know it nearly as well as I thought.
It's easy to fall into the mindset of "if it ain't broke, don't fix it." But marketing isn't a "one and done" business. You're aiming at a moving target. Your audience is always changing, so your methods need to change as your audience's preferences change.
Take the time to review your website page by page. Here are a few basics that you need to look at this year.
Is my design outdated? If your website looks like a time capsule to the years when blogging was king and TikTok didn't exist, it might be time to do a refresh. We've added several new themes over the years and can incorporate most Genesis child themes if you ask, and you can create more interesting pages with Beaver Builder in a way that was impossible with early versions of Rainmaker Platform.
If you want to preview a new theme, you can go to the left menu and navigate to Design > Themes, then click "Live Preview" on any of the themes. You'll be able to see what your site would look like with that theme.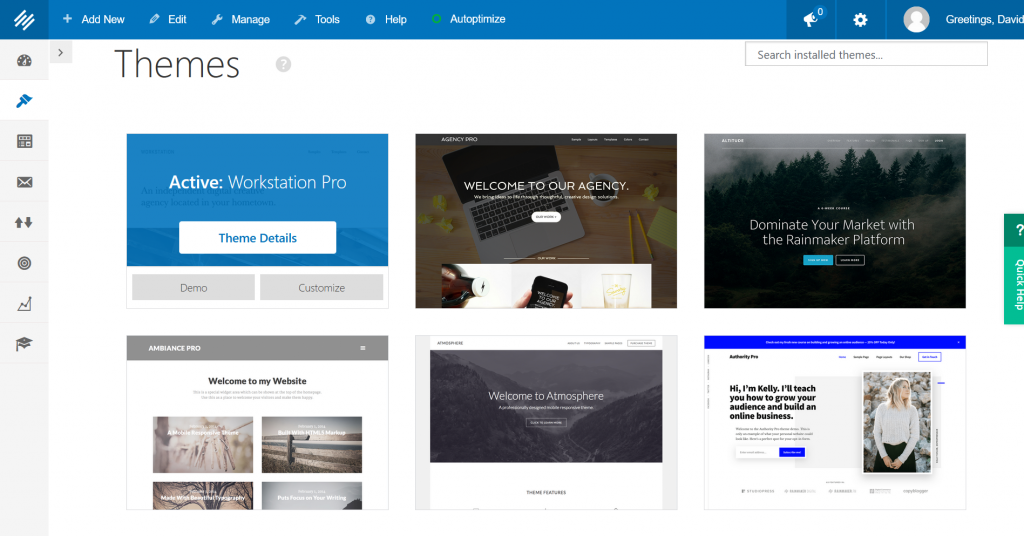 Be careful, though — when you change a theme, it may break sections of your site if you've done a lot of customization, and you'll need to do some work to renew them. Reach out to Support if you have any questions about changing themes.
A theme isn't the only way to change your site. The editors in Rainmaker Platform — the classic editor, the block editor and Beaver Builder — have all been improved over the years so you can adjust almost every Rainmaker Platform Andromeda content asset to match exactly what you want. You can create the user experience your customers demand.
Is my copy still accurate? Don't just look at the words. Look at presentation and voice, too. Has your audience or your focus evolved? Your copy must change as your brand and message grow.
There are three pages you need to check first: your home page, your sales page(s) and your about page.
Home page: This one is the most important because it's the first and often only page people see. A bad or misleading home page will stop people from moving on to the rest of your site — a good one opens the door.
Sales page(s): Your sales page copy is important because this is where people decide whether or not to buy. Wrong or outdated information (especially if it conflicts with the rest of your site) will drive people away. Check pricing and product/service details.
About page: This is the page that tells people who you are. Many About pages include information about people who are currently in the company — that may change. And your company's goals and methods may change over time too. Audit this page and make sure you haven't missed an update.
These three pages are a good place to start, but don't stop there. Go through your site page by page, taking notes on what needs to be adjusted. Get a sense of the whole site first, then make your edits. Don't edit while you go unless the changes are very minor.
Content auditing is not limited to your website. If you have a newsletter, take a look at the last year of your marketing emails. When I do this, I plot every mailing with open and click-through rates and a couple of descriptive details. You can see these statistics by clicking the "Load Metrics" button on your sent emails, which can be reached through the left menu under Email > Broadcast Emails. This will show the open rate, click rate and unsubscribes.

Identify which messages are most and least effective. This will give you a great perspective on what your audience really wants.
It's a great time to make sure your Rainmaker Platform site is up to date. Do it now and reap the benefits for the rest of the year.
Update Your Analytics
The final thing you need to look at is your analytics. Google is phasing out Universal Analytics (UA) on July 1, 2023, so even if you have analytics set up on your site already, you'll need to switch over to Google Analytics 4 (GA4). Check out our article "Don't Wait on Your GA4 Update" for more details on what this means for you.
We will be releasing a platform-native version of GA4 within the next few weeks. This tool will allow you to natively view GA4 analytics within the platform. If you don't want to wait, here are the steps to add GA4 to your platform today.
Log into your Google Analytics account.
Create a NEW property for your current website using the GA4 settings
Verify the property by copying and pasting Google's script to the header scripts on your platform site. You can edit these through the left menu by navigating to Design > Appearance > Scripts > Header Scripts.
You're done, but GA4 takes a few hours (sometimes up to 24) to begin to track activity.
If you have any questions about GA4, contact Support for help.
Set Yourself Up for Success This Year
We're working hard to make 2023 a success for Rainmaker Digital Services and all our Rainmaker Platform clients. You can do your part to set yourself up for a great 2023 too. Follow these tips and feel free to reach out to Support for help if you need anything; we're here to answer your questions, build your business and help you create the website that fits your needs. Just drop us a line, anytime.
Best Regards,
David Brandon
Copywriter
Rainmaker Digital Services