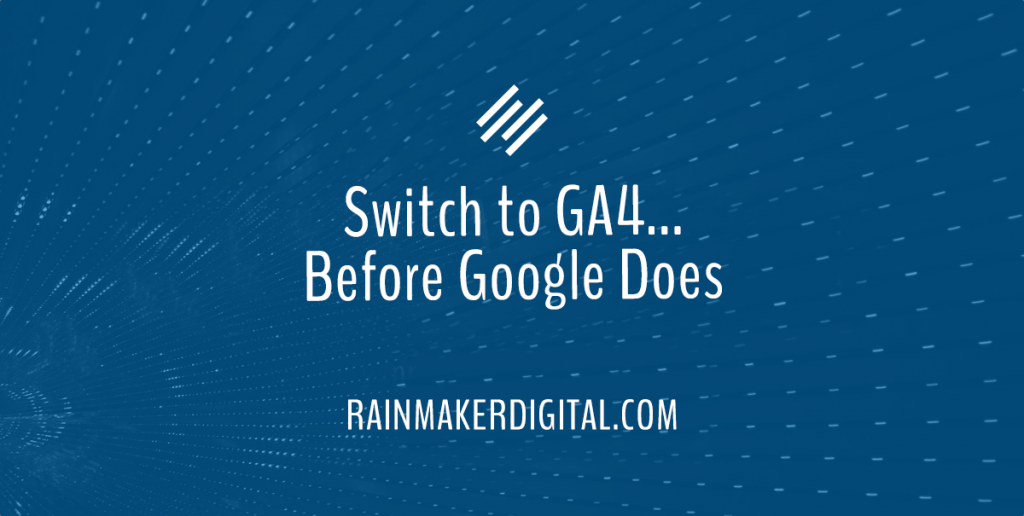 Greetings Rainmakers!
Taking a look at the news from the industry this month, we haven't been the only ones working to improve online experiences and engagement. We hope you've been enjoying the January update on Rainmaker Platform (you can check out the changelog of fixes and enhancements here). We're also trying to make our technology more impactful — you'll see some of those changes come online in March.
In the meantime, this Rainmaker Dispatch is designed to help you make your own changes and updates. From effective use of UGC to the latest on the GA4 rollout, here's what we've found most helpful this month.
Make the Switch to GA4, or Google Will Do It for You
Google Analytics is switching from Universal Analytics (UA) to Google Analytics 4 (GA4). Nicole Farley of Search Engine Land explains why you need to make the switch now, before Google changes your account over automatically.
Stop the Scroll
The way we engage with social media has changed — users expect more information up front and less baiting the click. Our own David Brandon explains how your social media presence needs to change.
3 Principles to Help You Make a High-Converting Landing Page
MarketingSherpa recently participated in a live landing page workshop with a number of smart marketers — Daniel Burstein lays out what they learned and how you can use it.
2023 Global Digital Report
Meltwater and We Are Social teamed up to create a comprehensive report on digital usage and connectivity, including important metrics like "how much time do people spend on social media?" and "how do Internet users research brands?"
User-Generated Content: How to Use It for Good and Avoid a PR Crisis
Smart businesses are taking advantage of user-generated content to build their audience. Jolie Giacona of Contently explains how to do it right.
Google Chrome Team Shares Tips For Optimizing Core Web Vitals
Matt G. Southern of Search Engine Journal explains the latest Core Web Vitals changes at Google and what they mean for your site.
Need a hand with your marketing efforts? We build full-scale marketing strategies for businesses like yours every day. You don't have to go it alone; we're always here for you. Just drop us a line, anytime.
See you next month with a new edition of The Rainmaker Dispatch!
Best Regards,
Ed Bardwell
President
Rainmaker Digital Services