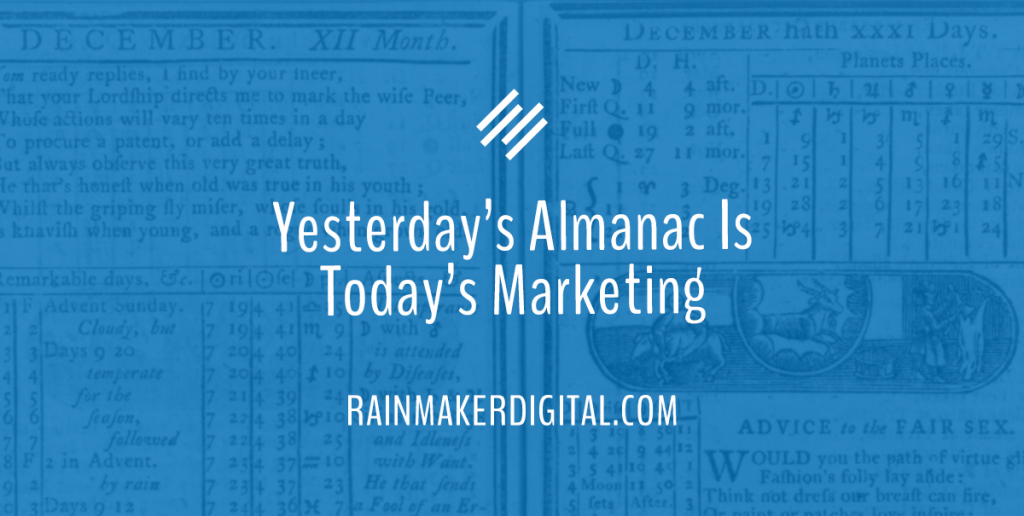 Greetings Rainmakers!
It's hot. But fortunately, I'm talking about our business activities and not just the Texas weather. The team has been really busy on a lot of exciting platform developments and client projects. I can't wait to share details in the upcoming months.
This month's Dispatch includes some great summer reading. We definitely recommend that you take a look at the Copypress.com article on the history of content marketing. It is easy to see where things are going if you understand where they've come from. After that, read about the future of SEO, building authority with Google and your customers and more.
The History of Content Marketing
Content marketing is older than you think, and this guide to its history is worth a read. Know where it came from and you'll understand where it's going.
Your About Page Essentials
The About Page is one of the most important pages on your site. Our own David Brandon explains why — and how to set it up correctly.
"Information Gain" and the New Future of SEO
Copycat content is getting worse. Google is taking notice, and Ryan Law of Animalz explains what you need to do to get ahead of the issue.
For Many Americans, Trust in Business Must Be Earned
Trust is key for marketers. Marketing Charts lays out how much most Americans trust companies and brands so you can use that data to make good marketing decisions.
How to Earn Topical Authority in 2022 and Beyond
Everyone wants to be an authority, but not everybody is. Zoe Ashbridge of Moz lays out how you can earn your status with both Google and your audience.
Ten Hottest eCommerce Trends for 2022 and Beyond
eCommerce was one of the industries most changed by the COVID-19 pandemic. What's here to stay? Kathryn Marr's piece for WooCommerce takes a look.
Need a hand with your marketing efforts? We build full-scale marketing strategies for businesses like yours every day. You don't have to go it alone; we're always here for you. Just drop us a line, anytime.
See you next month with a new edition of The Rainmaker Dispatch!
Best Regards,
Ed Bardwell
President
Rainmaker Digital Services