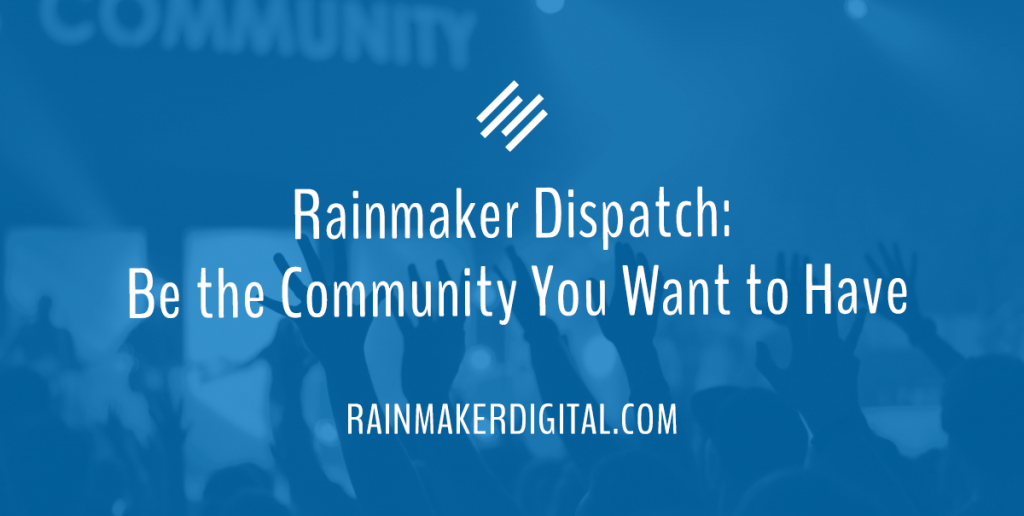 Greetings Rainmakers!
It is springtime in Texas. The bluebonnets are in bloom, the sun is warm but not blistering and it is perfect patio weather. You may have noticed we're running webinars now, and if you're a Rainmaker Platform customer who hasn't tuned in, you're missing out. We're trying to find the best ways to share the information you need to grow your business. Check out our next webinar and reach out with any feedback. We'd love to hear from you.
In the meantime, this month's Dispatch has some great work from other people we respect, including pieces on e-commerce personalization and building a community around your blog.
Build a CULTURE of Community – Not Just Engagement
Darren Rowse of ProBlogger knows a thing or two about building community. He did it himself with ProBlogger and Digital Photography School. Here he passes on his tips, starting with one key insight: be the community you want to have.
Get Invited In
It's awfully hard to get people interested in your content if you're constantly interrupting them. Why not get invited in the door? Our own David Brandon tells you how.
Leveraging Personalization in Your E-commerce Strategy: Should You Bother?
Johnny Longden's piece for The Drum makes the case that even though it's easier than ever to personalize your e-commerce experience, it might not be worth it.
What Is Machine Learning, and How Can It Help With Content Marketing?
Content marketing is using AI more than ever, and Yakup Özkardes-Cheung's article on Entrepreneur explains exactly how it works.
6 Content Helpers That Encourage People To Read, Watch, or Listen
Good content marketers make it easy to engage with their content. Ann Gynn of CMI tells you how you can do it too.
How SimpleLegal Grew Traffic 515% by Embracing the Quirks of Vertical SaaS
Ryan Law and Rease Kirchner of Animalz use this case study to look at the benefits of vertical SaaS integration, with great advice on secondary keywords and refreshing old content.
Need a hand with your marketing efforts? We build full-scale marketing strategies for businesses like yours every day. You don't have to go it alone; we're always here for you. Just drop us a line, anytime.
See you next month with a new edition of The Rainmaker Dispatch!
Best Regards,
Ed Bardwell
President
Rainmaker Digital Services