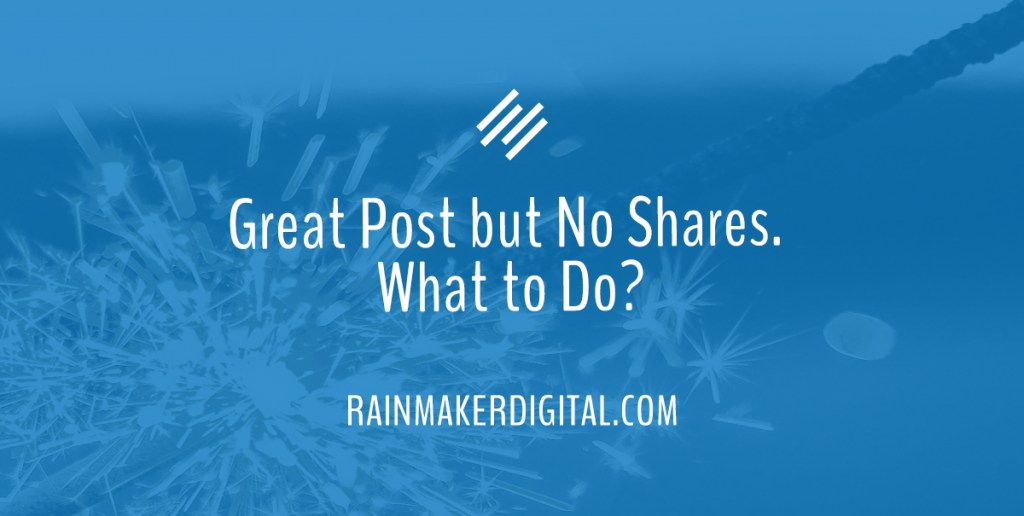 Greetings Rainmakers!
Summer is right around the corner, and as we gear up for the middle of the year we're taking a look through some of the articles that have inspired us to be better. Coming out of spring halfway through the second quarter, it's a great time to evaluate how things are going so far. This edition of Rainmaker Dispatch can help.
This month's Rainmaker Dispatch has a lot of specific nuts and bolts pieces from people who've done the work themselves. The execution is often harder than the idea, and to that end there's plenty of advice on how to actually do the big ideas. Check out these links for help with choosing the right audience, using optical theory to maximize your landing pages, creating a killer minimum viable product and more.
SEO expert Rand Fishkin explains the root causes of a post that no one shares and how to address them. It's important to figure out who your desired audience is first before you talk to them.
This is an in-depth look at just how the co-founder of Pixelied built out backlinks for their site and increased organic traffic from 0 to 20,000 in only 5 months. A good read for both beginners and experts.
Unbounce knows landing pages. This highly visual piece on harnessing optical illusions for better conversions is a quirky and effective look at maximizing your click-throughs.
eCommerce is changing. With the move to mobile, old ways of doing things are being superseded, and you need to know how to adjust to the mCommerce future. The RMDS content team takes a look at the trend and shows you how to prepare.
InventorSoft's guide to the Minimum Viable Product (MVP) is a great tool for anyone looking to start a new business or expand an old one. The MVP concept is fundamental to any startup.
Arby's isn't exactly known for being at the cutting edge of fast food, but it's made major inroads in marketing recently by capitalizing on UGC and social media engagement. Ad Age explores how.
Looking for some help in 2021?
Have you ever wondered what a full-blown marketing strategy might do for your business? Remember that you don't have to go it alone, we're always here for you. Just drop us a line, anytime.
All right, see you next month with the next edition of The Rainmaker Dispatch!
Best Regards,
Ed Bardwell
President
Rainmaker Digital Services
P.S. When you have a moment, bookmark rainmakerdispatch.com. We're updating it weekly, with the goal that it will become your premier aggregator of digital marketing education and news in the coming year. Let us know what you think, and if you have an article, video, or podcast you'd like to see featured there, just let us know!