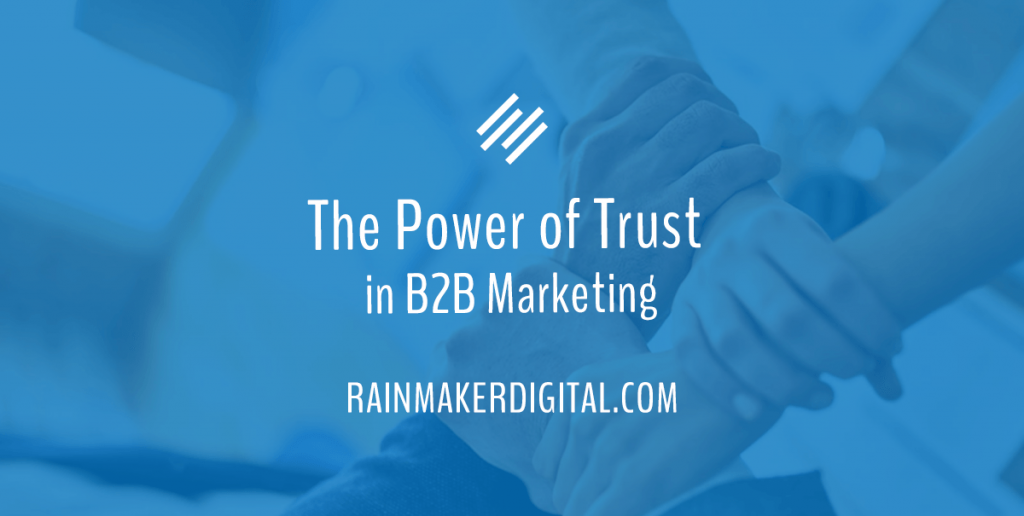 Greetings Rainmakers!
The Rainmaker Dispatch this month is all about sharing some great ideas and examples to get your content juices flowing. For many of us, business is finally starting to ramp up in both B2B and B2C sectors. Now's the time to sharpen our pencils and expand our thinking to take advantage of the new opportunities that we're all finding.
Take a look at The Rainmaker Dispatch for a great snapshot of social media in 2021, inspiration on ways to use Customer Personas in search, and a useful reminder on the power of trust in B2B marketing.
@TopRank writer, Lance Ellis, shares a great explanation on the role of trust in building B2B marketing relationships.  Included are examples and links to additional articles that will help you explain to management and clients alike the power of trust.
Wondering which apps you should jump in on in 2021? 60SecondMarketer has done the hard work and generated a list of the 25 top social media networks you need to focus on in 2021.
We found this Curation Guide from Charlie Patel on Triberr to be a great checklist when trying to develop a curation campaign as a part of content strategy.
Response has been great to this RMDS article on how to start intertwining video content with SEO fundamentals. Video is here to stay and now is the time to start using video to build your audience and leapfrog the competition.
Even if your site is delivering against your KPIs, you can always benefit from more traffic. Kinsta provides 76 tactics (and examples) that can help you drive traffic and expand your audience.
The team at Search Engine Journal has outdone themselves with an article that takes customer persona modeling and expands its role beyond messaging to guide optimization, PPC, and content creation. Best of all, this method gives us insights on how to navigate the rapidly changing environments that many of us our facing.
Looking for some help?
Have you ever wondered what a full-blown marketing strategy might do for your business? Remember that you don't have to go it alone, we're always here for you. Just drop us a line, anytime.
All right, see you next month with the next edition of The Rainmaker Dispatch!
Best Regards,
Ed Bardwell
President
Rainmaker Digital Services
P.S. When you have a moment, bookmark rainmakerdispatch.com. We're updating it weekly, with the goal that it will become your premier aggregator of digital marketing education and news in the coming year. Let us know what you think, and if you have an article, video, or podcast you'd like to see featured there, just let us know!