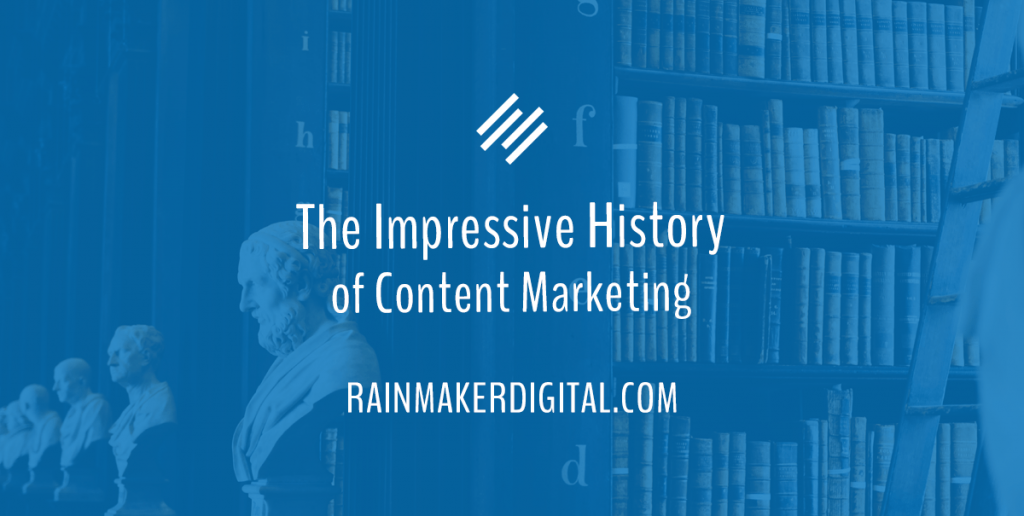 Greetings Rainmakers!
It's been an eventful month here in Texas. Less than 30 days ago, I was reminded why I left the Midwest and how much fun I enjoy camping. The weather even knocked the pandemic out of the headlines for a few days. (Luckily, the governor of Texas was able to get us to focus on COVID-19 again, but that's another story…) Wherever you are around the globe, I hope your 2021 is getting off on the right foot and your loved ones are healthy and safe.
The team found some great content to help get you motivated in this March's The Rainmaker Dispatch. It starts with a great article on the history of content, and several recommendations for your content strategy and ideas that you can share with clients to get them moving ahead.
The team at BKA Content weighs in The hotly debated topic of the history of content marketing. Do cavemen get the credit, the Gutenberg press or is it strictly a mass communications phenomenon?
They're back! CMI shares a great article on the real reason they pay us to write – to sell something – a product, service, or message. It starts with a killer headline.
Here's a great article with examples on how brands transcend great content and do Brand Publishing. Not sure what that is? Check out this article from Phlywheel.
HAL 9000 may not be Science Fiction much longer. Voice search isn't just a party trick. 50% of Americans use it weekly. Voice search is coming of age. Now's the time to embrace it and stay ahead of the curve.
Semrush shares a great guide, full of useful statistics, to get your strategy up to speed for 2021. They outline how to build an effective content marketing strategy that centers on four core elements: brand positioning, owned media value proposition, business case, and strategic plan. It's worth a read.
Need some ideas on how to sell-in a new blog program this year? Check out this "defense" of the blog. Interest may have waned over the past five years and there is a lot more noise in the market but blogs play a vital role in a brand's overall marketing success.
Looking for some help in 2021?
Have you ever wondered what a full-blown marketing strategy might do for your business? Remember that you don't have to go it alone, we're always here for you. Just drop us a line, anytime.
All right, see you next month with the next edition of The Rainmaker Dispatch!
Best Regards,
Ed Bardwell
President
Rainmaker Digital Services
P.S. When you have a moment, bookmark rainmakerdispatch.com. We're updating it weekly, with the goal that it will become your premier aggregator of digital marketing education and news in the coming year. Let us know what you think, and if you have an article, video, or podcast you'd like to see featured there, just let us know!