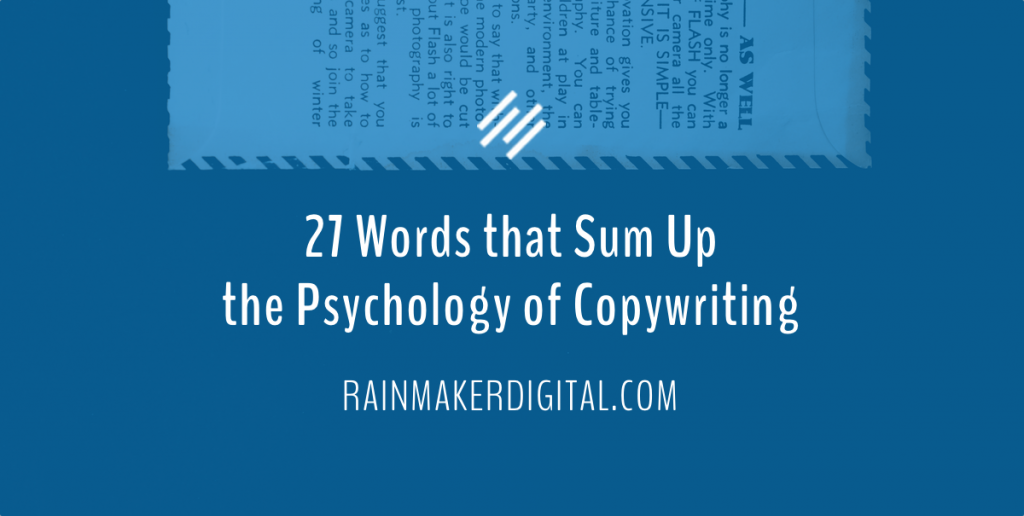 Greetings Rainmakers!
Sometimes, less is much, much more.
And that's definitely the case for this month's title article in The Rainmaker Dispatch.
From 27 words that form the foundation of copywriting, to an interesting way of generating new leads, and ideas for finding well-paying copywriting clients, you're not going to want to miss this Dispatch.
On with the show …
As I said above, sometimes less is much, much more. In this case, twenty-seven words ought to do it. If you've been struggling with — or worse, overthinking — copywriting for your business … stop. Take a breath, read this article, and restart from the foundation.
To say the least, "Podcast statistics can be confusing and complex." Most people have no understanding how unscientific the world of stats truly is. But we continue along, as if the numbers we're seeing are real. This is an excellent and eye-opening article on the truth about podcast stats, and how to determine how you're really doing.
The best time to plant a tree was twenty years ago. The second best time to plant a tree is today. With that timeless wisdom in mind, one of the most important things you can plan and do TODAY is build a personal highlight reel. What's a personal highlight reel? Read on …
Are you spending a lot money advertising on Facebook, LinkedIn, or other properties? If so, this is a must-read article. You may be missing one of the most powerful advertising opportunities in the world … and it's FREE!
What is a style guide? Why do you need a style guide for your business? What elements does a style guide include? These questions and many others are answered in this excellent article by Ms. Barnes. DO. NOT. MISS.
OK, I've said it several times already in this edition of the Dispatch, but if you're in a service-based business and looking for clients, this article is also must-read. Ms. Moore offers straightforward and practical advice, whether you're just starting, or you're a seasoned veteran.
A timely and interesting look at what people are actually engaging with on both Presidential candidate's Twitter accounts. Two very different styles, approaches, and contexts from the two men. But before you get any high-minded hopes about deep policy discussions … this case study shows — more than anything — that we're all just human after all.
Make the Roaring 20's Your Best Decade Yet
That might seem an interesting concept — the Roaring 20s — in the context of how incredibly challenging this year has been so far, for so many of us. Still, we are more than optimistic about what's to come!
And like our brand new decade, the landscape of digital marketing is constantly shifting, growing, and FULL of opportunity.
Our commitment to you is that we'll be here, ready to help you achieve the success you're looking for, whether you need content, technology, or services.
We'll not only be here, we'll be constantly upgrading our technology and skills to better serve you.
If you have any questions about Rainmaker Platform (or anything else we might be able to help you with), we're always here to listen and help get you the answers you need. Just drop us a line, anytime.
Best Regards,
Ed Bardwell
President
Rainmaker Digital Services