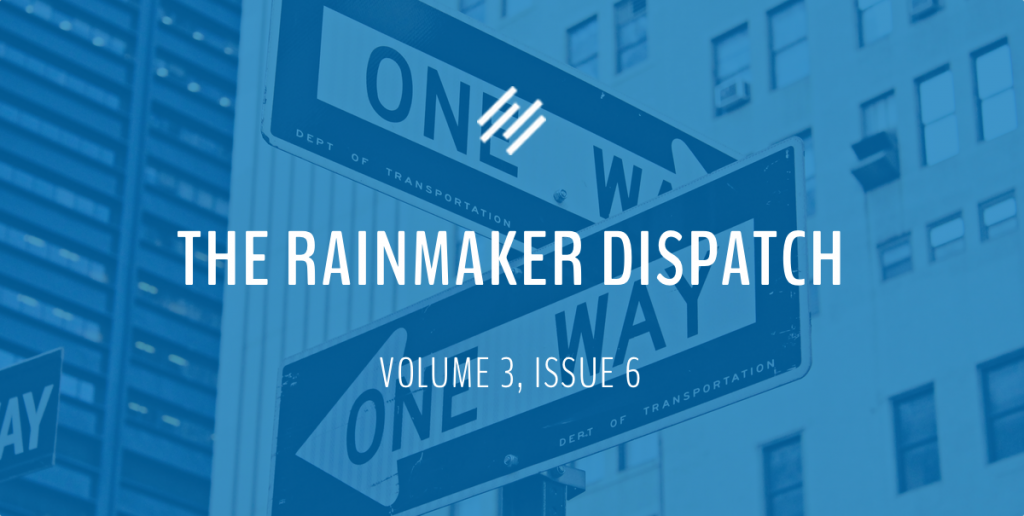 Greetings Rainmakers!
We've got an excellent collection of curated links for you in this issue with topics ranging from becoming a more prolific writer to a must-read guide on promoting your writing (and other content) on the web.
But perhaps the most valuable link in the bunch asserts the incredible power of simply "picking yourself." This mindset alone could change the future of your business, please don't miss it.
Ready? Alright, on with the show …
Though published years ago, this article by Mr. Godin strikes at the heart of almost everything we do. It illustrates the transition in mindset that must be made from the last century to this one. Stop waiting to be picked, for that job, for that client, for that project … pick yourself!
Here's the latest article in my new series "Digital Marketing for Everyone Else." I know that for most of you, this information might be elementary in nature, but for your clients and customers it may be revelatory. Use it, absorb it, and if you see fit, share it with those who can benefit.
This is an incredibly detailed and straightforward article by Mr. Dry, one that can certainly help you with one of your most important tasks: content promotion. In a world of overabundance when it comes to content, promotion may be more important than production. I'll let you decide.
On the other hand, it might be time to scale up your content production … if that's so, this epic article by Mr. Dean will show how to do it. You're never "only" writing one article, or "only"producing one podcast episode, you need to learn to build logical processes for producing content in order to reach your goals.
This is an excellent podcast introduction to the idea of "brand." What is a brand? How do I build one? WHY would I build one? The answers to these questions just might open an entirely new world to you, one in which your business goals are expanded beyond what you thought possible.
In this deceptively simple tutorial, Mr. Hardwick tackles the small but seriously important subject of URLs (AKA permalinks or slugs). As he says, "creating URLs for SEO isn't rocket science." It may not be, but it's a tiny discipline absolutely worth considering and mastering.
This is an excellent primer on the all-important content mindset. Whether we like it or not, we're all in the media business now … so how are your chops when it comes to producing it? By laying out his process, Mr. Thorne gives us all a wireframe for getting our most important work done.
What are you working on in 2020?
Sometimes it's a simple thing like auditing and optimizing permalinks for SEO friendliness. Or maybe it's something a little more intensive … have you ever wondered what a full-blown marketing strategy might do for your business?
Whatever it is, if it's in the realm of digital marketing, remember that you don't have to go it alone, we're always here for you. Just drop us a line, anytime.
All right, see you next month with the next edition of The Rainmaker Dispatch!
Best Regards,
Ed Bardwell
President
Rainmaker Digital Services
P.S. When you have a moment, check out and bookmark rainmakerdispatch.com. We're updating it weekly, with the hope that it can become your premier aggregator of digital marketing education and news in the coming year. Let us know what you think, and if you have an article, video, or podcast you'd like to see featured there, just let us know!