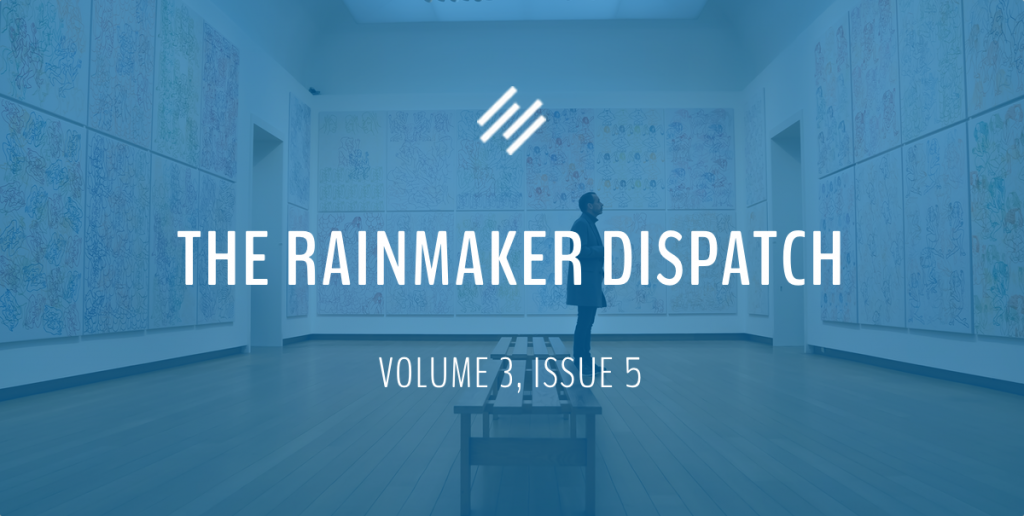 In case you missed it last month, I'd like to introduce you to our latest content project. When you have a moment, head over to rainmakerdispatch.com.
As with the first (and namesake) article in this month's edition, rainmakerdispatch.com is a content curation and aggregation site that we're committing to in order to serve our audience and grow our business. You might even call it a live lesson in curation marketing, a growth discipline we fully embrace.
We'll be updating the site weekly (for now), with the hope that it can become your premier aggregator of digital marketing education and news in the coming year. Let us know what you think, and if you have an article, video, or podcast you'd like to see featured there, just drop us a line, anytime.
Alright, on with the show …
"Museums curate works of art. We digital marketers curate blog posts." With that line, Mr. Lee opens the door to an incredibly useful article on the basics of content curation. Make no mistake, in this world of information overload, adopting and mastering this discipline is the future, and very well could be the future engine of your business.
Attacking one of the most frustrating and difficult aspects of digital marketing head on, Mr. Vesterfelt lays out a reasonable and effective approach to getting your email list started. I'd add the lessons about content curation in the article above to this strategy, but whichever way you go, you won't go wrong following his advice.
What is your greatest business goal? Is it increasing sales or growing traffic? Many of us have fallen into the "growing traffic" trap over the years. It's not a bad thing — in and of itself — but it is NOT the most important thing you should be focusing on. Mr. Daly wisely states, "… your primary job is to help grow the business, not the traffic."
This article from Mr. Patel will once and for all destroy one of the most insidious excuses we face as digital marketers. Not that concerns about talent and budget aren't completely unfounded, but there are many paths to getting this "content" job done and you're about to read the remedy.
What are backlinks? Why do I need them? How do I get them? Ms. Jantsch lays out a simple and doable plan for getting this work done, which can ultimately be one of the most important tasks you'll need to master. Backlinks matter, big time, and you don't have to go crazy trying to get them.
If you're a Chrome browser user and either a beginner or an advanced SEO, Mr. Churick has written an article that might make you feel like it's Christmas morning. Browser extensions can be ridiculous distractions or powerful aids in accomplishing your business goals … read this article and let a few robots make you a better optimzer of search.
Achieving simplicity (which often brings profitability) is not as easy as it looks. We second-guess our decisions when it comes to simplifying, often falling into the trap of thinking that more is better. Or even that more complicated is better! We know this is rarely the case, but it takes discipline and this famous story will help keep you on track.
The Coming Decade
The landscape of digital marketing is constantly shifting, growing, and full of opportunity.
Our commitment to you is that we'll be here, ready to help you achieve the success you're looking for, whether you need content, technology, or services.
We'll not only be here, we'll be constantly upgrading our technology and skills to better serve you. Don't have to go it alone, just drop us a line, anytime.
Best Regards,
Ed Bardwell
President
Rainmaker Digital Services