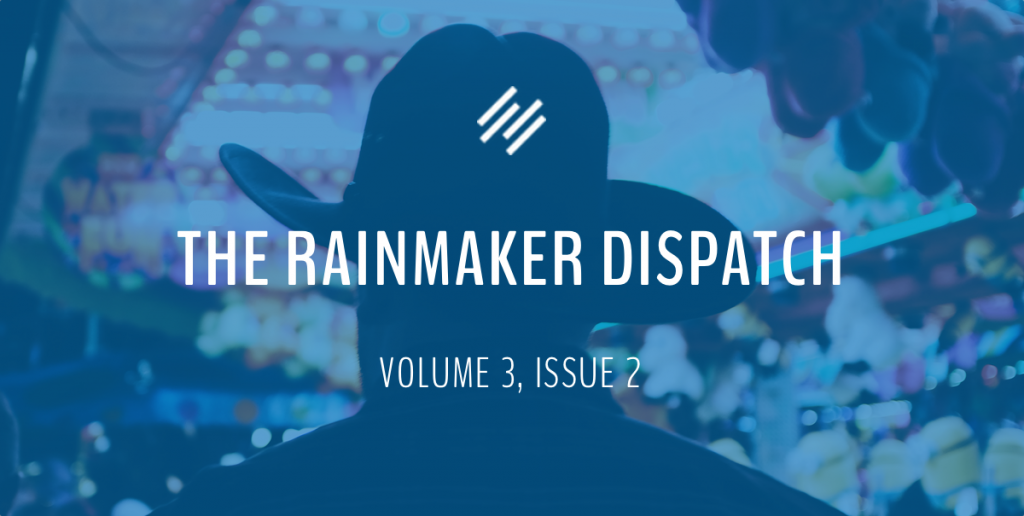 Greetings Rainmakers,
What does a young college dropout have to teach veteran digital marketers? Turns out, A LOT.
In this issue of The Rainmaker Dispatch, we lead with the incredible story of Lil Nas X, a rapper who went from his sister's couch to dominating the music industry in a very short period of time … thanks to his own social media marketing efforts.
We've got another excellent group of curated links for you, with topics ranging from the productive power of boredom to an extremely handy guide to sizing images for social media.
Ready for some of the best reading you'll do all week? On with the show …
"Most musicians think like failed startups. Too much time creating. Not enough time promoting." With those two lines, Mr. Dry launches into one of the most interesting marketing stories of the year. Whether you've heard of Lil Nas X or not, doesn't matter, there is much to learn from this young man.
What's a meme? Do serious marketers need to know what they are and how to make and deploy them? We'd argue that, yes, you do. Like it or not, the age of the Internet is the age of the meme, and they are one of the most powerful ways humans have ever devised to deliver a message.
Link building can seem like one of those dark marketing arts that only the "cool kids" know about and are successful in achieving. In reality, the practice of link building is a rather simple process that anyone can make a part of their overall marketing strategy. Thank you, Mr. McSweeney, for showing us the way.
This article was featured on The Rainmaker Dispatch over a year ago, but it is important enough to reread, at least annually. Mr. Clear argues that the way to mastery (and real results) is, at least partly, through our tolerance to boredom. If there's only one article you read from this month's Dispatch, let it be this one.
Ms. Kellogg knocks it out of the park with this simple and supremely useful article about the most powerful social network for entrepreneurs … LinkedIn. From publishing to networking to reputation management, LinkedIn needs to be one of the main spokes in the wheel of your business.
The headline says it all … no muss, no fuss, just the facts, ma'am. The Buffer blog has become one of the best resources for digital marketers over the last 5+ years, and articles like this prove why. Bookmark it and return to it when needed, you'll never need another reference for social media image sizing.
If you're relatively new to the discipline of copywriting, you'll be forgiven for not knowing Mr. Carlton. For those who don't know him, he is a living legend, and you should treat his website like a university education in the art of selling. This article is a good place to start, explaining the type of mindset he's become famous for.
Make the Roaring 20's Your Best Decade Yet
The landscape of digital marketing is constantly shifting, growing, and full of opportunity.
Our commitment to you is that we'll be here, ready to help you achieve the success you're looking for, whether you need content, technology, or services.
We'll not only be here, we'll be constantly upgrading our technology and skills to better serve you.
If you have any questions about Rainmaker Platform Andromeda (or anything else we might be able to help you with), we're always here to listen and help get you the answers you need.
Best Regards,
Ed Bardwell
President
Rainmaker Digital Services