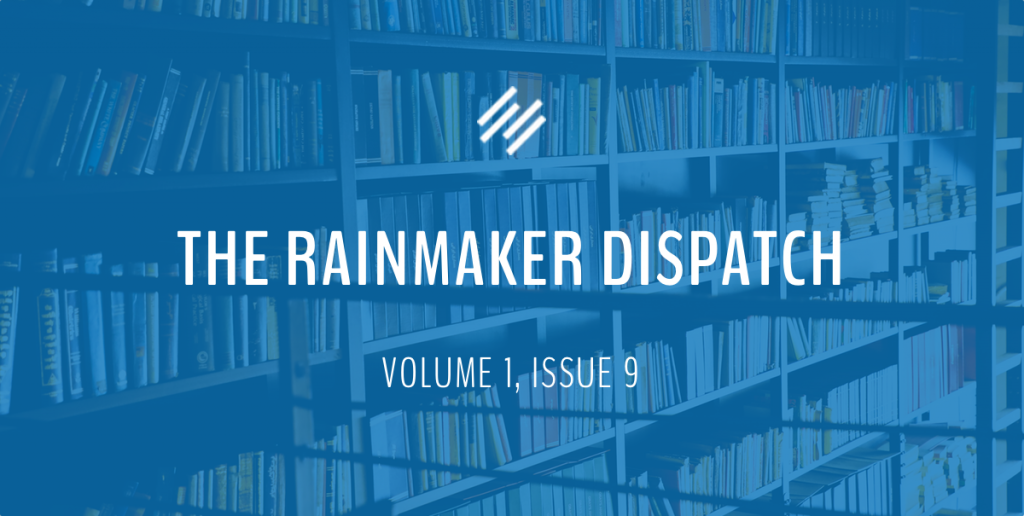 This issue of The Rainmaker Dispatch covers a lot of ground. From the secret to thriving in difficult economic times, to fifteen ways to market a local business, to an easy administrative trick that can significantly enhance your personal and professional security, we've got you covered.
And there's more, but we'll leave that for you to discover below.
As we said last time, our monthly goal here is to find and deliver seven interesting and useful links to content around the web, the stuff that will help you move your business and professional life forward.
If you've got a great link you'd like to see featured in a future issue of The Dispatch, let us know! OK, on with the show …
Oh boy … "Unfortunately, only 33% of small businesses reach the 10-year mark. The rest fail." It's a hard pill to swallow, but there never has been, nor will there ever be a "silver bullet" for marketing your business. At least, not one that lasts. It's always a discipline of going back to the basics. Mr. Patel is one of the best at reminding us all of this truth.
Ben Settle read something 16 years ago that changed his life. It's a big piece of what carried him through some scary economic times, to becoming a highly paid expert on email marketing. Mr. Settle's opinion is that this lesson teaches the most valuable skill any working person can possess. We agree.
Email: the original social media. By collecting and briefly analyzing a few top email newsletters publishing today, Mr. Baptiste has given us an important reminder — sexy does not always sell (best). Do you publish an email newsletter? Are you reaching out to your customers and fans on a regular schedule via email? If not, you're leaving money on the table, and why would you want to do that?
Mr. Smith is the definition of the word prolific. He has written millions upon millions of words, well over 100 novels, and who knows how many short stories and et cetera. He's developed this idea of "Pulp Speed" into a philosophy that we think can help content marketers of all stripes prosper.
The greatest plague that Social Media hath wrought? Password Management. There are a few great password management tools out there (that you should definitely be using), but xkcd brings us back to the old school in this cartoon. As always, the old school is simple, and it confuses the hell out of hackers and their big, bad hacking machines. Yeah. Stay safe out there.
A little idea that turned into a popular book … and has helped countless marketers through the years think differently about a tactic that can turn one blog post (or podcast, or …) into many, many pieces of valuable content. Want to make the most of all the content you're producing? Read and apply the principles in this article.
Though traditional advertising has had its day, the legendary Mr. Lois lays down a few true gems in this short interview, pushing his book from a few years ago. Chief among his advice is "The word must come first." It's the copy that potential buyers remember, think about, and act on. True in the days of the Madison Avenue men, true in the age of delivering persuasive content over time.
Thanks for reading the Dispatch, see you in October! Until then, if you need some damn good marketing advice, help with your own email newsletter, or a fresh look at your content marketing strategy, drop us a line, anytime.
Best regards,
Cody Haney
Director of Support
Rainmaker Digital Services
P.S.
We can't say much about it right now, but wanted to let you know that we're putting the finishing touches on our Rainmaker Site Review, a simple yet powerful service that many of you will be familiar with from last year. We want this updated version to be an affordable and effective way for you to get a clear picture of how your site is doing in terms of marketing and conversion, and offer concrete recommendations for improving your bottom line. We'll let you know when it's ready … stay tuned.