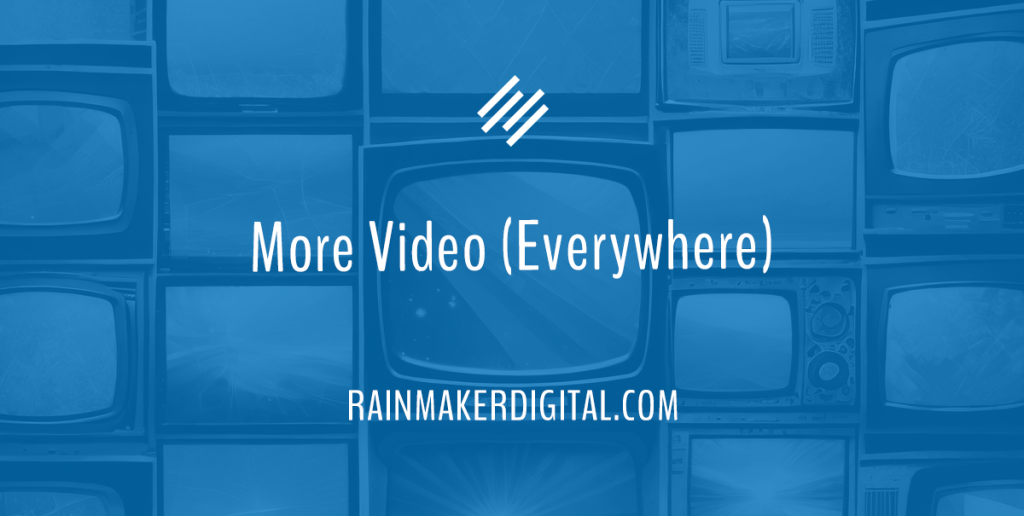 Greetings Rainmakers!
Content marketing doesn't stand still — it's constantly evolving. Our Dispatch this month has a ton of information about the latest changes and trends. From blurring the line of what it means to "watch video" to the impactful growth of AI marketing, the field is in flux, and this edition will prepare you for what's coming.
3 Trends Driven by the Blurred Lines of Video Consumption
From the big screen to the small screen and back again, video is still the king of online content — but it's not limited to one channel. Jeff Fagel, CMO of Madhive, explains for Adweek.
SMS Drives Your Audience to Action
Want action? Use SMS. Our own David Brandon explains why this permission-based channel matters so much for your business.
The Only Five Homepage Designs that Work Over and Over
Don't get caught up in a flashy or unique homepage that doesn't deliver. Cool is only cool if it converts. Lars Lofgren tells you how to build a page that works in this QuickSprout piece.
B2B Tech Buyers Want to Trust Content. Is Yours Earning It?
A lot of B2B buyers have been disappointed by the quality of gated content. Learn why — and how to fix it — with Content Marketing Institute.
The Future of Marketing Isn't Added On — It's Built In
"Better marketing in less time" is the promise of AI. Will it deliver? This report from Mailchimp and Forrester details the ways you can use AI to improve your marketing right now.
Paid Ads vs. Organic SEO: 10 Expert Tips
Should you use paid or organic to build your business? They need to exist in balance, as Davis Tucker brings out for 60 Second Marketer.
Need a hand with your marketing efforts? We build full-scale marketing strategies for businesses like yours every day. You don't have to go it alone; we're always here for you. Just drop us a line, anytime.
See you next month with a new edition of The Rainmaker Dispatch.
Best Regards,
Ed Bardwell
President
Rainmaker Digital Services