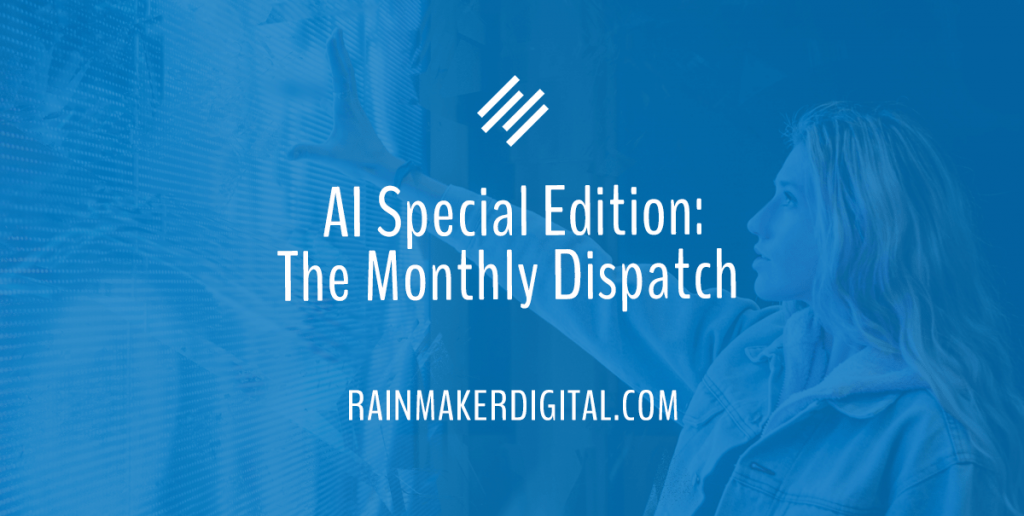 Greetings Rainmakers!
Unless you've been living under a rock, you've probably been hearing a lot about AI. Some think it spells doom — for marketers, for writers, for the world when it becomes Skynet (yes, I watched Terminator too). Some view machine learning and large language models with optimism, predicting an age of boundless productivity. Reality is still murky. What is clear, though, is that change is upon us.
We're doing something a little different with this Monthly Dispatch. This month, we're bringing you an assortment of articles that tell you the truth about AI — what it does and doesn't do, why it matters, and how you can implement it in your business. Get the inside scoop here.
Using AI to Build Your Business
Audiences Don't Care if AI Created Your Brand's Content
AI vs. human: who wins in content creation? Neither, argues Ann Gynn for Content Marketing Institute. As she explains in this piece, "What matters is whether the content delivered what the audience and brand wanted."
Make Your Brand Stand Out
There's so much content on the Internet that it can be hard to publish something that feels unique. Our own David Brandon explains how to make your content stand out from the pack (and why AI isn't the answer).
AI Essentials for Business Growth
Want a broad overview of what AI does for marketers? Brendon Kraham of Think with Google outlines how AI is changing business — it's about AI AND people, not AI OR people.
Tips for Writing Great AI Content
Sure, you can throw a question into ChatGPT and get some copy, but your end product isn't going to be very good. Jim Tobin of Ignite Social Media explains how to write prompts that actually create useful content.
AI Has the Power To Change B2B Marketing Research
With AI, marketers now have quick and accessible market research in the palms of their hands. Peter Weinberg and John Lombardo explain how AI is disrupting research for MarketingWeek.
How AI is Impacting Search Advertising's Growth
AI is helping advertisers refine their search keywords in ways that were never possible before. Antoinette Siu from Digiday explains how — and why search advertising is trending up.
Need a hand with your marketing efforts? We build full-scale marketing strategies for businesses like yours every day. You don't have to go it alone; we're always here for you. Just drop us a line, anytime.
See you next month with a new edition of The Rainmaker Dispatch.
Best Regards,
Ed Bardwell
President
Rainmaker Digital Services