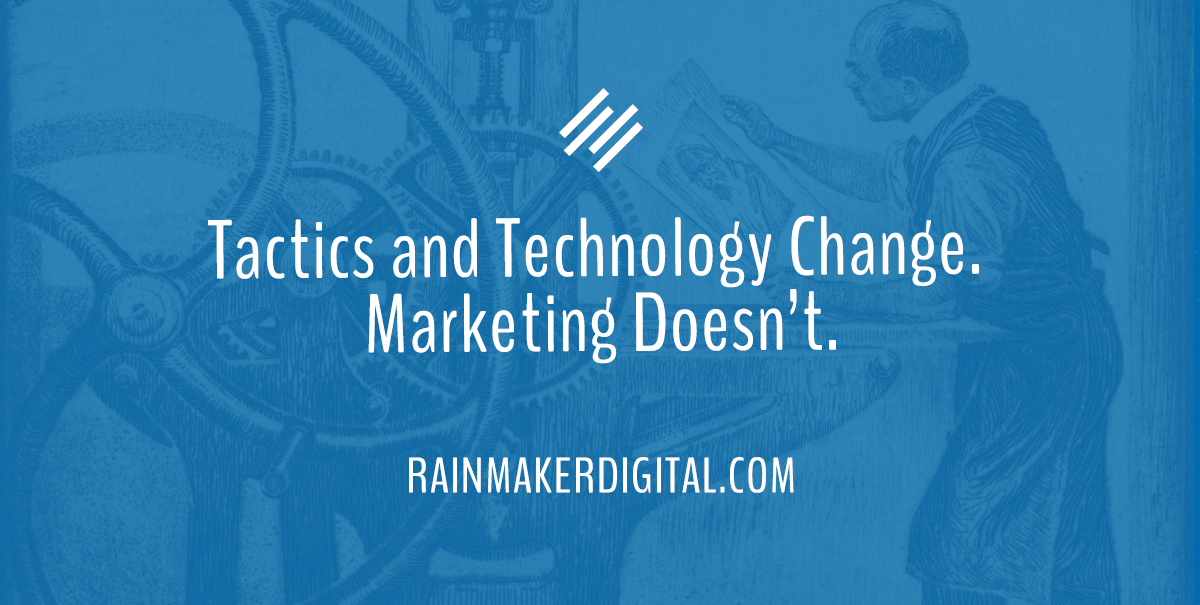 There's a reason we publish our Monthly Dispatch: marketing changes fast. But it's easy to miss the forest for the trees sometimes.
I was talking to our copywriter David Brandon the other day about this, and the phrase we settled on describing the state of our industry was: "Tactics and technology change. Marketing doesn't."
A better meta description, a smarter media buy or a different social media platform can make your marketing better, but it's not the key to success. The key is giving your audience what they need to succeed.
Many of you have been Dispatch subscribers for years. We want to know what you're interested in and what will help you. Have thoughts on what you'd like to see more or less of? Want to suggest topics? We're listening. Just drop a line to marketing@rainmakerdigital.com.
In the meantime, we're here again this month to bring you the best marketing content from around the web. Learn how to make generative AI really work for you, follow the current trends, boost your analytics and more.
How to Write AI Prompts: The Key to Better Outputs from Generative AI
Unless you've been living under a rock, you've been constantly hearing about how AI is changing the content marketing landscape. Laura Starita of Contently explains how you can put it to work for you with creative prompts.
Convert More Customers with "Why You?"
Our own David Brandon takes a look at the bottom of the sales funnel. Many marketers think benefits belong in the middle of the funnel — but they can help you convert too.
Top 5 Content Marketing Trends for 2023
Jamie Turner's been in marketing for a long time, and his list of 2023's content marketing trends is worth a read. Get ahead of the curve.
Using the 8 Basic Principles of Communication To Drive Your Marketing
Marketing is communication — and there are eight principles that make you a good communicator. Learn how to apply them to your marketing with Gareth Hancock at CXL.
How Video Consumption is Changing in 2023
Video isn't going anywhere as a marketing tool — but it is changing. Pamela Bump of Hubspot explains what you need to know to succeed in 2023.
What Are UTM Codes: UTMs in Google Analytics & GA4
If you're not using tracking on your links, you're missing critical information that could help your marketing. UTM codes can help — learn how they work with Carlos Silva of SEMRush.
Need a hand with your marketing efforts? We build full-scale marketing strategies for businesses like yours every day. You don't have to go it alone; we're always here for you. Just drop us a line, anytime.
See you next month with a new edition of The Rainmaker Dispatch!
Best Regards,
Ed Bardwell
President
Rainmaker Digital Services