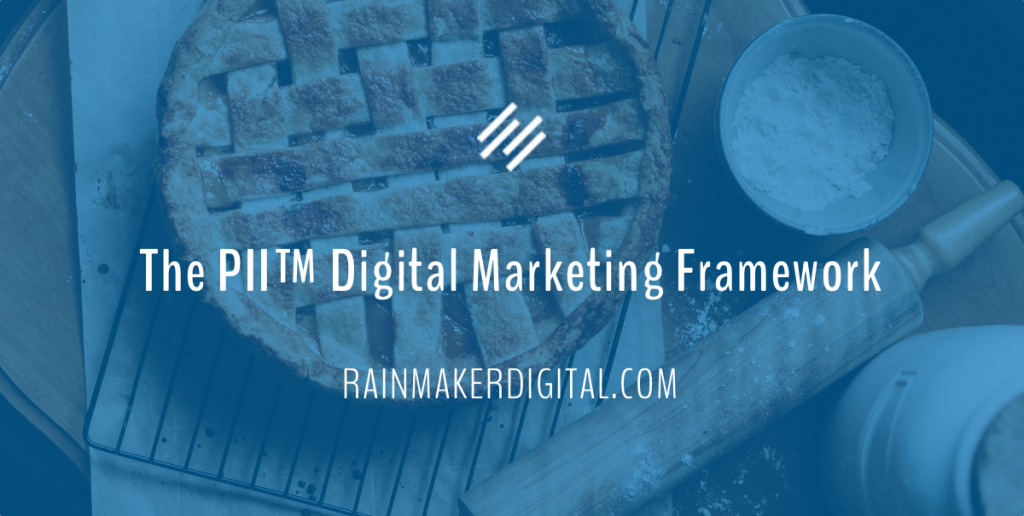 Greetings Rainmakers,
This week, I published an article that codifies a specific strategic framework we've been using for years. It's called PII™, and I think you'll find it extremely helpful as you think through and then execute on your own marketing strategy.
Along with that framework, this month's Rainmaker Dispatch comes complete with amazing writing on the SEO rules around republishing old blog posts, a specific plan for promoting your content, a great case study in eCommerce content marketing, and much more.
I sincerely hope you're hanging in there, maybe even thriving in this difficult time. If there's anything we can do to help you along the way to success, just let us know.
Alright, on with the show …
PII™ is a practical, actionable, and measurable framework distilled from communications theories that have generated literally thousands of academic articles. I hope it gives you guidance as you move your own goals forward in the years to come.
This is one of the most repeated questions we get from clients … is it okay to republish old content on my site? If so, how do I do it in way that won't get me penalized in the search engines. If you've been planning to repurpose valuable content that may be "rotting away" in your archive, this one's for you.
Mr. Dry has come a very long way in a relatively short amount of time. He's a next-generation marketer, using the knowledge of past as a solid foundation, then placing his own vibrant spin on it all in order to delight and inform. He's a pleasure to read, and this article is (in my opinion) one of his best.
A very interesting and very important article from Amazon … if you're not thinking about your audience and where and how they consume content and products, it's time to get on the bus. The buying patterns of your customers and prospects may not be your buying patterns, but if you want to profit, you need to observe and then serve.
There's nothing quite like a solid SEO article from Mr. Dean, and this one does not disappoint. Some (or many) of these advanced SEO strategies may seem a bit far from where you're standing right now, but I'd encourage you to take the time to leave your comfort zone for a few minutes and stretch your thinking about what's possible. Enjoy!
The conversation around eCommerce just seems to be blowing up everywhere, especially among very young marketers! This is incredibly exciting, because, in the age of nearly complete domination by Amazon, it means that many are still driven to create and sell amazing physical products. But where to start? Read on, dear reader.
If you're a writer's writer (or just a writer!), this article from Mr. Clark is not to be missed. It's very short and very powerful, delivering a lot of actionable advice for content creators in minutes. You could say, it's very much like a high quality multi-vitamin 😉
What are you working on in 2020?
Sometimes it's a simple thing like the do's and don'ts around republishing old blog posts. Or maybe it's something a little more intensive … have you ever wondered what a full-blown marketing strategy might do for your business?
Whatever it is, if it's in the realm of digital marketing, remember that you don't have to go it alone, we're always here for you. Just drop us a line, anytime.
All right, see you next month with the next edition of The Rainmaker Dispatch!
Best Regards,
Ed Bardwell
President
Rainmaker Digital Services
P.S. When you have a moment, bookmark rainmakerdispatch.com. We're updating it weekly, with the goal that it will become your premier aggregator of digital marketing education and news in the coming year. Let us know what you think, and if you have an article, video, or podcast you'd like to see featured there, just let us know!