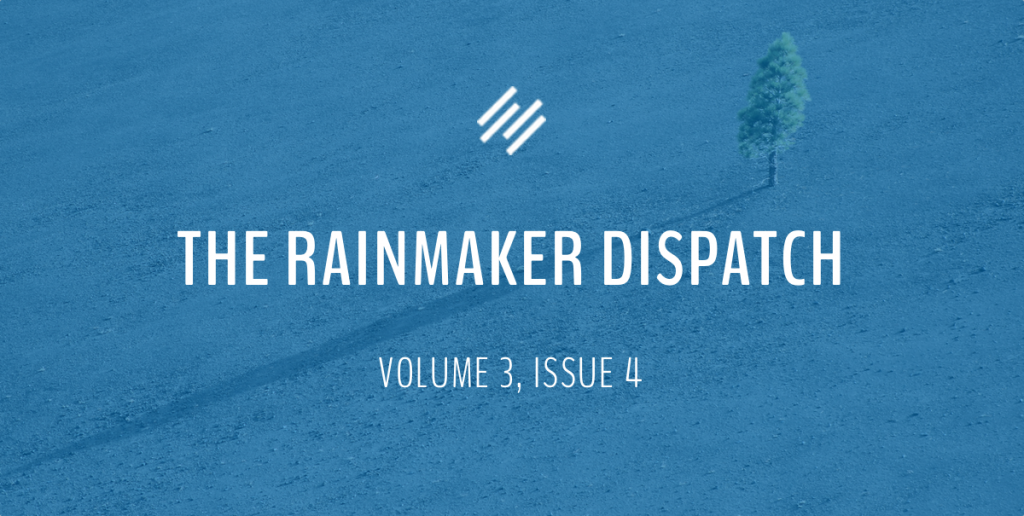 Even though many of us are staying at home and "normal" is anything but normal, there's a lot to get to in this issue, including an announcement I've been waiting to tell you about for several weeks.
In the spirit of this issue's title (Keep Calm and Keep Publishing), we're continuing to up the ante for you during this time of uncertainty, aiming to deliver the best service, advice, and content that we can … and more of it! That said, I'd like to introduce to you our latest project.
It's a very straightforward example of content curation and aggregation (a powerful content marketing strategy we recommend to many of our clients), a site that we hope will become a regular stop in your ongoing marketing education.
When you have a moment, go check out and bookmark rainmakerdispatch.com.
We'll be updating it weekly (for now), with the hope that it can become your premier aggregator of digital marketing education and news in the coming year. Let us know what you think, and if you have an article, video, or podcast you'd like to see featured there, just drop us a line, anytime.
Alright, on with the show …
For you email marketers out there (everyone reading this, right?), here's an excellent case study on the art and science. It is particularly valuable in the sense that it chronicles the brand's process for turning Instagram followers into email subscribers … the holy grail of digital marketing in 2020.
I stepped into the fray with a new article this week, discussing the global pandemic we're all facing through the lens of practical business advice. Specifically, the critical process of moving your business from "brick" to "click." If you've been waiting to make this transition, NOW is the time.
The fine folks over at Animalz tackle the sensitive subject of publishing content in times like these. Should you keep publishing? Mr. Daly says "yes," and we tend to agree. In fact, an argument could be made that there is no more important time to make your voice heard than right now.
A very interesting take here from Ms. Konya, one that I think might be much more important than it looks at first glance. We all live on our phones, we're all constantly consuming content on our phones … so why wouldn't we consider the smartphone a serious publishing tool? We should!
Slack is a very impressive piece of software. From functionality to design, it has become a staple for many businesses, especially remote companies like ours. So, when their VP of Design decides to speak on the subject of his craft, it's probably a good idea to listen … and learn.
Content syndication is one of the most powerful and most overlooked digital marketing strategies. In fact, until a few years ago, the idea of syndicating content was actively frowned upon due to Google's duplicate content penalties. As everything does, that has changed, and we wholeheartedly recommend and embrace this practice.
"You will never regret good work once it is done," says Mr. Clear. He's right, of course, and he goes on to lay out a very practical and inspirational guide to carrying on in the face of the desire to quit. What does he do when he feels like giving up? We could all use a bit of inspiration these days, so please, read on.
What are you working on in 2020?
Sometimes it's a simple thing like tweaking a series of email subject lines. Or maybe it's something a little more intensive … have you ever wondered what a full-blown marketing strategy might do for your business?
Whatever it is, if it's in the realm of digital marketing, remember that we're always here for you.
All right, see you next month with the next edition of The Rainmaker Dispatch!
Best Regards,
Ed Bardwell
President
Rainmaker Digital Services