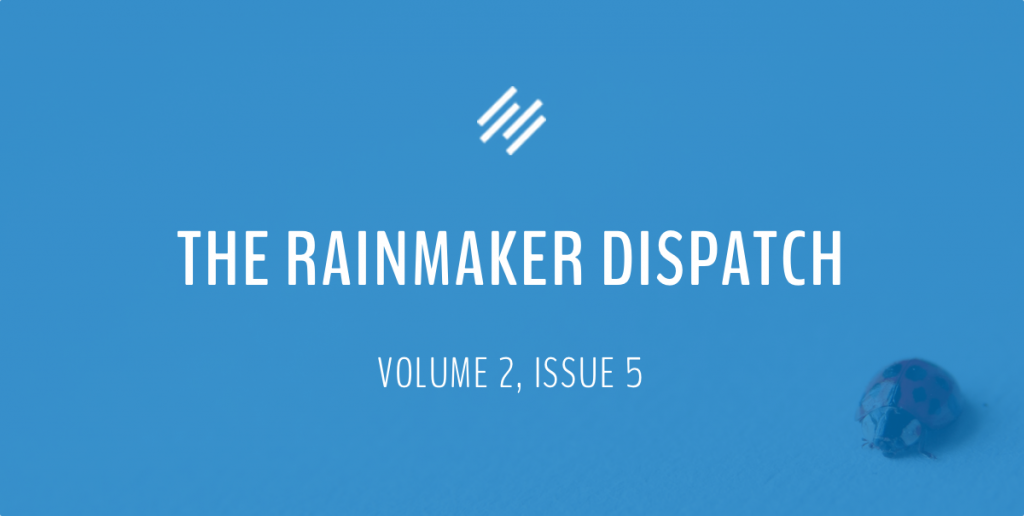 When it comes to business, bigger is always better. Right?
The featured link in this month's Rainmaker Dispatch begins a storyline that states otherwise. You don't have to build a billion dollar company. In fact, you probably shouldn't try to. Welcome to Brian Clark's concept of "7-Figure Small."
This issue is packed with a ton of other great entrepreneurial resources and stories as well. On with the show …
"For me, it's time to get back to small." With that, Mr. Clark launches into a philosophy of business that just may allow many entrepreneurs out there a profitable way off the treadmill of relentless hustle and endless growth. How about you?
The headline says it all. We all know that podcasts largely rule the independent AND corporate media world … so what are you doing about that? Is it time you started your own? It seems as if the world can't get enough, no better time than the present.
This is one of our favorite ads, ever. Mr. Ogilvy hit it out of the park with this one, raising the bar (again) in the use of image, layout, storytelling, and infotainment. That's right, you tell stories about oysters to sell more beer. There's a lesson in there.
Charles Bukowski once said, "An intellectual says a simple thing in a hard way. An artist says a hard thing in a simple way." Mr. Godin is an artist, deconstructing a strategic concept and teaching it in a way that anyone can understand. A/J testing, indeed.
We've been preaching this for years … as much as is possible, you need to own the land you operate on. No digital sharecropping. Now, admittedly, that can get a bit difficult when you're talking about payment processors and the like. Still, have a backup plan in place, at the very least.
Are you advertising on Facebook?! Do you post to Instagram?! How engaged are you on Twitter?! Have you Snapped ten times today?! Snapped, indeed. Take it from Mr. Newport, a man who has built quite the empire without a single social media account to his name. And the answer is, yes, blogs matter more than ever. We can help you build an amazing one.
No big lesson here … just a fun little diversion regarding the biggest television show on earth right now. OK, maybe there is a lesson or two … double-check your work?
Rainmaker Platform Andromeda …
I know we've been giving you updates about it for a while now, but rest assured that we're right on track in terms of development. We've even begun the process of QA on multiple functionalities and we'll soon begin rolling out live sites to a handful of beta testers. We're almost there, and we can't wait to show you!
Until then, are you looking to build and grow your own "7-Figure Small" business? We'd love to help with that. Just drop us a line, anytime.
Best regards,
Cody Haney
Director of Support
Rainmaker Digital Services