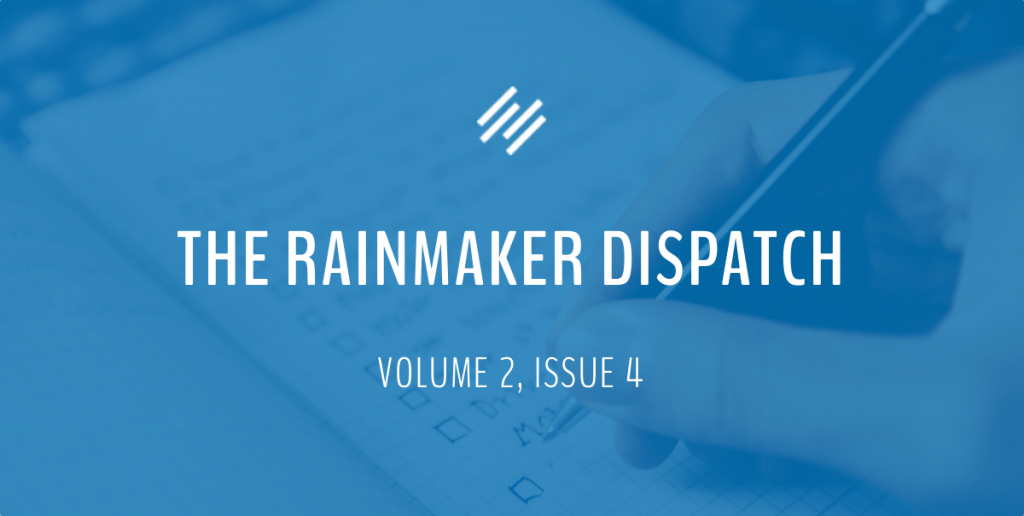 The practice of conversion optimization can seem like an endless slog of technical and copywriting work, but it doesn't have to be.
Focusing on — and making a habit of carrying out — just a few high-impact conversion practices can take you most of the way toward your destination.
With that in mind, the first article in this month's Rainmaker Dispatch is invaluable. It's a simple conversion checklist that can be bookmarked and used over and over again.
But that's not all … this issue of the Rainmaker Dispatch is packed with incredibly useful content. From Brian Clark's "Rule of Three," to the research practices for bestselling books, to a powerful one hour guide to SEO, we've got you covered.
On with the show …
"A 41-point checklist to make sure you have everything covered to make your website convert as well as possible." From simpler items to more complex, the author of this checklist has done an excellent service to marketers everywhere. We recommend you print and keep it on your desk!
Mr. Clark doesn't show up on Copyblogger every week anymore, but when he does, he delivers. This short, easily digestible framework for creating engaging content is supremely useful. Let it sink in, and start applying the rule of three to your media production today.
The headline says it all … Mr. Holiday arrives on your screen with immediate authority and generously explains how he accomplished it. Not only is this article well worth the read, it is itself an excellent demonstration of creating the kind of media that people actually want to consume.
"55% of all page views only get a few seconds of attention." Mr. Patel demonstrates the power of great copy in the opening line of this article, and further delivers with his following six copywriting tips. Bookmark this one for re-reading on a regular basis!
Have you been creating content for a while? If so, you may be sitting on a traffic gold mine. We discuss various aspects of this very strategy with our clients all the time, but this article gives a great overview of the benefits and process of content repurposing in just a few minutes.
An excellent and easily digestible introduction to SEO from one of the best in the business. Mr. Fishkin lays it all out in this six-part series, starting with the concept of strategy. Sit back, grab a coffee, and learn one of the most valuable skills on the planet.
Going from receptionist to a celebrated writer-director of films is quite a story … and Mr. Dillard has told much of it here. Some great lessons here about mentorship, taking chances, being relentless, and the power of good storytelling.
We're getting close …
The development sprint for Rainmaker Platform Andromeda continues, and we're getting ever closer to being able to show you.
But before that happens, if you're looking to build a new site, or migrate your current site to an all-in-one complete marketing and sales platform, don't miss out on the benefits of getting set up on Rainmaker right now.
Maybe your current needs land more in the realm of conversion optimization, content marketing, or SEO? We can help you out with that as well. Just drop us a line, anytime.
Best regards,
Cody Haney
Director of Support
Rainmaker Digital Services