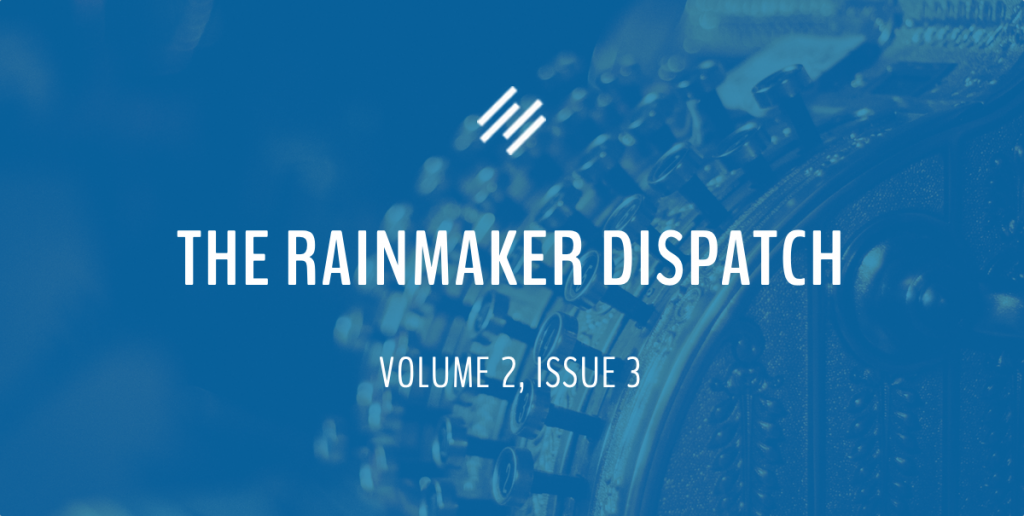 It's a big, big question, "How do I make a living as a writer?"
There are many answers to it, most of which involve years of tireless work and no small amount of luck.
That said, we've included one very compelling answer to that question in this edition, in the form of a detailed case study. And the most important aspect of it may even be hidden by the word "writer."
Warning: Don't miss the larger lessons in this article that you might be able to apply to your product or service-based business.
And that actually may not be the MOST compelling of the articles we've curated for you below, ready for Volume 2, Issue 3 of the Rainmaker Dispatch? On with the show …
The term "passive income" has been much abused in online circles over the years, but this is an excellent example of what is possible in that regard. Yes, it takes a lot of work, but once that work is done, this is a framework for writers (and businesses) of all kinds to continue profiting from it for months — and even years — to come.
Backlinko has become an excellent resource over the years, and this article does not disappoint. If you're a content marketer, you really can't afford not to grab a coffee and take a long look at the valuable insights (want to know what kind of headlines get more social shares?) Mr. Dean has worked to provide.
Uh-oh. There is a bit of context to keep in mind here while reading this article, but it's a stunning, continuing trend. So, why does it matter? It illustrates what we've been teaching for years … you must not become a digital sharecropper. Yes, you want to use these other platforms, but only to siphon off as much relevant traffic and audience to your own platform as you can.
It might seem that Ms. Kondo has taken over the world recently, and you wouldn't be far off if you thought that. She's a phenomenon. But can her principles of simplification and organization be applied to other areas of life and work? What about SEO? You bet.
Let's take a quick break and turn to one of the most iconic poems of the English language. Not a fan of poetry? Don't worry, this one may just kick start your day. "If you can keep your head when all about you/Are losing theirs …" Sound like it might apply to a day you may have had recently? Read on.
A great, compact how-to on something many business owners face on a daily basis. We can't control what others say about us, but we can respond and keep up with the vibes of customers and clients that now roll out across countless platforms. It's a brave new world, and we're all living in it.
As he so often does, Mr. Godin alters the mind with just a few short lines. Sometimes I think he's more poet than marketer … but it doesn't matter. What matters is how you apply his take on "planning" to your own business or project.
Have you heard? Rainmaker Andromeda is coming into view …
I know, we've been teasing this out for a few weeks now, but before we release our new marketing and digital sales platform to the world, we want to encourage our clients and readers who aren't yet on the Platform to check out the current version of Rainmaker.
If you're looking to build a new site, or migrate your current site to an all-in-one complete marketing and sales platform, now is the time to check out Rainmaker.
Click here to see why, and to schedule a no obligation demo of the simple, powerful, and affordable Rainmaker Platform today.
Thanks for reading the Rainmaker Dispatch, see you in April! Until then, if you need some good marketing advice, help with your own email newsletter, or a fresh look at your content marketing strategy, drop us a line, anytime.
Best regards,
Cody Haney
Director of Support
Rainmaker Digital Services