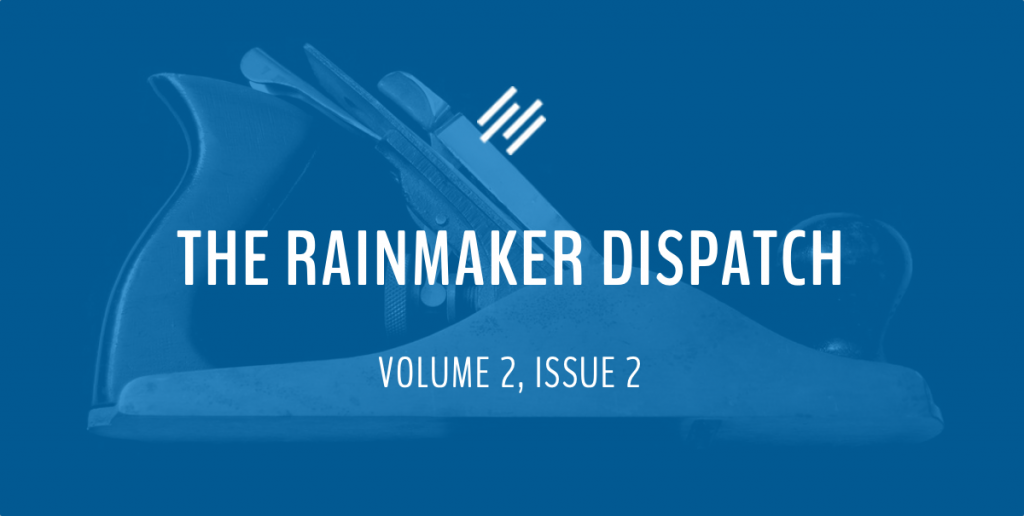 How about we start this edition of the Rainmaker Dispatch with one of the most celebrated and useful quotes from the Father of Advertising himself, David Ogilvy …
On the average, five times as many people read the headline as read the body copy. When you have written your headline, you have spent eighty cents out of your dollar.
No joke, this single concept, internalized and acted upon, can change the trajectory of your entire business. If you want to dig deeper into the craft of headline writing, our pals over at Copyblogger have put together a free resource that will put you in the top 1% of headline writers in the world. Go after it, friends.
Aside from that all-important lesson, we've got another exceptional compilation of curated links for you in this issue, with topics ranging from the current state of social media to why you might want to think about abandoning your current networking strategy.
Ready for Volume 2, Issue 2 of the Rainmaker Dispatch? On with the show …
What's working. What's not. Right now. Buffer has been on the forefront of social media marketing strategy for years, which is also one reason why their product has been so successful … their excellent content is directly tied to their excellent product, and naturally promotes the hell out of it. Lesson in there.
I was only recently made aware of Mr. Howell's great website, and this article does not disappoint. A lot has been said on the topic of storytelling in marketing, but the question still persists, "OK, OK, but how do I actually do it?" Click and read on for an answer, dear friend.
Another great one for you SEO nerds out there (we know there are a lot of you!). Mr. Dean's site Backlinko is a treasure trove of incredible information on SEO strategies and tactics that can make a big difference in your business, and this article keeps that reputation fully intact.
This is one of those counterintuitive ideas that can mess with your head, but is well worth looking into. The prevailing wisdom tells us just the opposite, "Get out there and network, shake hands, go to conferences, expand your influence!" Is there another way?
"Just say no." Any self-respecting member of Generation X has that little slogan burned into their DNA from the roaring 80s. However, in the context of entrepreneurism, many are now coming back to it, even embracing it, as they build a different kind of company. A company of one.
We cannot recommend Mr. Weinberg's book enough. Come to think of it, we cannot recommend his company enough (he's the CEO of the phenomenal search engine DuckDuckGo). If you need a primer on getting started in marketing … this is it.
It's time to let go of the guilt. Some of the greatest writers of Western Civilization slept a lot. It's also true that some did not … but this wonderful piece by Ms. Popova will give you a view into the history of how our writing ancestors did — or didn't — get some much needed rest.
Rainmaker "Andromeda" is coming soon …
We've been quietly introducing our Rainmaker Platform customers to the next generation, completely rebuilt (from the ground up) version of the Platform, Rainmaker Andromeda.
Andromeda is coming soon, but before we release it to the world, we want to encourage our clients and friends who aren't yet on the Platform to check out the current version of Rainmaker.
If you're looking to build a new site, or migrate your current site to an all-in-one complete marketing and sales platform, now is the time to check out Rainmaker.
Click here to see why, and to schedule a no obligation demo of the simple, powerful, and affordable Rainmaker Platform today.
See you in March with the next edition of The Rainmaker Dispatch!
Best regards,
Cody Haney
Director of Support
Rainmaker Digital Services